Ami Tu Fuo – How I was living with Shaolin Monks for one month in China
Martial Arts are an important part of the Asian culture. In China it's Kung Fu which originates from the Shaolin Monks, Buddhist monks who were studying the movements and the stances of the animals to use them for defending themselves against attackers.
Living with Shaolin Monks in a Kung Fu temple in China has always been my dream since I started training martial arts. When I came to China I told myself I have to go to a Shaolin Temple to experience this. First I found out about the original Shaolin Temple in Dengfeng in the Henan Province. It's the birthplace of Shaolin Kung Fu originates, and so I thought about going there. Later I found out it's just like Disneyland, full of tourists and lot's of shows but nothing really authentic.
Then I heard about a small Shaolin Temple in Southern China were they take foreigners. You can stay there, live with the monks and learn Kung Fu with them. How cool ist that! So I decided to go there.
After walking up hundreds of stairs to the temple I arrived very excited about training with the Monks, got a nice welcome, paid the compulsory donation (500 ¥, ~80 USD per week), got some fresh linen and moved in my own room. In the temple everything is made out of wooden planks. The room has no window, only a wooden frame with some cloth on it. So you always have fresh air in the room – if you want it or not. In December when I was there it had something like 5-10 °C at night, but at day time it was sunny and warm. 🙂
Wu Wei Si translates to action without action. It's a small temple with a few monks living there and a Shifu, the master who is exactly how you imagine an old Chinese Kung Fu master. An old Chinese with no hair but a thin pointed beard. He is a funny guy who is always in good mood and everything he does is perfectly in balance.
When I came to the temple there was also Lukas, a cool guy from Switzerland. He was staying there for six whole months! 😉
Every day starts the same. At 5:30 the monks hit the gong and start chanting their prayers. You are free to join. After that you do a little morning exercise like running to the river, carrying a stone back to the temple, doing some pull ups (we did at least) and a little stretching.
And that's just the beginning of the training. You do six hours training every day. One hour morning exercise, three hours training in the morning and two hours in the afternoon. You can choose if you want to do Kung Fu or Tai Chi. I did Kunk Fu of course. 😉
We got taught by 16-year-old kids who were living in the temple since eight years. They took the training not too seriously and played around with their smartphones while we were training – until the Shifu suddenly appeared watching the training. When the kids saw him they put their phones away quickly and went "okay, training!". 🙂
Three times a day the training got interrupted by a monk hammering a metal stick against a flagpole. The signal that it was time to have some food! 🙂 The food was so good, every thing vegetarian and more than we could eat. You are not allowed to start eating until the Shifu starts eating. You all stand up and he greets everyone with Ami Tu Fuo, then everyone replies with Ami Tu Fuo, sits down and starts eating.
The temple is such a peaceful place, very spiritual and very authentic. For me it was like heaven on earth. It's on a mountain in the nature, squirrels are jumping around the whole area and there are barely any tourists. When I came there I planned to stay there for a week or so. But I was so amazed by this wonderful place that I extended my visa and stayed for a whole month. I came there to learn Kung Fu, but I felt that there was another, deeper reason why I happened to be there.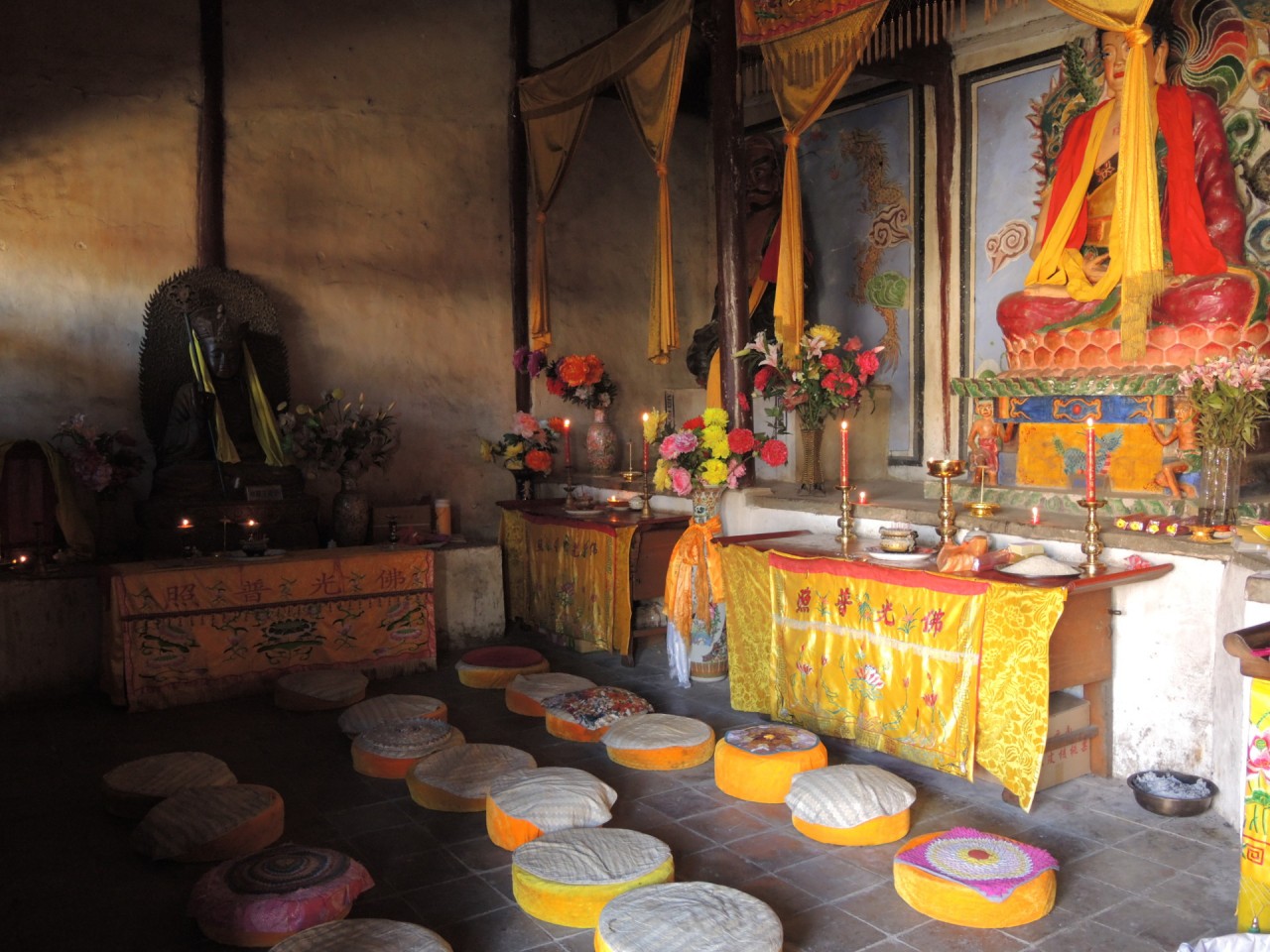 Very spiritual, the prayer room
In this one month I learned a lot about Buddhism, some Chinese, Tai Chi, Chi Gong, a lot of Kung Fu, how to eat consciously and even how to stand straight.
I came to learn KungFu, but I found a heavenly place where the most I learned was about myself