Exploring the beauties of Arctic Svalbard without tour
From the moment I first heard about Svalbard I got captivated by the idea of travelling to the northernmost settlement in the world 1000km North from Norway and deep in the Arctic.
And when I found out that the flights up there are dirt cheap, I booked my flight from Oslo beginning of September and made my adventure happen.
The only thing I knew about this place is that because of its remoteness it is far more expensive than Norway itself, and Norway is already one of the most expensive countries I've travelled. And it is said that there are more polar bears living in Svalbard than people. So because of that you are not allowed to leave the city without a rifle – or one of the way too expensive guided tours they offer.
So how did I manage to stay two weeks in Svalbard having a blast and hardly spending any money?
They have a camping site which closes the first week in September. But the good thing is that from then on you can camp there for free. Of course you also have to take care of yourself then on your own. So I said if I don't find a place to stay, I will pitch my tent at the camp site next to the airport and camp there for two weeks together with the polar bears.
Anyway, I found a great host on CouchSurfing. Alex, a crazy Russian guy who said: "Two weeks? No problem! You can stay with me."
And then when I arrived at the airport I met another group of Russian tourists and we decided to walk to town together. I think it is the first time I walked all the way from an airport to town, all the 4km. 🙂
And when in town I joined them to their hostel and had a little chat with Lena, the girl at the reception. She was a friendly girl from the Ukraine and she was easy to talk to. And when I found out she needed help with fixing her computer I offered her my help. It was some small issues which were fixed soon and when I was finished she came with two bags full of food and said: "Here, that should be enough for two weeks in Svalbard."
One of the most amazing things if you go to Svalbard in Autumn is are the sunrises and the sunsets. In Svalbard I've seen the longest and some of the most beautiful sunsets ever! One evening I looked out of the windows and saw an amazing sunset painting the sky with beautiful colours. When I went out to watch it around 9pm it was already going on for an hour. And when I went to bed at 1am the sky was still reddish.
The next morning I got up at 4:40am to watch the sunrise and it was a blast! The sun was putting the whole bay in a pink tint.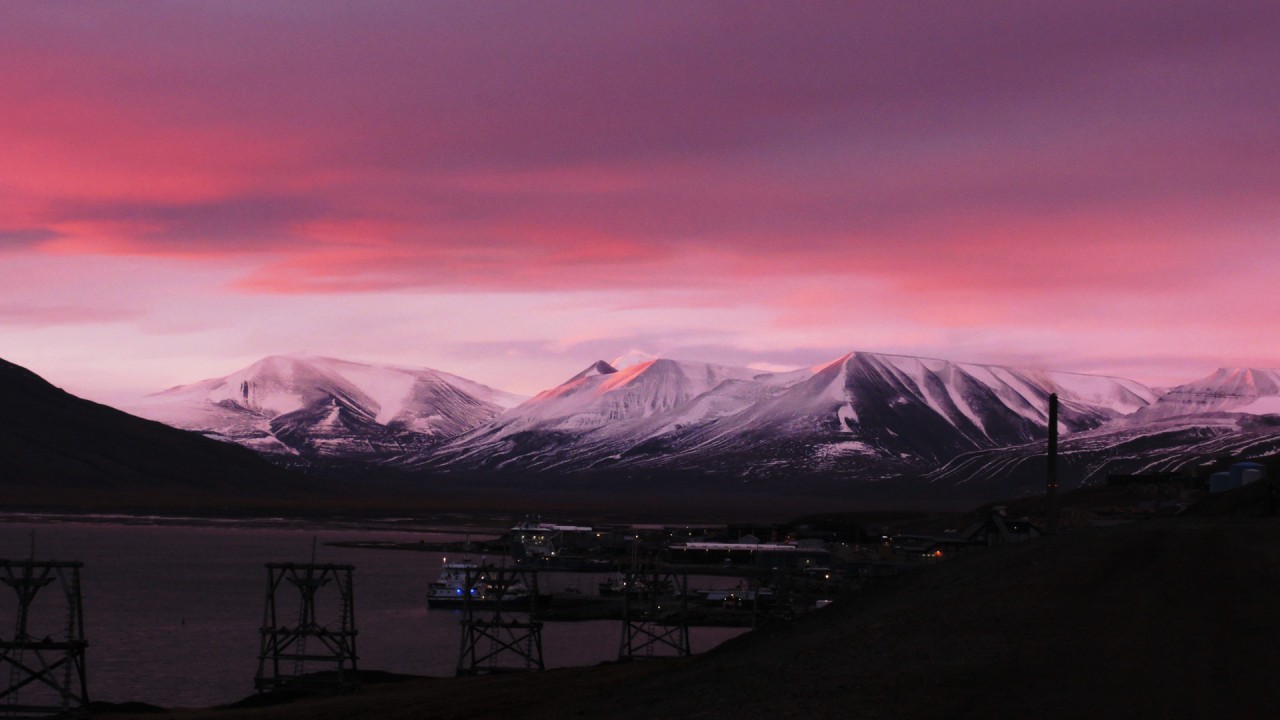 Another day I embarked with one of the tour boats to Pyramiden, an abandoned Russian coal mining city. They offer day trips that go there and back, but I managed to get a really cheap one-way ticket since I was planning to stay there over night. Pyramiden was featured as one of the top ten most amazing ghost towns. Now it has five people living there and running a hotel for the tourists plus Sasha, the Russian tour guide.
Since I heard about some cabins not far from town my plan was to spent two nights around Pyramiden and stay in the cabins. A friend gave me her signal pistol just in case I encounter some polar bears. I had to walk about an hour each day to the cabins and back again in the morning without a rifle. And although I thought the polar bears aren't as bad as everyone says and they just have a bad reputation, I wasn't feeling very safe. But I told myself I'm sure you can talk with them. 🙂
So I left from the hotel towards one of the cabins having my signal pistol holstered. I was quite nervous and I went like 'Oh, is this a polar bear!?', loaded the signal pistol, made a picture with my camera, zoomed in completely and 'Oh, it's just a rock!'. Relax!
I made it safe to the cabin stayed there the first night, went back the next morning and stayed another night in the other cabin.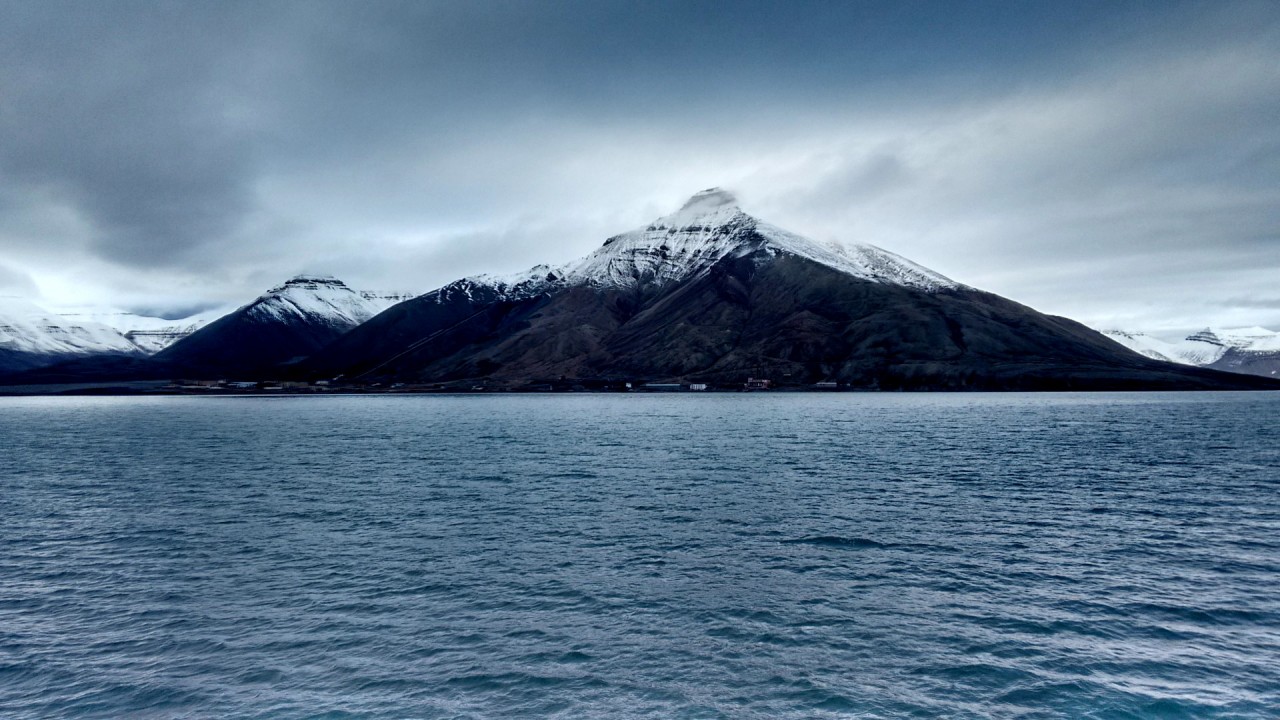 After I came back from my trip to Pyramiden, I got a little bored in Longyearbyen. Within a few days you get to know everything in and around this 2000-citizen village. So I decided to do a little multi-day hiking trip. But for that I needed a rifle. The good thing though is that in Svalbard it is easier to get a rifle than to get alcohol! 😀
You just need your criminal record which shows that you're not a serial killer and then you can go to any sports shop and rent a rifle. So I had my criminal record fixed and rented a damn heavy WW2 Mauser. I asked the guy in the shop if there is no 'try before you buy'? But he said no and I just had to trust them that it works. Otherwise I would have a damn heavy club to beat the polar bear with.
Anyway, the next day I took another cheap one-way boat trip. This time to Barentsburg, the only active Russian settlement with about 500 citizens and we made a short stop at the Esmark Glacier one of the big glaciers in the Isfjorden the Ice Fjord.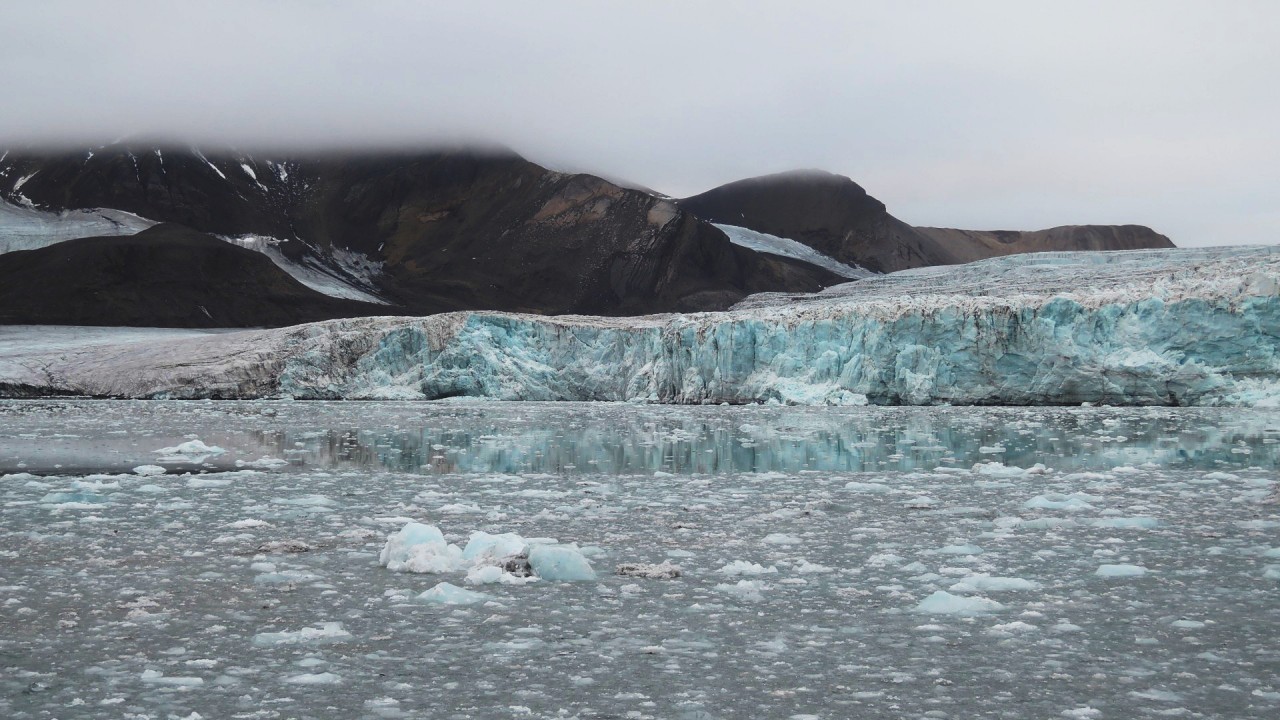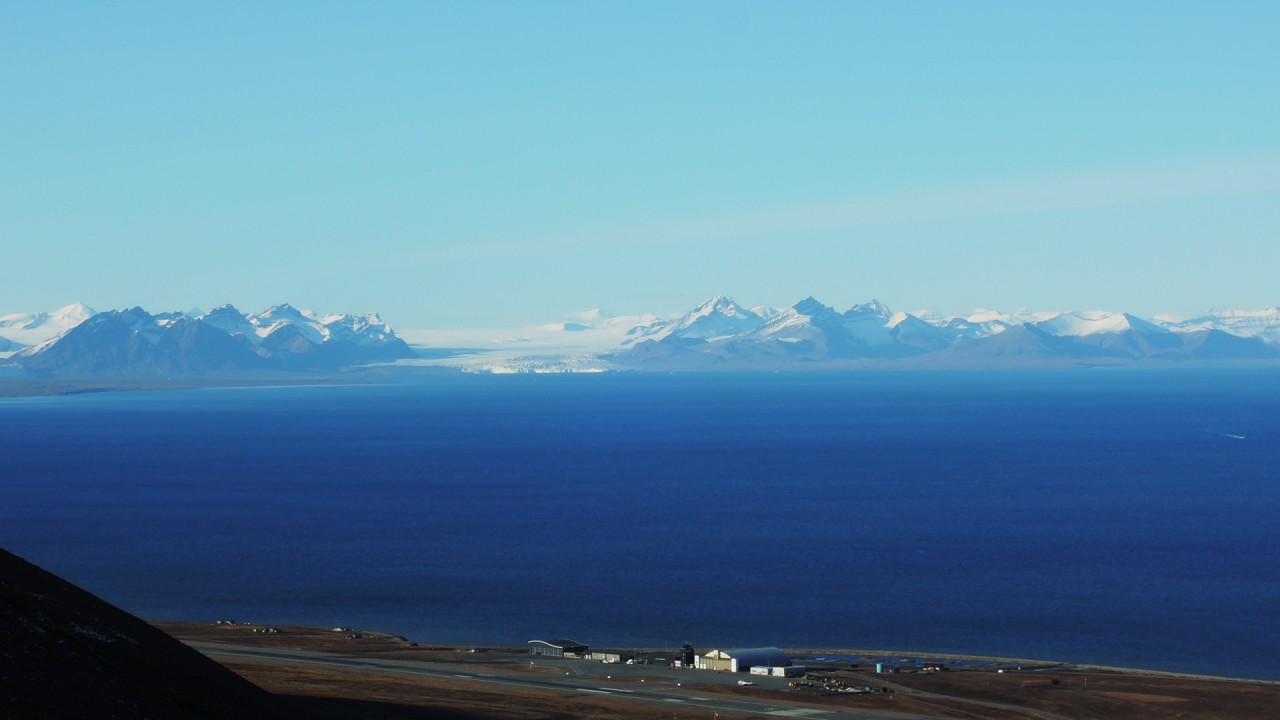 After staying the night in Barentsburg (I bargained with some locals about staying with them in their dormitory), I left for a two-day hike back to Longyearbyen. The map told me it should be about 30km per day with a cabin in the middle. In fact it was for sure 70km all together with all the gorges I had to cross. On the first day I had to cross a big river, on the second the Longyear glacier. When I came to the river, I took off my shoes and my pants and I tried to cross it at the shore. But I quickly realised that it is getting to deep to cross here. So I hiked up the river a bit and found a place where the river was more spread out and frozen. When I stood on the ice I broke in. But it was fine! The water came only to my upper legs and I could cross. I had to cross many little half-frozen streams, my feet were freezing and I cut my ankle with the broken ice. Anyway, I was so happy that I managed to cross the river without getting everything wet, put my pants and shoes on again and continued. Very soon it became swampy again. But I thought it won't be so bad. It was! I was standing knee-deep in the water and everything was wet!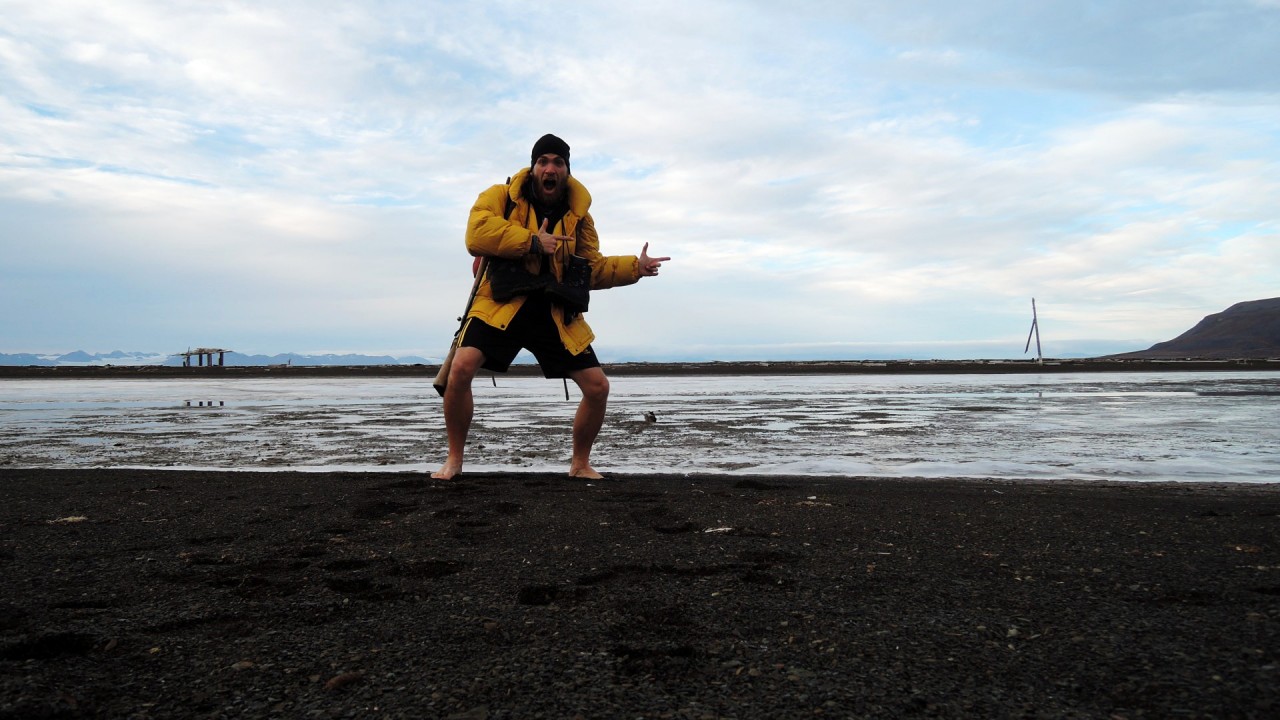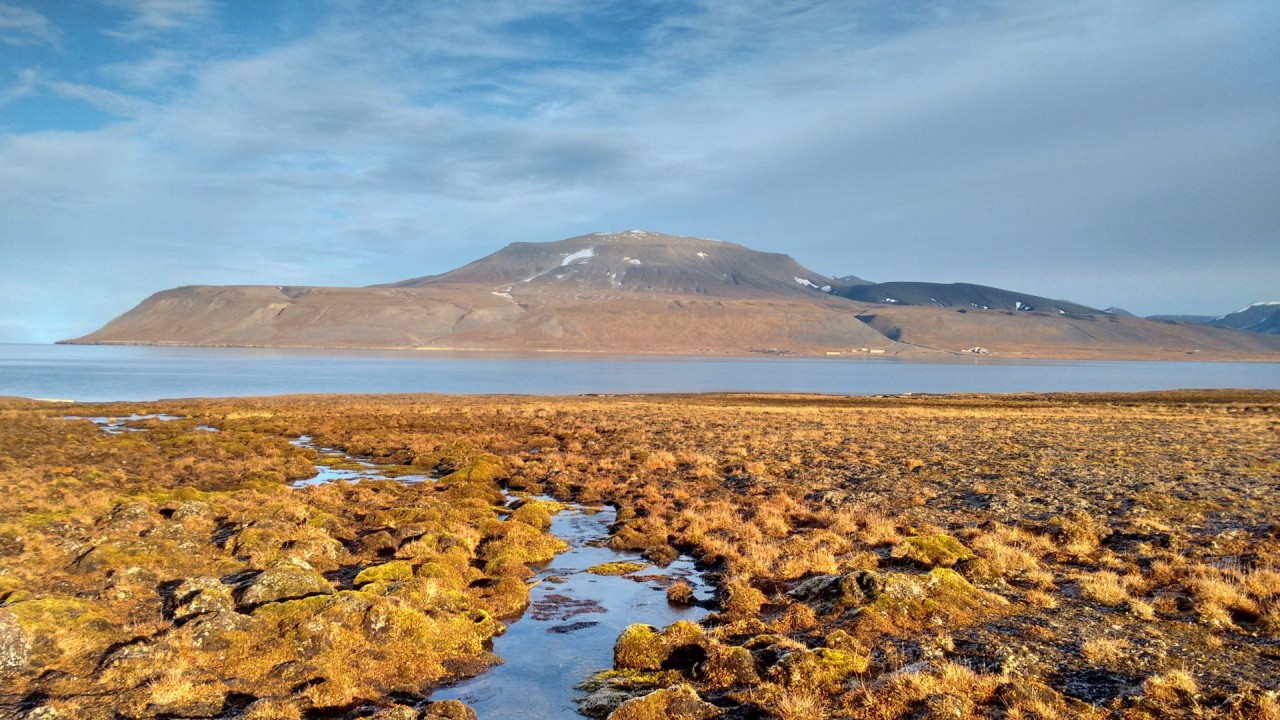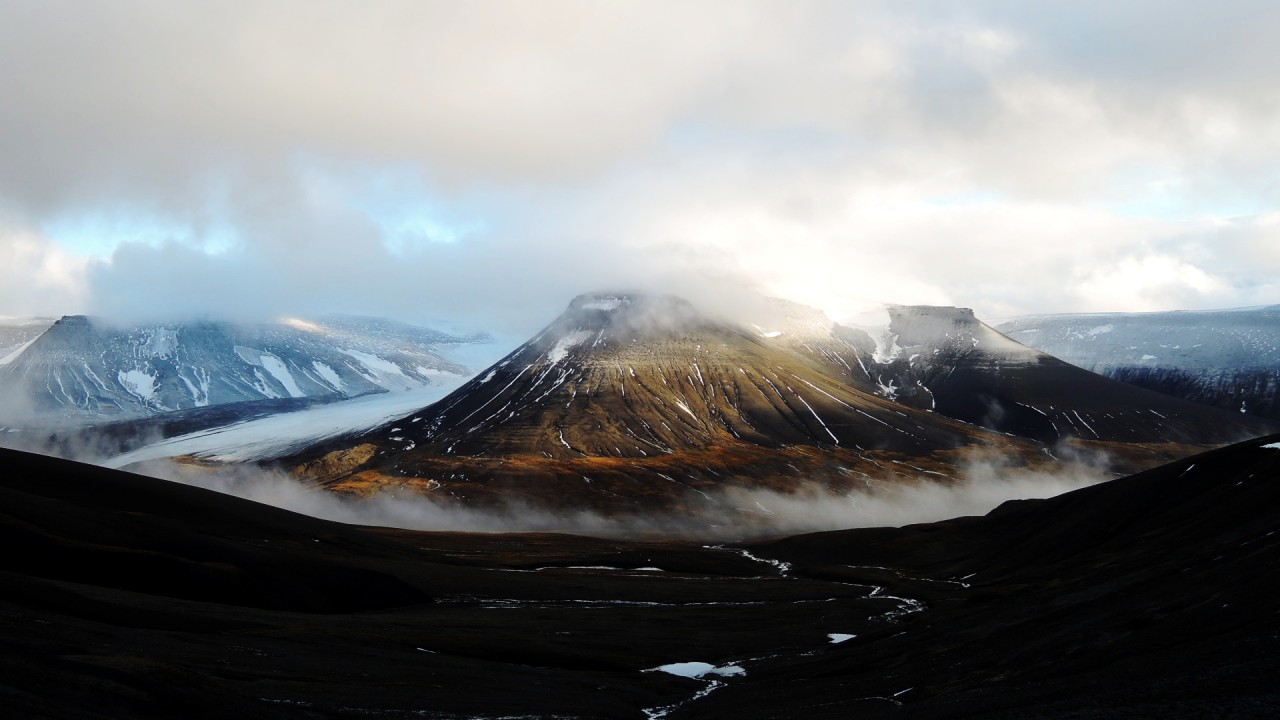 Luckily I found a good cabin that night with lots of fire wood and coal and I managed to get everything dry over night. The next morning I was happy that I didn't have to cross the glacier with wet boots and after another day with ten hours hiking I made it back to Longyearbyen again safely and without any polar bear encounters. Just a few reindeer who didn't like the yellow signal colour of my down jacket. Or was it my evil grin what chased them away? 😀
After spending two great weeks on Svalbard, I hitchhiked back to the airport with a satisfying feeling knowing I got the most out of my short stay in the Arctic.
So, yes you can explore Svalbard without tour.
Even the most expensive places you can travel on a budget!
And within two weeks in Svalbard I even made it into the local newpaper. This is the online version of the interview with me…