Northern Laos – The best motorbike adventure ever!
A few days before new year I came to Laos crossing the border by bus going from Xishuangbanna in Southern China directly to Luang Namtha in Laos. The border crossing was smooth and without any issues. I easily got the visa on arrival for 35 USD at the border. They just asked me for a passport photo and when I told them I don't have one they went 'ah, then not'. 🙂
Luang Namtha is a small and cosy city where everything is located along the main road. I was hanging out in Luang Namtha for a few days enjoying the simplicity there and the fact that it's not too crowded with tourists – still you meet enough travellers though.
One big downside of Laos is that camping is prohibited, staying with locals nearly impossible and guest houses can be quite pricey. CouchSurfing didn't work out for me either. Especially if you are travelling alone and have to take a double room because most of the time they don't have single rooms. A cheap double room in a not so touristy place would be something like 80000 KIP (around $10). In touristy places the prices go up, but then you might be able to find cheap dormitories.
Also, you are not allowed to go in the jungle and explore the wildlife on your own. You should book a tour which you get offered in nearly every restaurant in Luang Namtha. On my first day in Luang Namtha I rented a bicycle and drove it around the rice fields, which is really nice. I bumped into a large group of people having a party in the courtyard of a building while cycling around. It was the local veterinary office who invited me to join their new year celebrations. I had lots of fun dancing, eating delicious food and drinking Beerlao. In Laos everyone is dinking beer and the national beer brand Beerlaos is probably the best beer in South East Asia.
The next day I found out that the guest house I was staying at, Zuela Guesthouse  was offering one-way rental of motorbikes from Luang Namtha to the Vientiane, the capital. You could rent a 100cc scooter for ten days for about $100. After some haggling they gave me a good 250cc enduro bike for just $130 for the ten days. I was a little concerned giving them my passport as deposit, but they ensured me that they will send it to Vientiane and I will get it back after returning the bike.
So I was putting all my weight into the kickstarter, the engine roared and off I went with my backpack on the back. The route goes for about 700km from the north to the capital. In Laos the roads are in bad condition and in Northern Laos they wind their way through the mountains. The first day when I made a lunch break having some noodle soup in a wooden shed, I ran into some nice Chinese motorbike drivers with big street bikes who where touring around South East Asia. They were from Shanghai and Hong Kong (if I remember correctly) and spoke pretty good English. After having lunch together I joined their group and we drove together a while along the twisting road.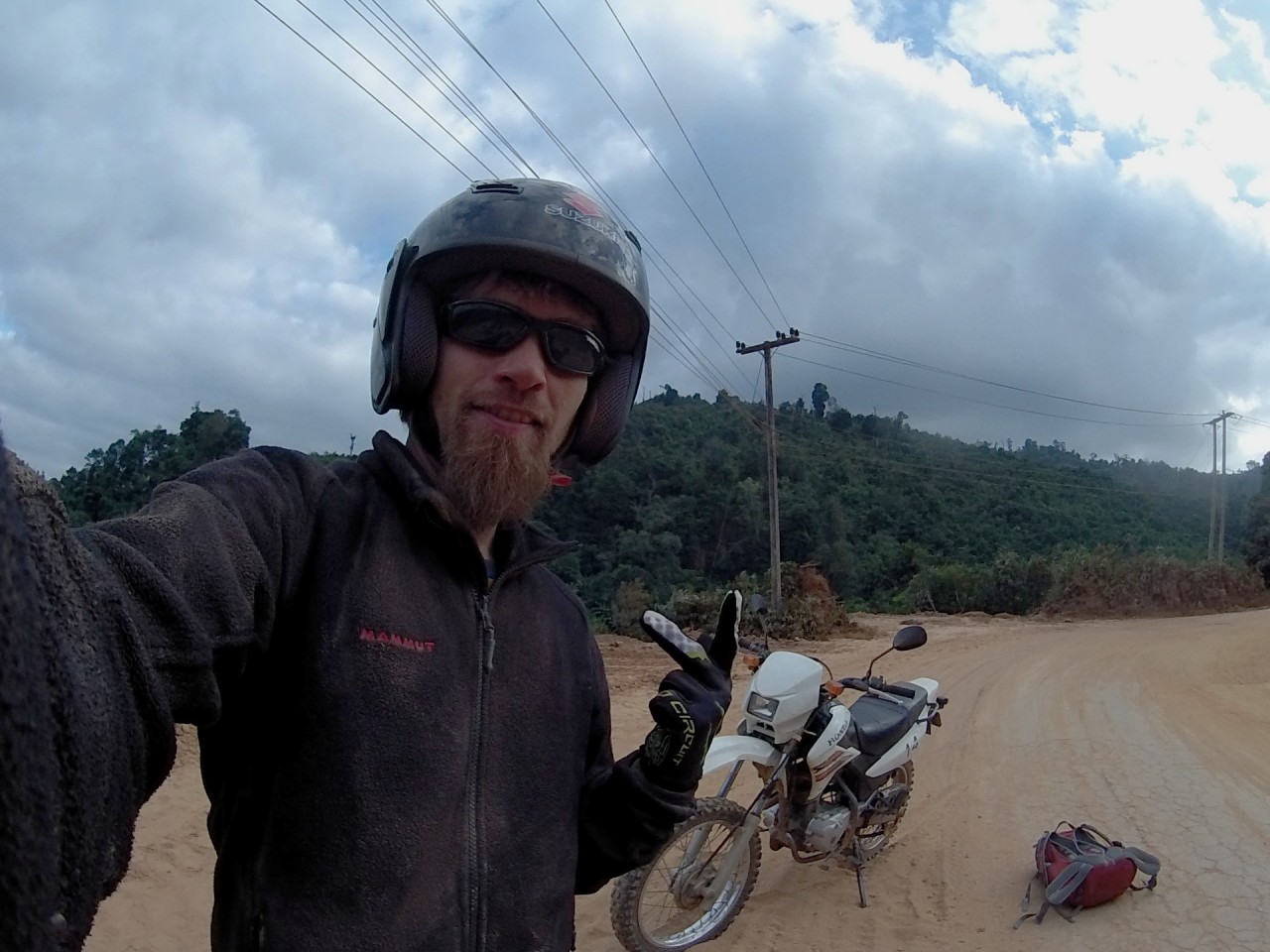 I dropped behind a bit and lost sight of them. It had been raining and the road begun to be very slippery in the curves. I wasn't used to the high balance point of the bike and leaned a little too far into the curve when the back wheel slid away. In slow motion I saw myself going down to the asphalt and sliding along the gravel. The sound of cracking glass and screeching metal went right into my ear. I jumped up, pushed the bike from the road and check my bruises. Just a little open knuckles and some scrapes on my arm. The bike was quite okay. It was just the front suspension a little twisted, the left mirror cracked and there were a few scratches all around.
I took a short break calming down and just being happy that no truck came around the corner at that time. A little bit more careful I continued my ride and soon met my Chinese friends again having a break along the road. They were so nice to take care about my wounds and help me bend the front suspension back so the steering would be straight again. And then they also gave me a pair of gloves for free.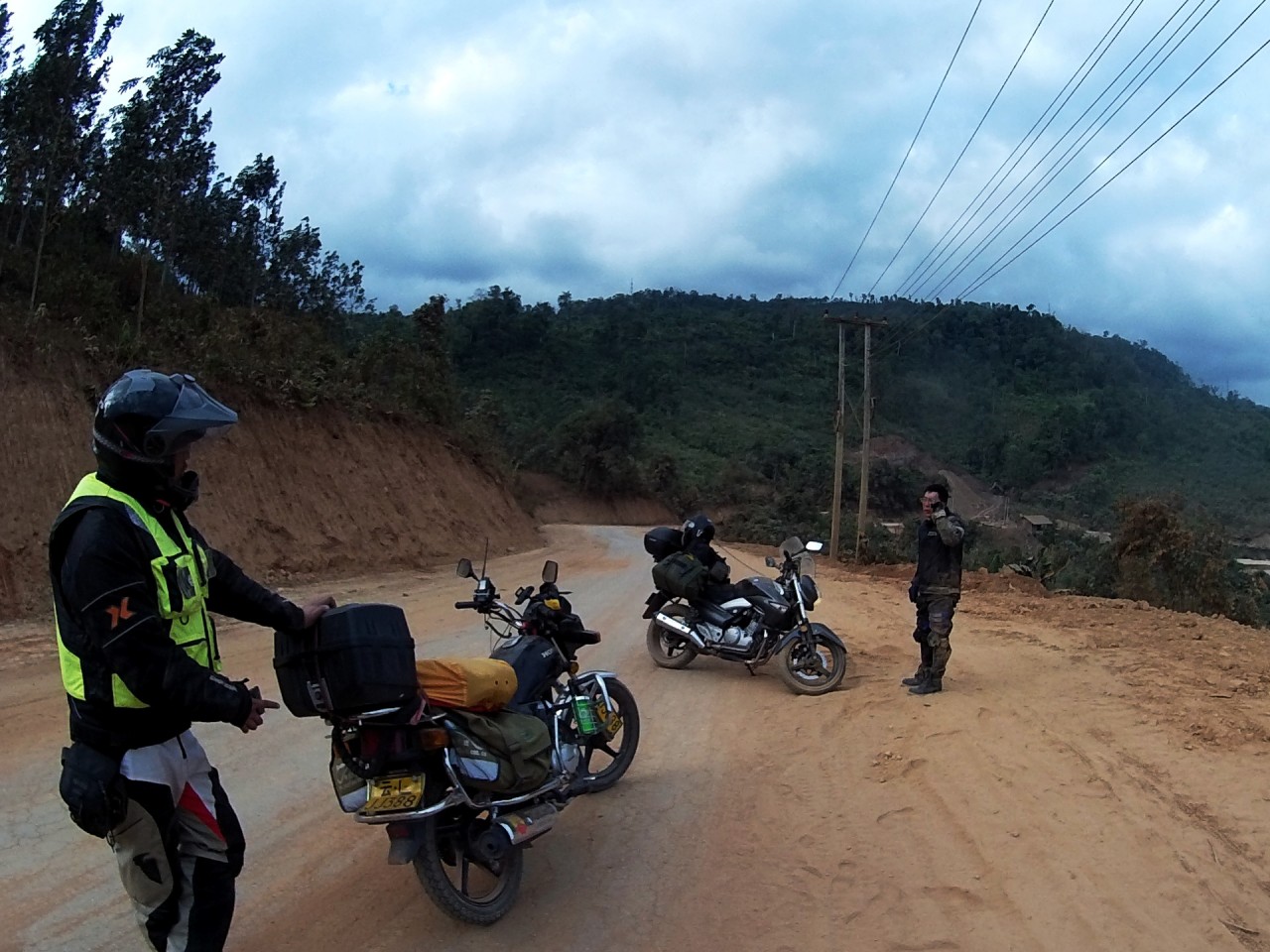 My Chinese friends also had a little crash on the bad road
After driving for a while we were passing through Oudomxay, as I heard the most uninteresting city in Laos, and decided to go further. It was getting darker and darker as we still didn't find a place to stay overnight. My tank was running dry and there was no petrol station nearby. When I had to stop I realised that the key of the motorbike was gone. It was loose and must have gone off while driving. My Chinese friends were a big help again. We managed to open my tank without the key and then they got out a tube and sucked some petrol out of their tank and put it into my tank.
We continued driving and I was driving ahead for a while when I reached the Pak Mong, a small city with mainly Chinese living there. I was waiting a while for my friends but when they didn't show up I searched a guest house and went to bed exhausted from a long day on the bike. The next morning I got up early and tried to get my bike started. I made one big mistake though. I tried if the lock was working without the key. Well I managed to turn it off, but then it wasn't possible to turn it on again. I tried to hot-wire the bike but it didn't work. So I pushed the bike to the nearby petrol station and asked some people for help. Very soon I saw some well known motorbikes coming to the petrol station, my Chinese friends. Together with the help of one nice Laotian guy we managed to pick the lock and break open the locked tank. After refuelling I just needed some duct tape to close the tank. 😉
I waved my friends goodbye and went off towards Luang Prabang.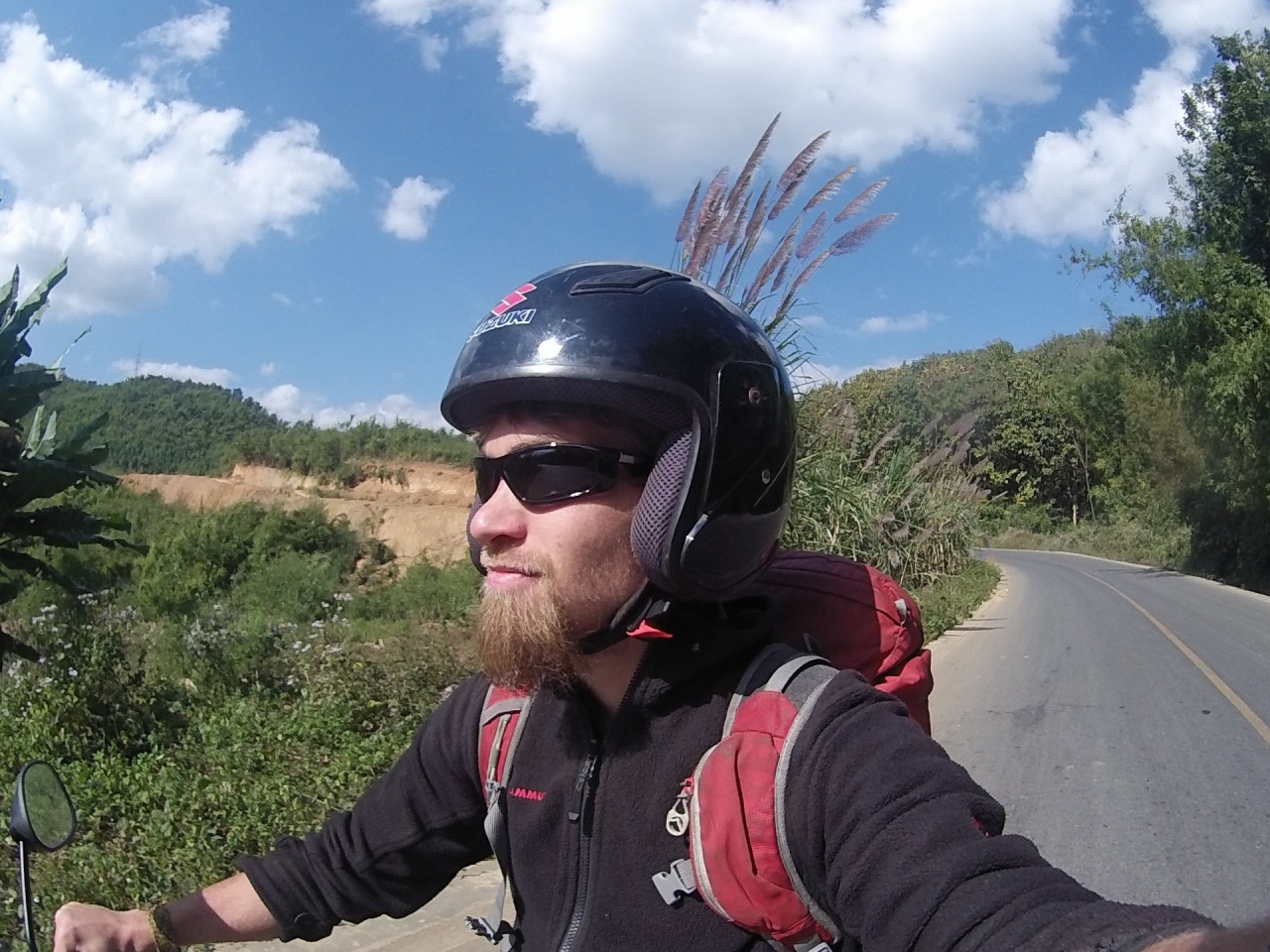 That day I didn't get far. It was new year and in every village they were playing good music, dancing and having fun. At lunchtime I just stopped at a nice village where they were seemed to have lots of fun celebrating. I parked my bike beside a typical Laotian stilt house, walked over to the table in front of the house and sat down joining the locals. They were cheering and laughing "Oh yes! Please sit down! Here have a beer! Have some food!" And they handed me over a glass of beer and a plate. In Laos they put two bottles of beer on the table and serve everyone from one bottle, emptying one bottle after another. And then the next one buys two bottles of beer and puts them on the table. I like it! That way you always have cool beer and everyone gets to pay some beer. 🙂 They served very tasty Larb, the traditional Laotian dish with minced meat. Together you always get a bamboo basket with very tasty sticky rice. You grab a hand full of rice squeeze it to a ball and dip it into the sauce. So delicious! We celebrated, danced, laughed and partied until late night. When they told me I can go to my hotel now, I told them that I will for sure not get on my bike as much beer as I've drunken and I'm fine with sleeping with my head on the table in their veranda. After a while one of the guys invited me to sleep at his place. Thankfully I accepted and stayed the night in their stilt house.
The next day in the morning I watched the wife in the house preparing chicken for lunch. First she went over to the neighbor and came back carrying a hen which was flapping the wings and twitching its body helplessly. And then I saw her holding the hen out of the window until it stopped twitching and it became a lifeless body. I was wondering why she was holding it out of the window but I guess that was so that the hen would not shit all over the house in fear of death.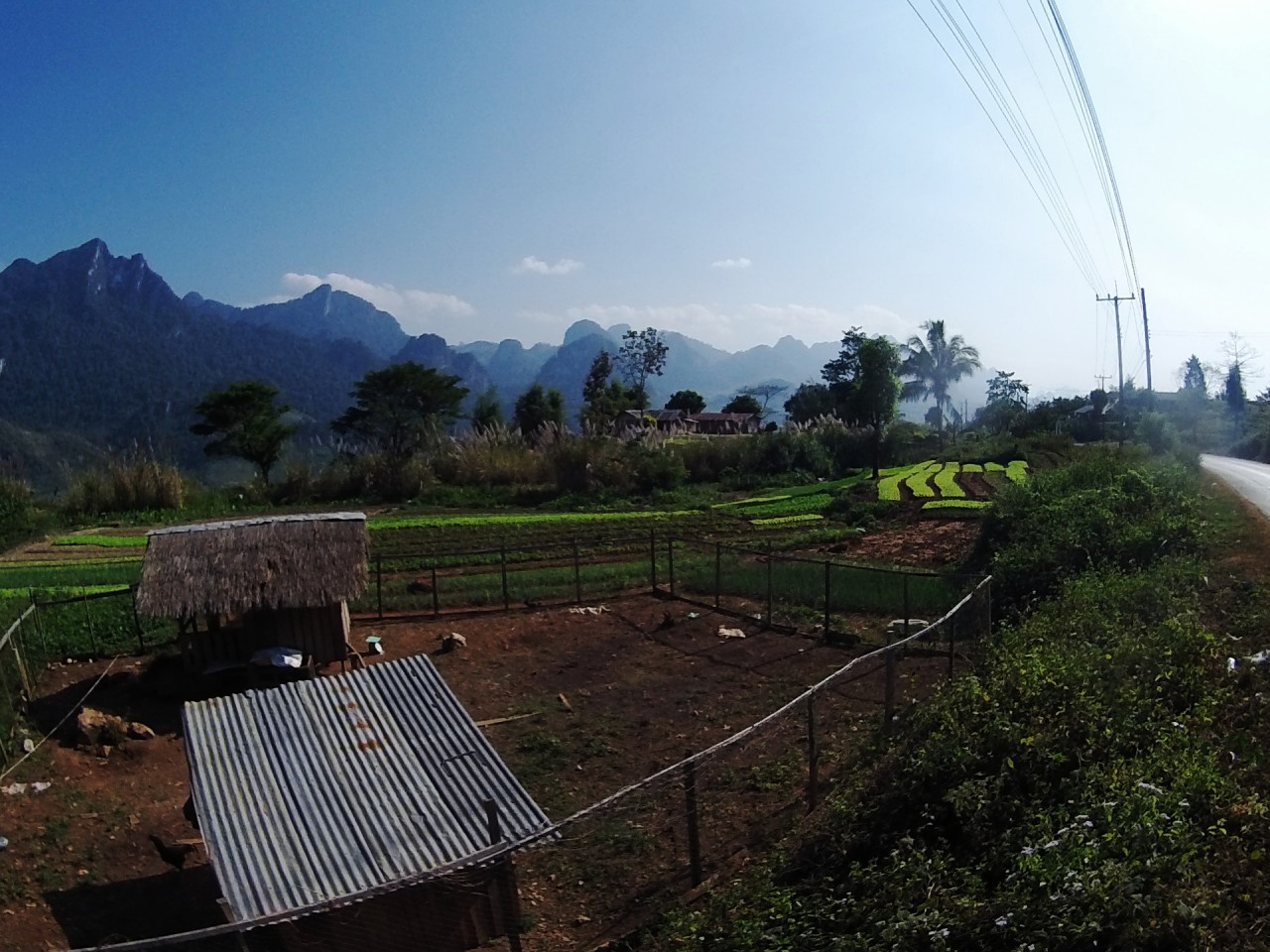 Late morning I left and after driving a while I made a break along the road and enjoyed the amazing view of the Mekong River with the mist hanging over it. I was sitting at the river gazing into the landscape and enjoying the peaceful harmony of the river when I heard a motorbike approaching. Who was it? My Chinese friends again. 🙂
And so we drove together until Luang Prabang. In Luang Prabang I had the best Papaya Salad ever and a delicious dinner buffet at the night market. I stayed a few days in Luang Prabang, got an oil change at a garage and then continued to Vang Vieng.
Vang Vieng is way too touristy for my taste with lots of young people getting wasted while tubing down the river. So I had some beers, a fun night and left the next day towards Vientiane.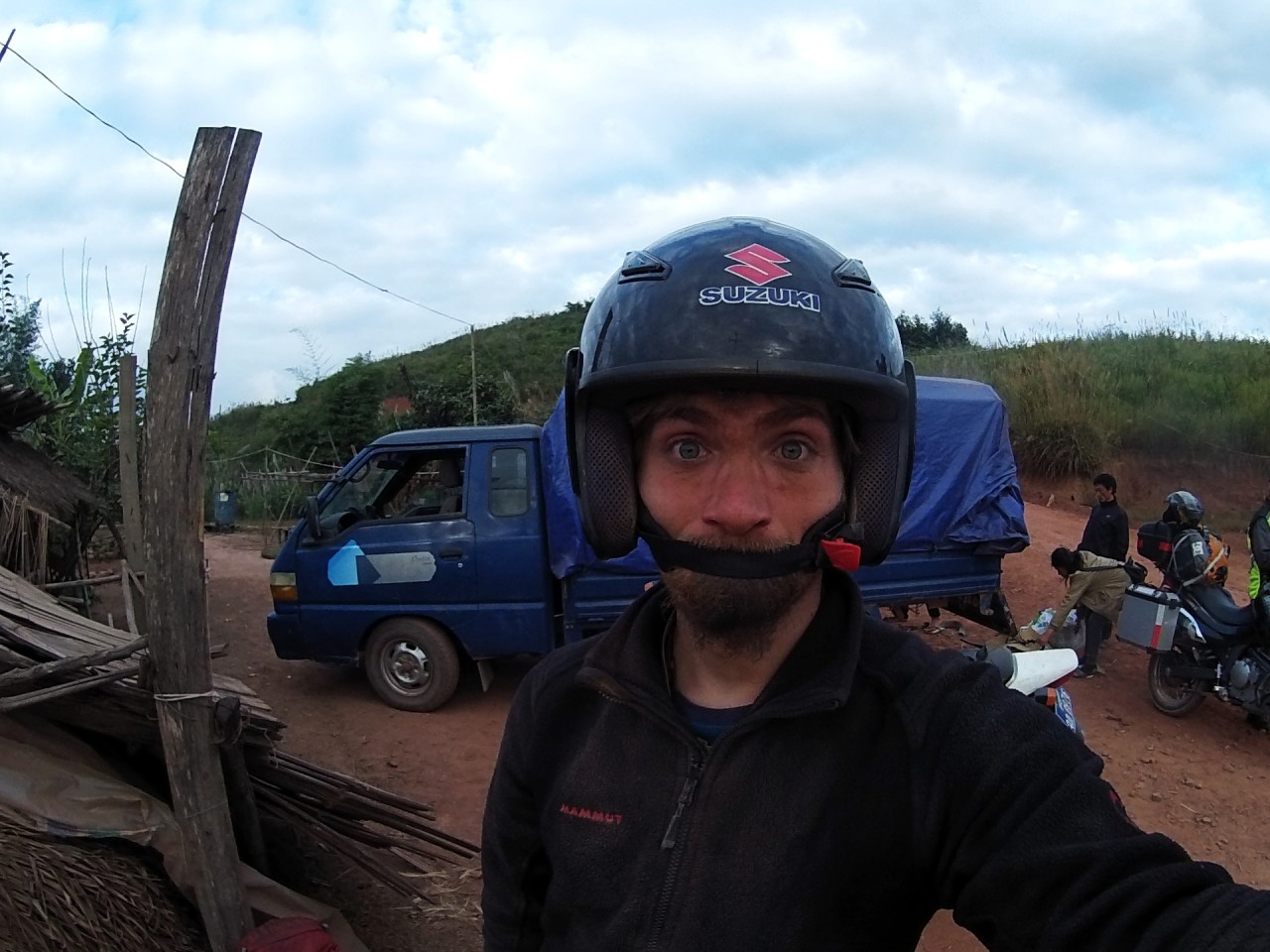 Finally after 10 days on the road me and the bike really made it to Vientiane – in one piece!!! After arriving in Vientiane I called the guy from the motorbike rental place to meet up and get my passport back. I was really nervous about the condition of the bike and that they might want me to pay for the damage. The guy picked me up from my hostel and told me to follow him to the garage. When we arrived he told me to put the bike in the garage. He didn't even look at it, gave me my passport back and drove me back to my hostel!!! 🙂
So when in Laos I highly recommend you to get a motorbike. Rent, or buy one and drive around the villages. Get in touch with the villagers. In the touristy places they have enough from the tourists, but in the villages the people are so nice!