How not to travel in Afghanistan
What the fuck? What a trip! Since Afghanistan was the last Persian country I didn't visit so far I wanted to go there all the time. Anyway I didn't expect my short journey to this place to be so exciting.
When I applied for the Tajik visa in Bishkek I applied for a double entry visa so that I could make a short trip to Afghanistan and go back to Tajikistan again. When I picked up my visa it turned out to be single entry and they said, they don't give double entry visas in Bishkek. Basically my plan was to see the Wakhan Corridor from the Afghan side. The Wakhan Corridor is said to be the safest place in Afghanistan. Since it's such a remote area the Taliban are not interested in it. Anyway, this small strip of land between Tajikistan and Pakistan is one of the most beautiful places in the Hindu Kush mountains inhabited by nomads from Kyrgyzstan and Pamiris, the nomads from the Pamirs.
So when Tajikistan my travel mate Ben and I decided to do a short detour to Afghanistan. Nothing special, just touring around for not more than a week and then going back to Tajikistan again. That we only had a single entry visa for Tajikistan didn't lower our ambitions. Getting the visa for Afghanistan was so easy in Khorog. It took us 50$ each, one hour, a nice chat with the ambassador and signing a waiver form saying "all responsibility on our trip to Afghanistan belongs to us". Not having a visa to get out of Aghanistan we looked at us and said "Ah no problem, we'll go to Afghanistan with a one way ticket. We will find a way back."
From Khorog we hitchhiked to the border at Ishkashim, had some interesting talks while walking along the road with a drunk Tajik guy who kept saying, it's just around the corner for one hour walking in the middle of the night. And then after getting invited by a nice local to stay at his place we made it to the border the next day. We spent the day wandering around the Ishkashim border market and waiting for the right opportunity to cross the border.
Finally we found the right guy, a Afghan border guard who spoke pretty good english. We told him about our little problem with the Tajik visa. And he said: "You know, I also have a little problem. My salary is so bad." So for a little financial support he agreed to bring us over the border without getting a Tajik exit stamp.
We walked into the border buildings very nervous not knowing who we should talk with. At the Tajik passport control the guy looked at our passports and we just hoped our friend informed him and everything would go right. The highest ranked officer sent everyone else out and each of us gave him a 100,- USD handshake. The money quickly disappeared into his pocket and he promised us that they will let us back in a week. We had to trust them and were very excited that we made it into Afghanistan without a Tajik exit stamp.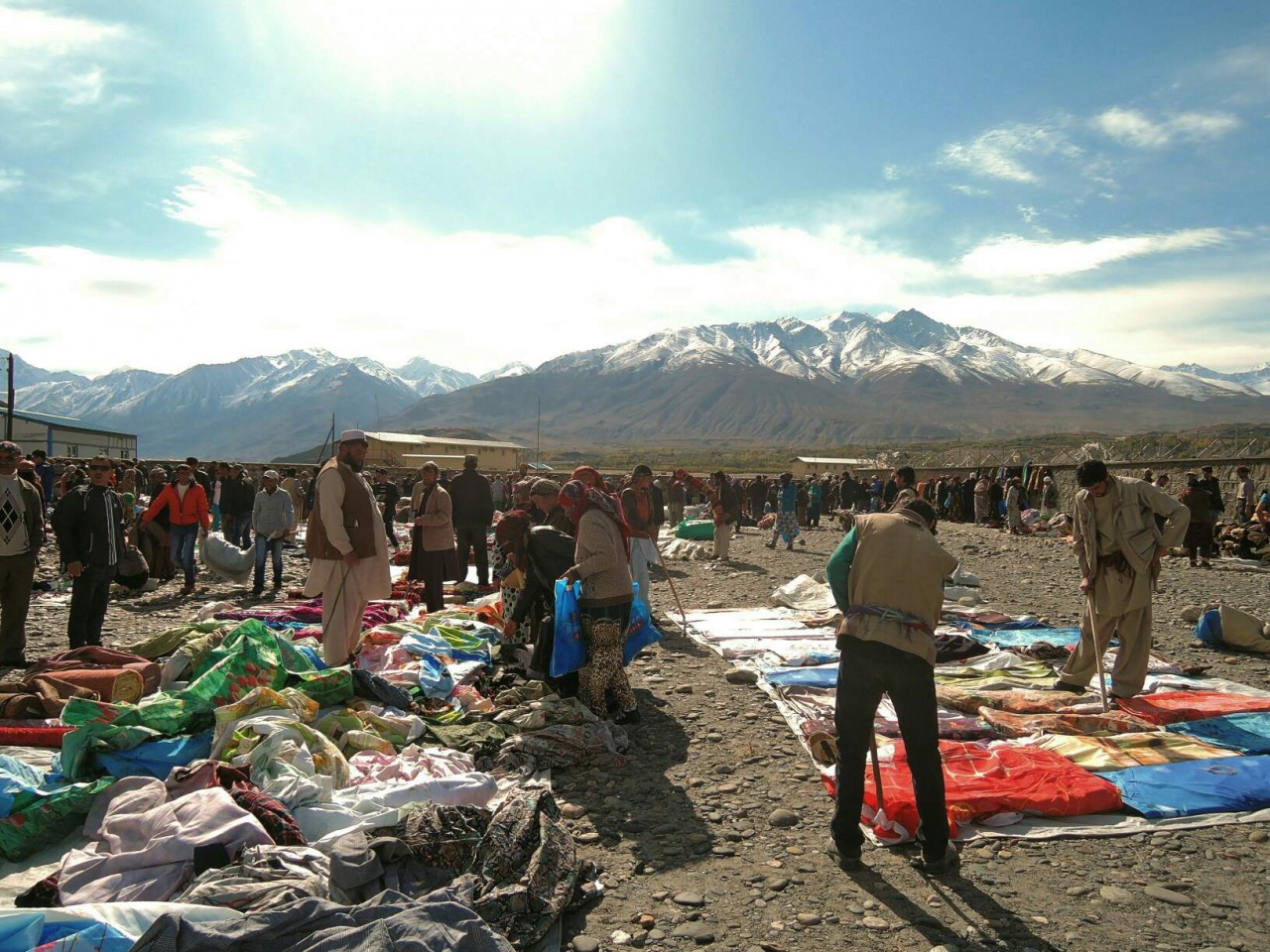 The Ishkashim border market
After staying two nights in the Afghan side of Ishkashim and sorting out some paper work (we stayed in the cheapest accommodation, the restaurant at the bazaar), our plan was to go over Faizabad to Kabul and apply for the Pakistan visa. Kabul was my last hope to get the visa and be able to cross the Karkoram Highway from China to Pakistan.
The restaurant in Ishkashim – we slept exactly where we've been sitting
Anyway, on our third day in Afghanistan we found a driver who would take us to Faizabad – but only if we got dressed like locals to not show up too much. So we did and then we took the stunning road across the foothills of the Hindu Kush Mountains. Well actually it was more a rocky donkey path than a road. In Afghanistan they have very few roads since nearly everyone is riding either a motorbike or a donkey.
The road to Faizabad – actually a donkey path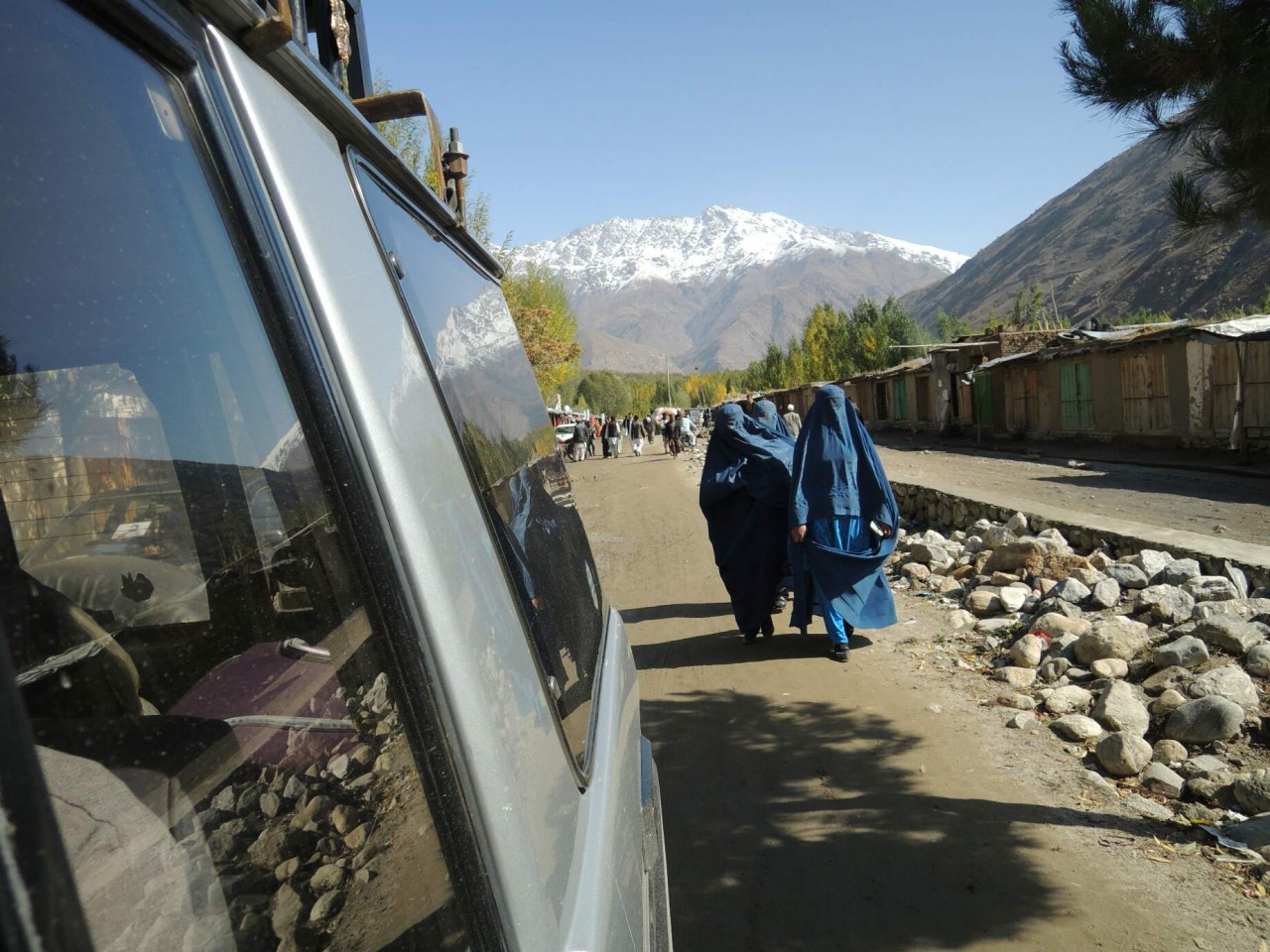 Yes, and after crossing the beautiful pass we got stopped by a 'police' checkpoint, got interrogated for hours, been handcuffed to each other and driven away. Actually we didn't even know if they where police, military or Taliban. I asked them if they are police and they just replied: "Yeah, something like that". That gave us confidence! Handcuffed together they drove us away in our own jeep putting some soldiers with us in the car. Looking at our handcuffs I told Ben, at least we stay together now – at least I thought so. In the next village they've already awaited us with three armoured army jeeps (two with machine guns, one with a rocket launcher on top). When we got out of our car dozens of soldiers jumped out of the jeeps and surrounded us. Then they put us separately in handcuffs, put us in different army jeeps and drove off. They've been driving like maniacs through the villages and when I asked the monkeys with the guns "We are going to Faizabad now?" they replied "No, we bring you to Vardush to the Taliban, they pay good money for you." That's where I thought it's over now. I had a nice life. Now there will be a last video of us on YouTube and that's it. And then I had the worst two hours of my life with the monkeys with guns next to me and preparing myself for the last hours of my life. When I realised that we were arriving at a highly fortified army base and not a Taliban camp, my heart rate slowly calmed down again. It was a high security prison for terrorists. I never thought I could be so glad to end up in jail in Afghanistan. Still when we arrived at the prison the guards looked at us with so much anger and hate in their eyes if we would have killed their children. Well, they've been told that we are Taliban. And they saw how their best friends got killed by them, tied on the back of a truck and pulled behind until they were death. So I was expecting a proper Afghan style torture. But luckily nothing like that happened. They just searched everything once again, turning our bags upside down and searching our bodies. And several hours of more stupid questions followed. "What is your father's name? What is your grandfather's name? What is your uncles boys name?"
That's how I landed in jail in Afghanistan.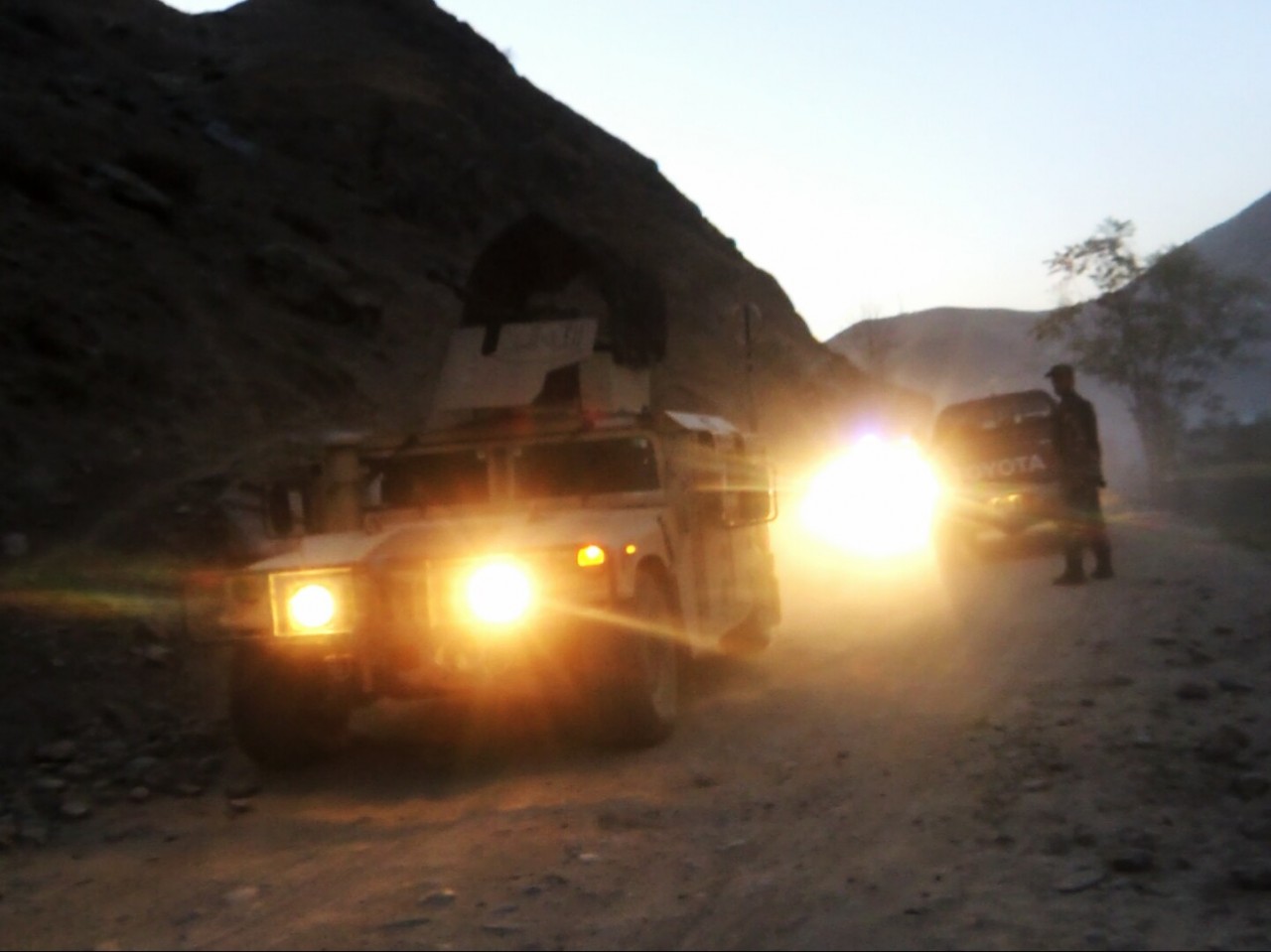 After several threatening hours of interrogation they took us away everything and threw us in our cell. It was a basic cell room with nothing in it but the Quran where we were locked up with our driver and a tour guide who had the bad luck to be in the car with us. At least we had the most luxurious cell with two barred windows which gave us a beautiful view on the prison wall and the guards patrolling on the wall.
The worst thing in jail was not knowing what to do all day long except doing starring contests with the wall. But Ben and I did a good job keeping ourselves smiling (although we expected to be in jail for long, long time – especially after getting fingerprinted, photographed and our DNA taken from our spit).
The guards barely spoke any English – only a few words. Every morning they opened our cell when I was doing my "don't piss my pants"-dance, came in and said "Latrine go!".
So twice a day we were allowed to have a short walk in the courtyard before we got locked up again in our cell. And then every day the silence in our room got interrupted by a guard coming to our cell and bringing one of us away to a separate room where they where asking us over and over again the same stupid questions. Each time they took one of us away it was a heart pumping experience for both of  us. One of us thinking where they would take us and if it would be a pleasant or a horrible interruption. And then the other one of us who had to stay in the cell just thought will he ever come back.
When we asked for how long we have to be in there, we always got an unlikely 'tomorrow' as answer. So no one really told us why or how long we have to be in jail. Until the fifth day. One of the guards came to me and asked me "Why are you here?" It nearly made me laugh since that was the thing I myself wanted to know so much while in there. I told him "I don't know. Maybe you can tell me?" and he replied "Why is in your report written that you are Al-Qaeda ?" I just laughed "What is written in my report?!" Haha! They really thought we were Al-Qaeda . So we had to stay one week in a Taliban high security prison because our disguise was too good.
And in the end the general of the Anti-Taliban-Force apologised and said "Don't worry about the expenses for food and accommodation, it's all on us." Oh, really? That was so kind of him.
And then he offered us to stay one more night, but not in jail. He offered us to stay one night with him in his luxurious villa. And since our driver, who offered us to take us back said it's already late in the afternoon and we should leave tomorrrow morning we agreed. And then we even got a tour around the city with the general and his translator. The general asked us if we want to take the bulletproof car or the car where we actually can see something out of the windows for the city tour. We took the normal car, a pickup truck where two armed soldiers jumped on the back to escort us.
So we had our real Afghan experience, spent a whole week of our planed one week in Afghanistan in jail and went directly back to Ishkashim, where we crossed the border back to Tajikistan again. And as happy as we were to come into Afghanistan, we were to leave Afghanistan again.
Someone said, life is not measured by the number of breaths we take but by the moments that take our breath away. My trip to Afghanistan had loads of such moments. 😉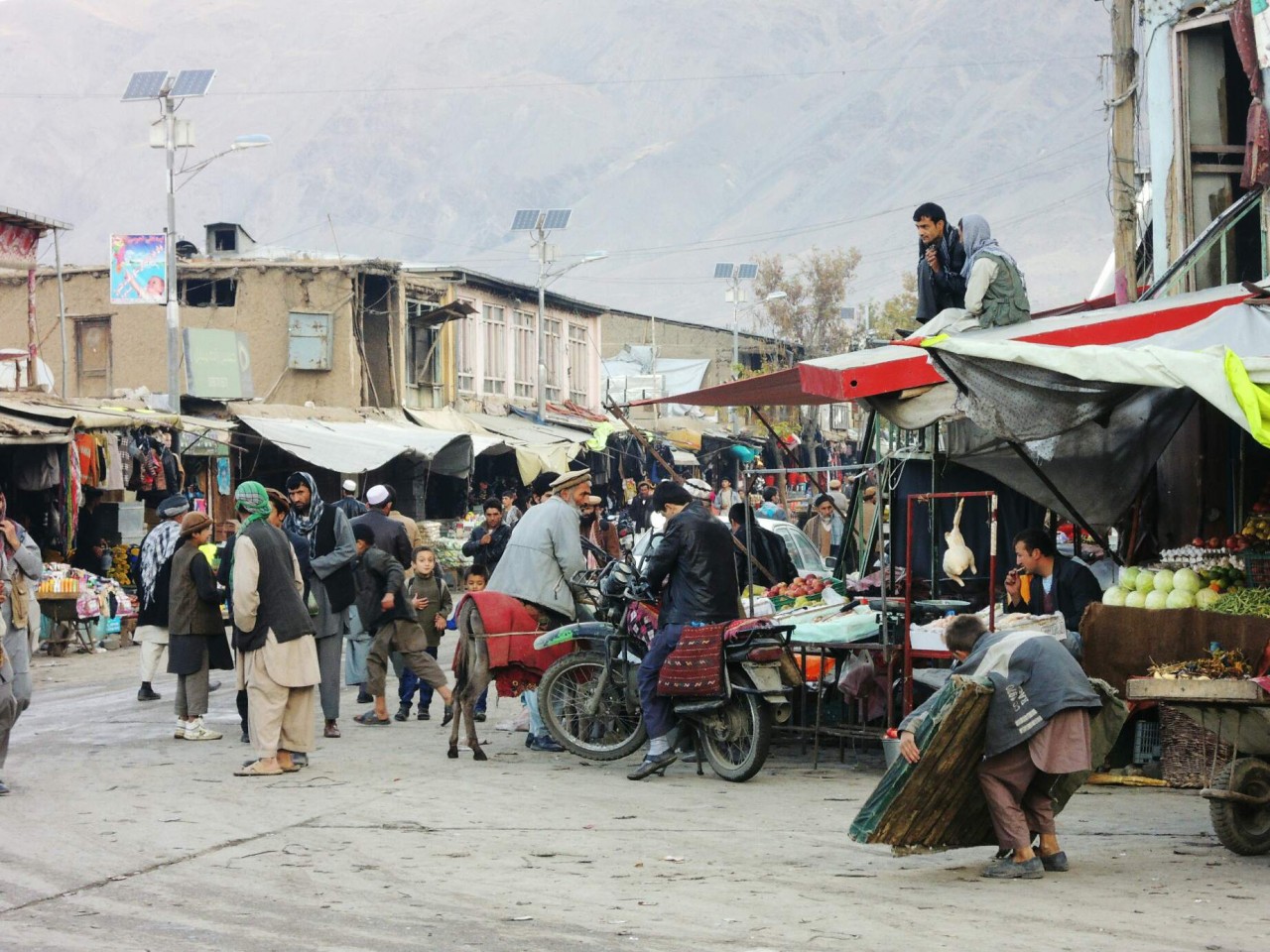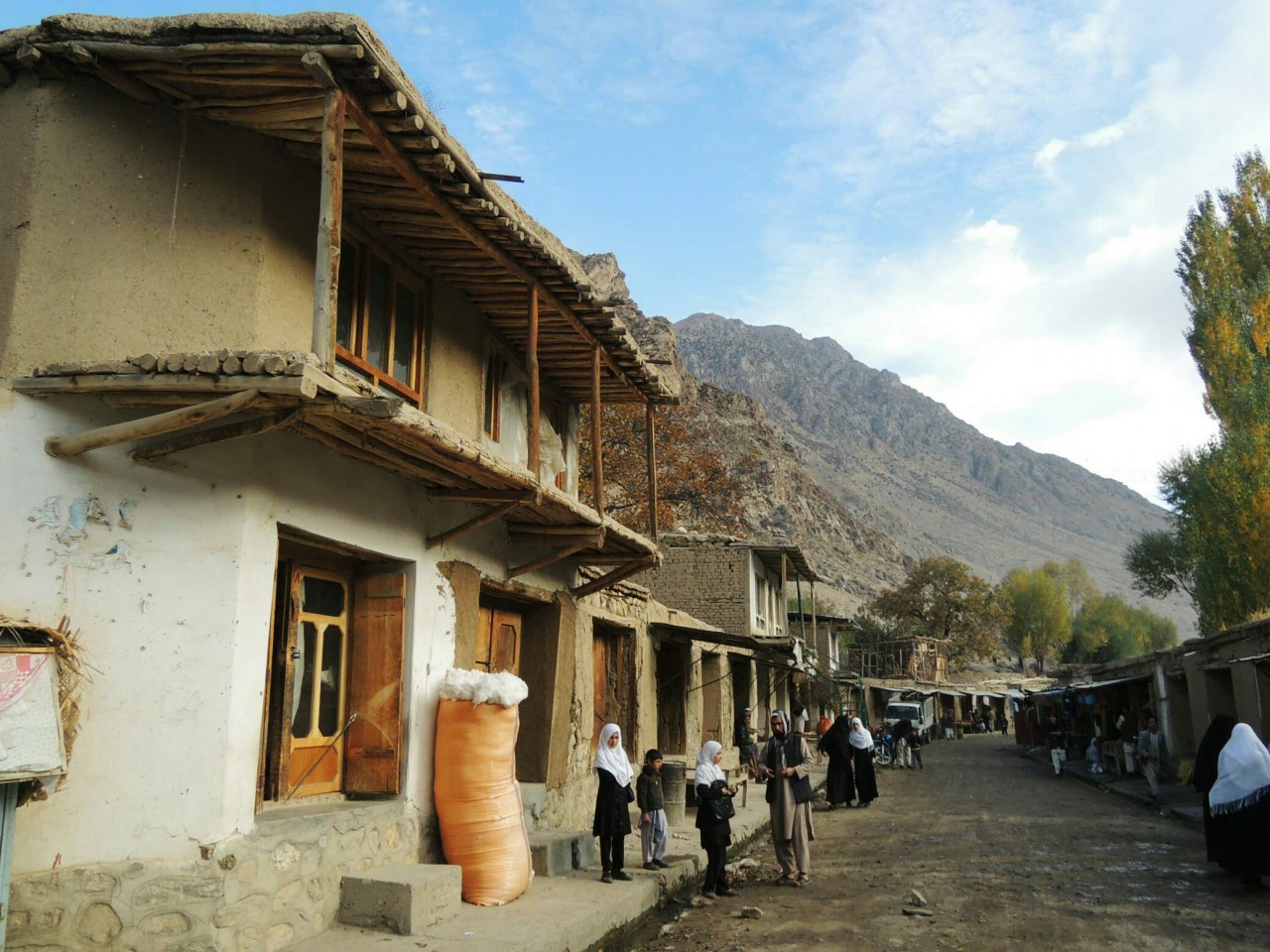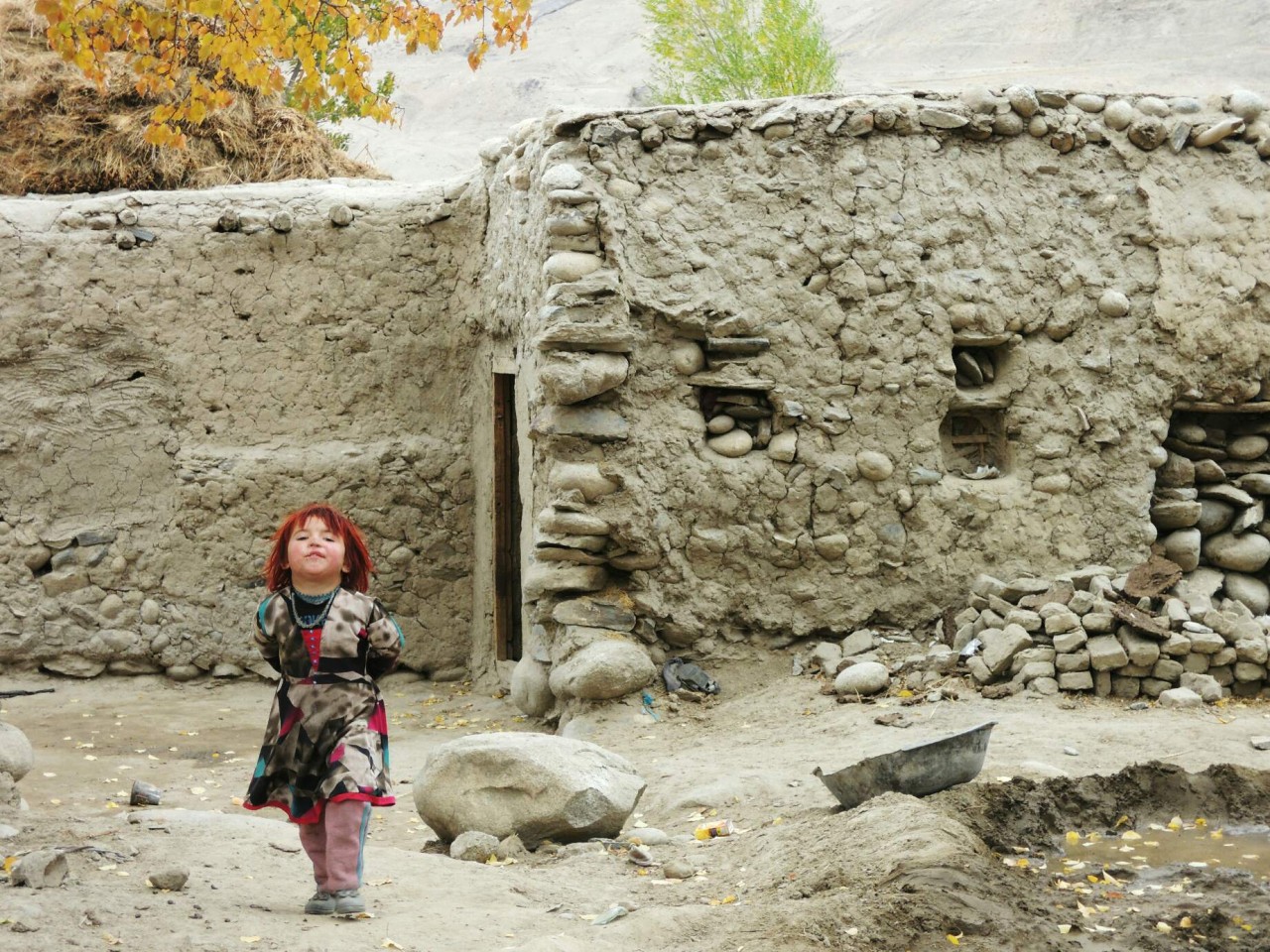 It was an intense experience, but still I don't regret going to Afghanistan. Still it was very tough seeing with my own eyes what's going on there. All the hate of the people on each other which they grew up with and don't know anything else.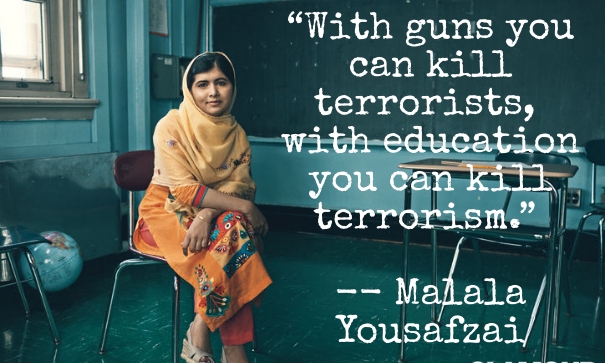 In Afghanistan the locals don't have beards. Especially long beards are a sign of extremism. So if you really want to go to Afghanistan, it's good to dress like a local to blend in and don't stand out as a western tourist, but also to shave your beard.