A race on the second highest highway
My travel mate Ben and I had an interesting side trip to Afghanistan which took us longer than expected. When we made it back to Tajikistan I had only five days left on my Tajik visa. The first day we spent with getting back to Khorog where we left Cindy, Bens Tandem bike at a friend's place. Our plan was to ride Cindy from there across the Pamir Highway over to Kyrgyzstan.
Okay, since the time was just not enough, we decided to take a shared taxi to Murgab stay there for the night and cycle within the remaining three days the rest – the most promising 230km with two big passes (one with 4600m and one with 4200m).
In Murgab we again got surprised by Tajik hospitality. Ben and I spent our last Kyrgyz Som on the taxi and had barely any money left. Arriving in Murgab late at night we found a guesthouse where we asked if we could put up our tent in their courtyard. The young boy, the owners son, told us no you can not put your tent in our courtyard, it's too cold, you sleep here inside. We told that we don't have any money and they said no problem, showed us our room and served us a delicious dinner.
The next morning when we wanted to leave Murgab we had to find out that Cindy was unfortunately damaged. Being tied to the roof of the taxi was not so good for her and broke a back spoke. Ben was carrying all imaginable bike fixing tools with him except a cog tool to remove the back cog and replace the broken spoke. After trying the whole morning to remove the back cog hammering on it with a screwdriver we gave up and told us it should not be. We accepted already that we would have to leave Cindy behind. And when we were pushing here back to the guesthouse we just bumped into a Australian guy who stayed at another guesthouse with a great Japanese bike traveller who would have the necessary tool.
Bike fixing session in Murgab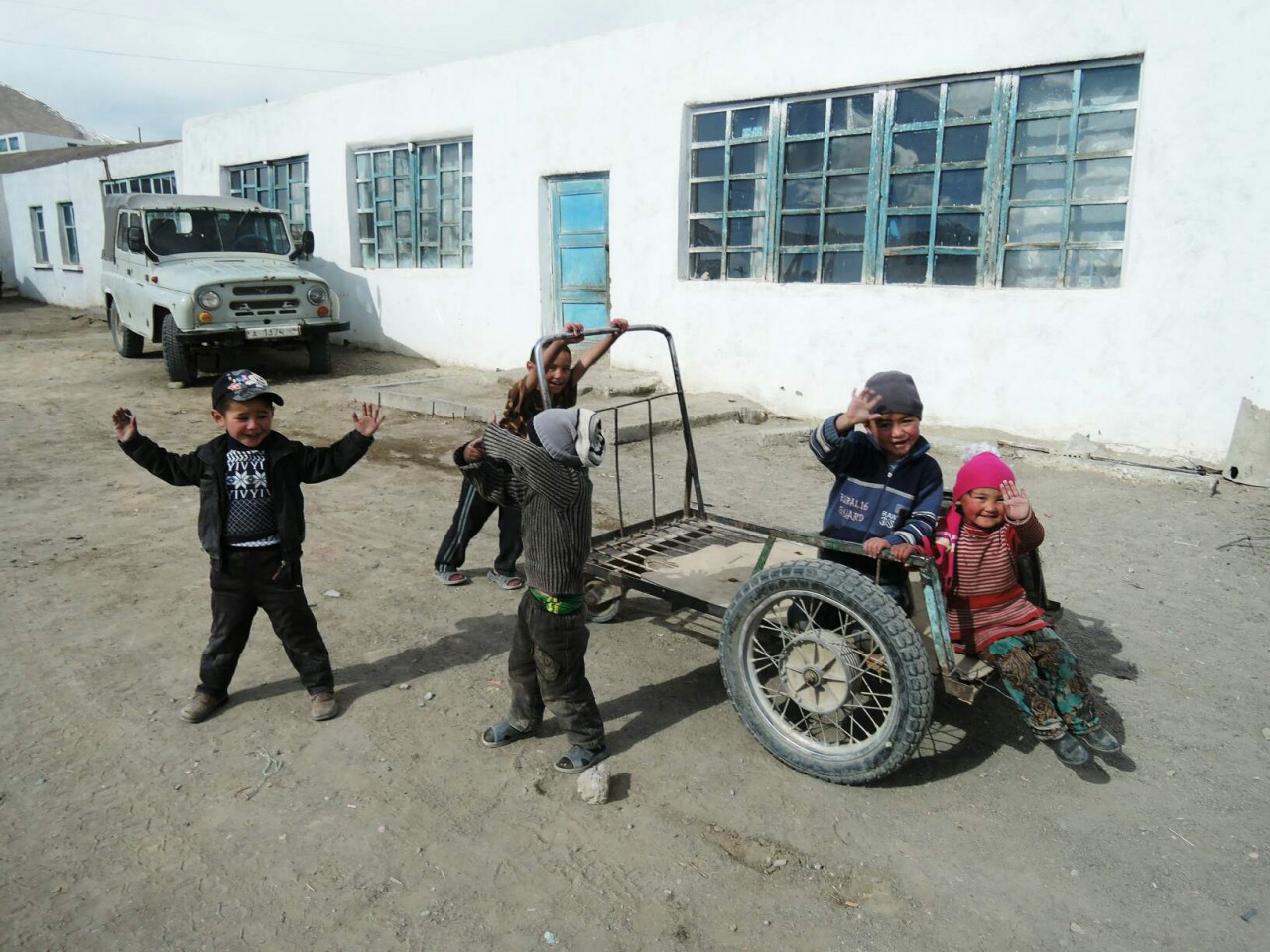 Kids in Murgab
We spent the rest of the day teaching English to a local school class and getting invited by some locals to have Sheer Chai (milk tea) with them. It took me a lot of self-control to not through up after getting the tea down my throat. In the whole Badakhshan area (in Tajikistan and Afghanistan) they drink tea with milk, salt and some animal fat.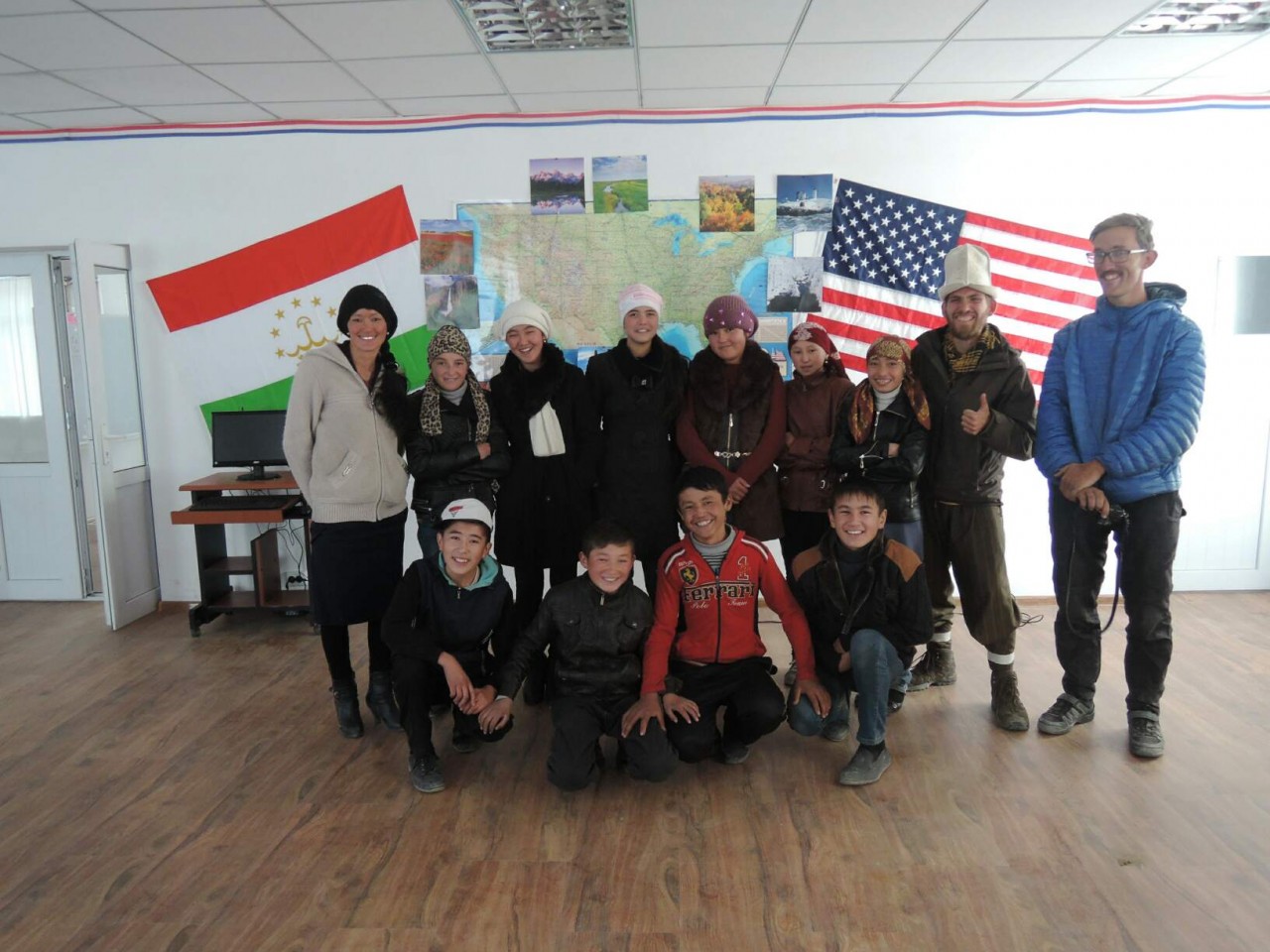 The second take of the class photo – after we had to teach them how to make photos (SMILE!!!)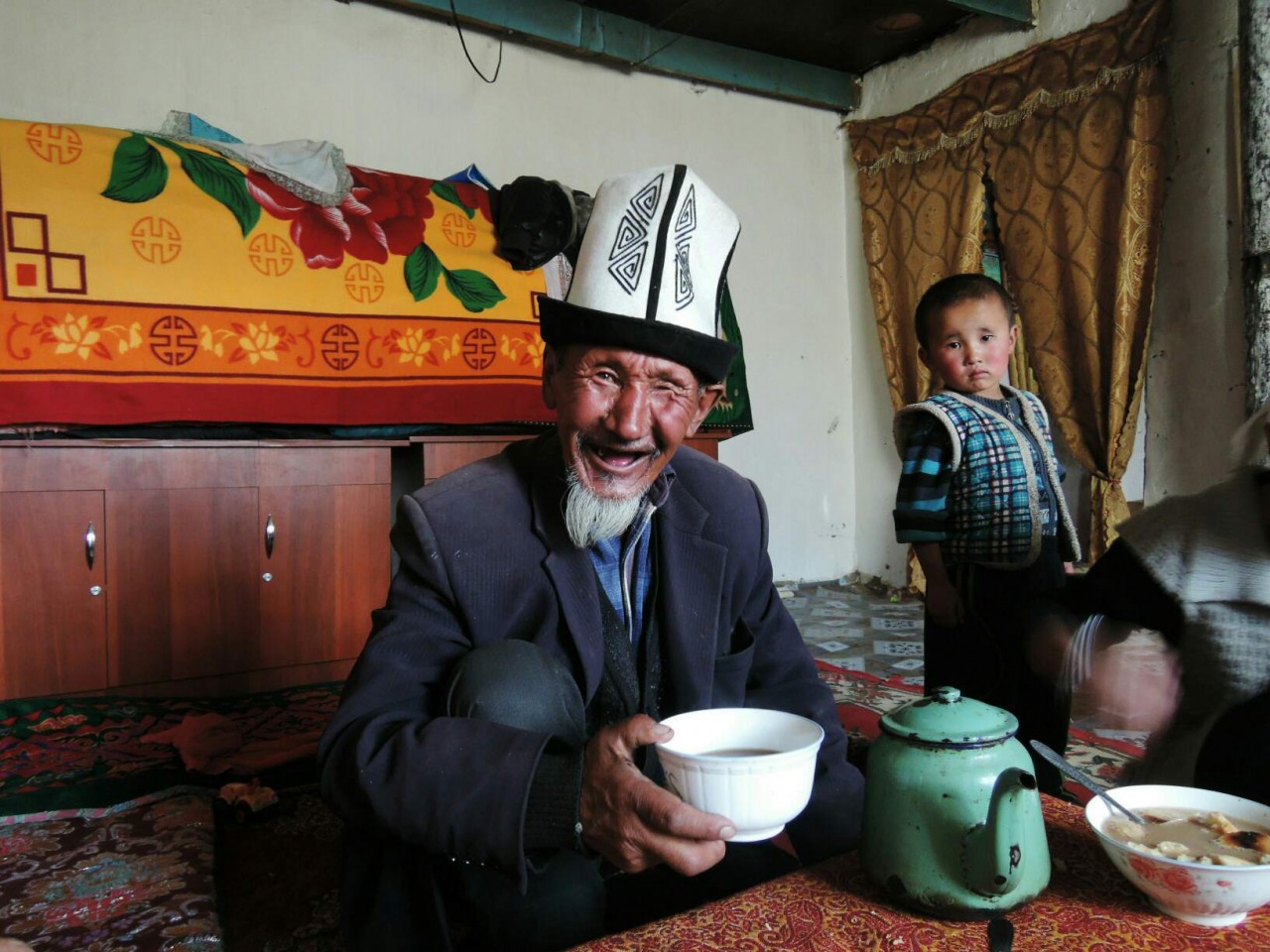 Funny old Kyrgyz man having Sheer Chai with us in Murgab
So the next day right in the morning thanks to the Japanese guy we managed to get Cindy fixed and where happy to leave Murgab. We had two days left to cycle the 230km across the two passes never dropping below 4000m. We knew we could only make it if we would be lucky and manage to get a few rides. After cycling half of the day along the amazing scenery without a single car passing we eventually noticed a car approaching us – in our direction!!! We couldn't believe it.
Not only that we managed to stop the truck, he also took us 13km in the back along the road. We just had to stop a few times to refill some oil or change a flat tire – the usual problems.
Back on the bike again, we were happy that we came along a river to get some water (not having any water the whole day). The bad thing was it was frozen – and I forgot to bring my pickaxe. 🙂
So we continued cycling – and then we had to stop for another bike fixing session. The back gear cable snapped and we had to convert Cindy to a single speed tandem. Now the uphill parts were getting a real pain in the ass. We were so glad when we managed to stop the second car of the day and he squeezed us two and Cindy into his jeep and took us a long way along the road. We just had to cycle something like 40km more to Karakul.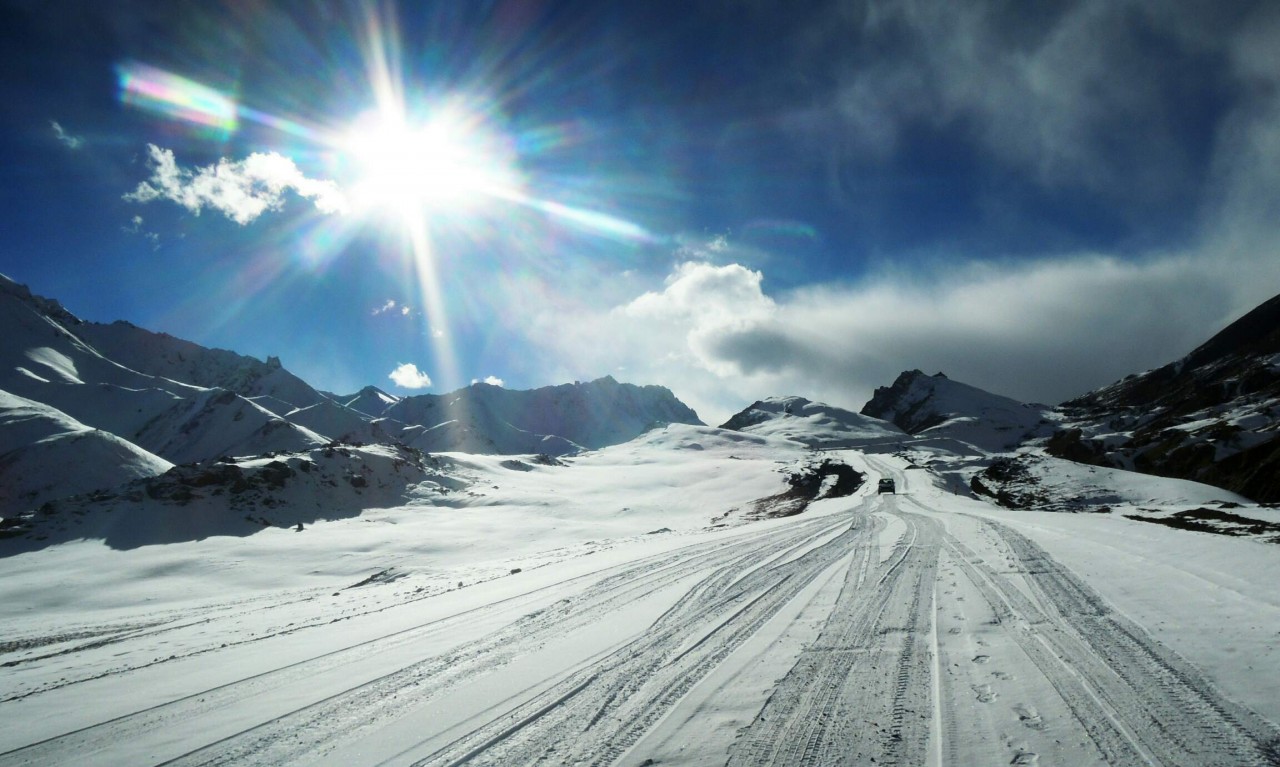 The highest pass with 4600m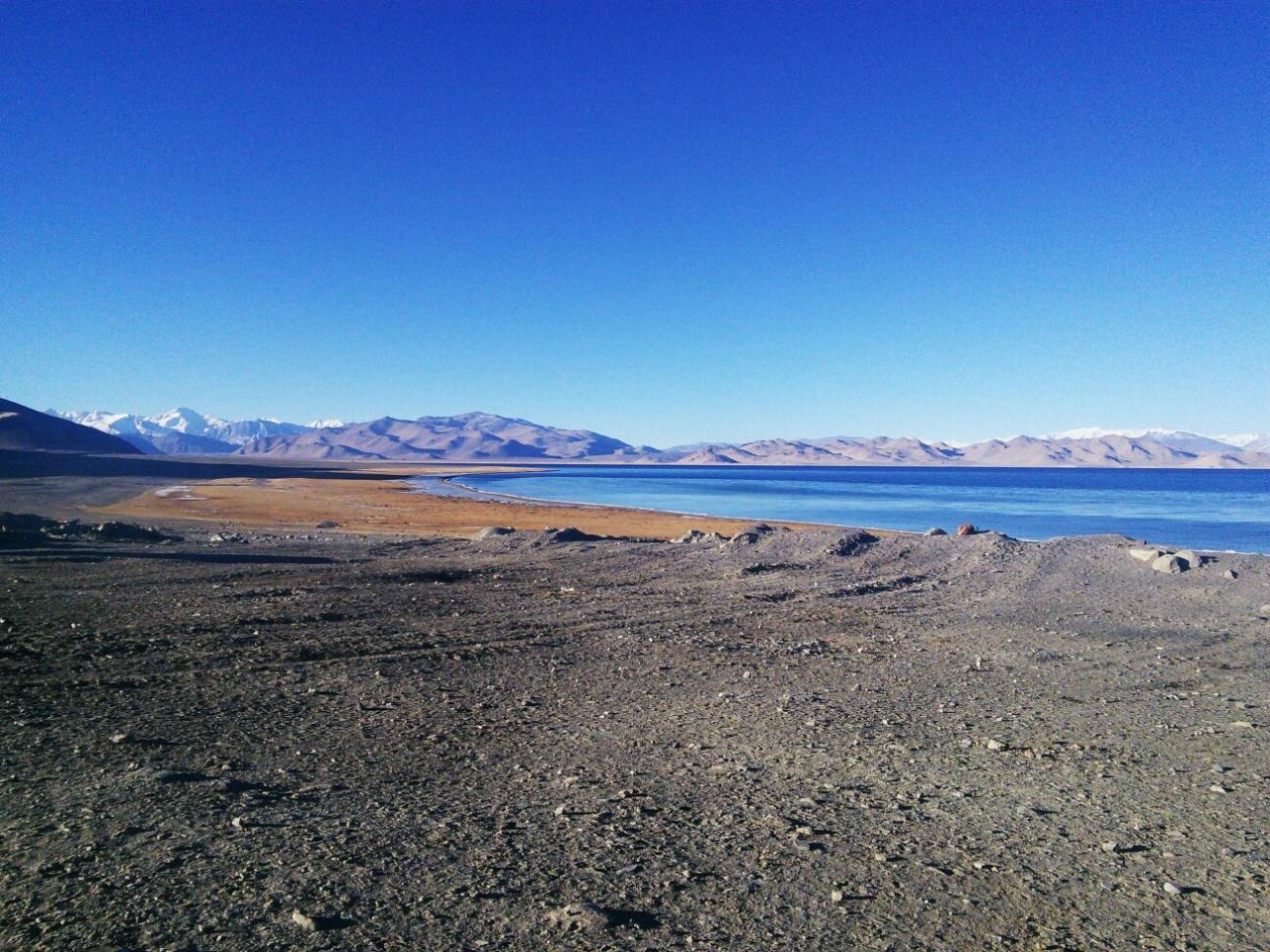 Lake Karakul
In Karakul we got invited to stay with a poor family. They where feeding us some mouldy bread, but thanks god no Sheer Chai. But the Kids liked the bad Tajik chocolate we were glad to get rid of. The next morning after sleeping on the floor with the family I felt like leaving my warm Goretex boots at their's. I thought I'm going to the warmth now anyway and they would be of better use to this poor family living on 4000m in the Pamirs. Back on the bicycle I felt like shit, my toes are freezing off in my fake sneakers. So just before I stopped feeling my toes, I put some plastic bags inside them to make them wind and waterproof and it was fine.
After cycling the whole day past the stunning scenery of the Pamir highway, we were happy to get a ride for the last few km and reached the Border of Kyrgyzstan on the afternoon of my last visa day.
So we were rushing through the Pamirs on a single speed tandem bike, breathing hardly, freezing our tits off and having both of our cameras die because it was too cold for them at night with -25 Celsius, but it was absolutely worth it with the jaw dropping view on the 7.5k high mountains of the Pamirs.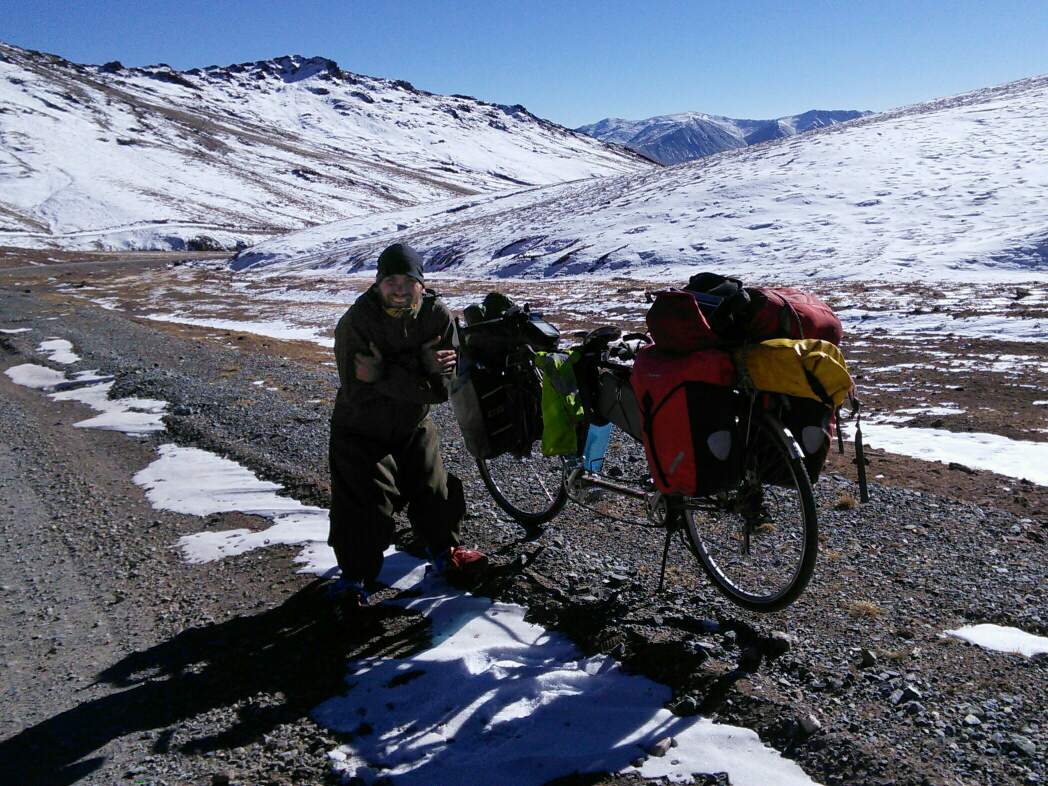 Freezing my tits off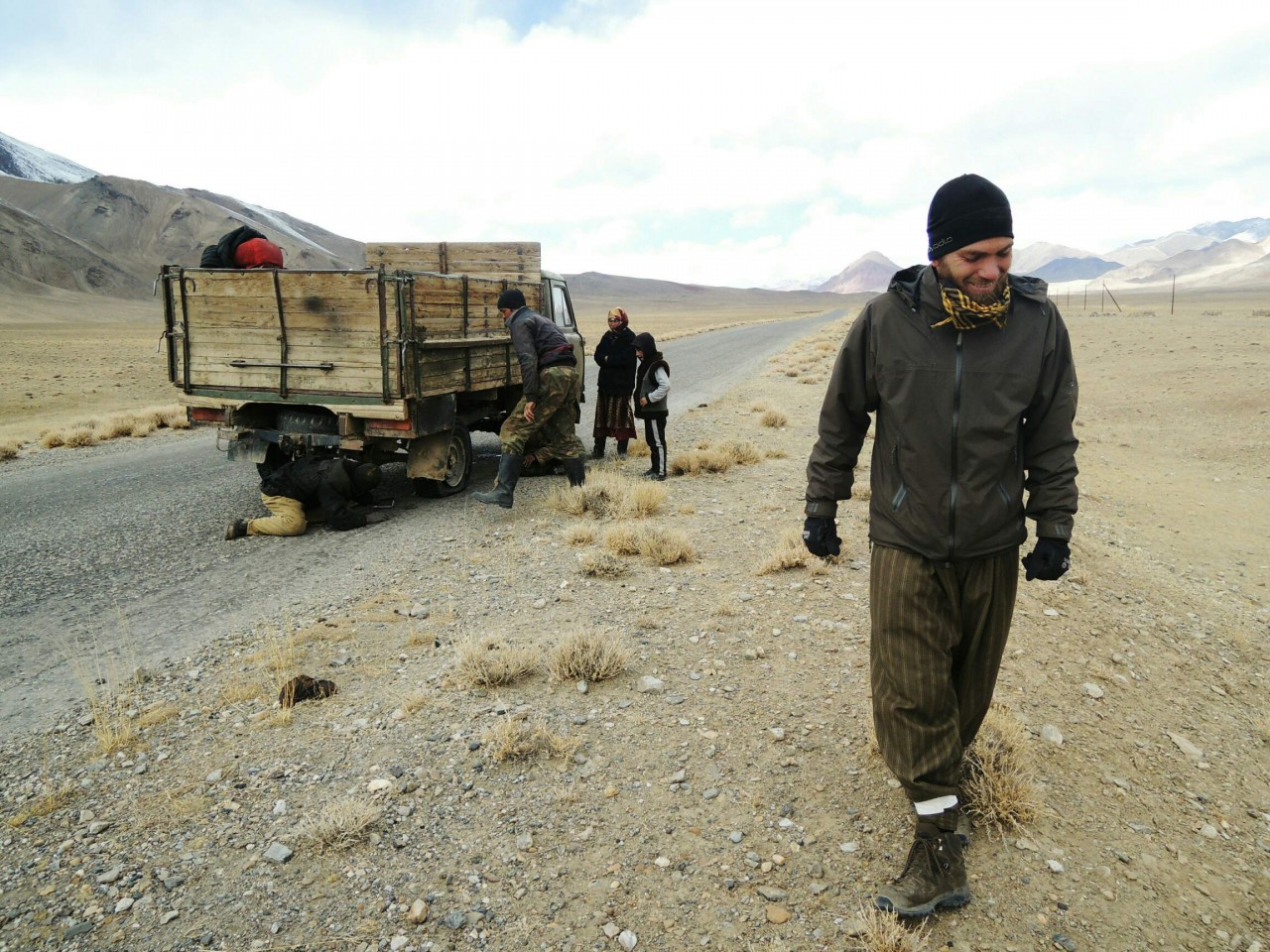 That looks no good!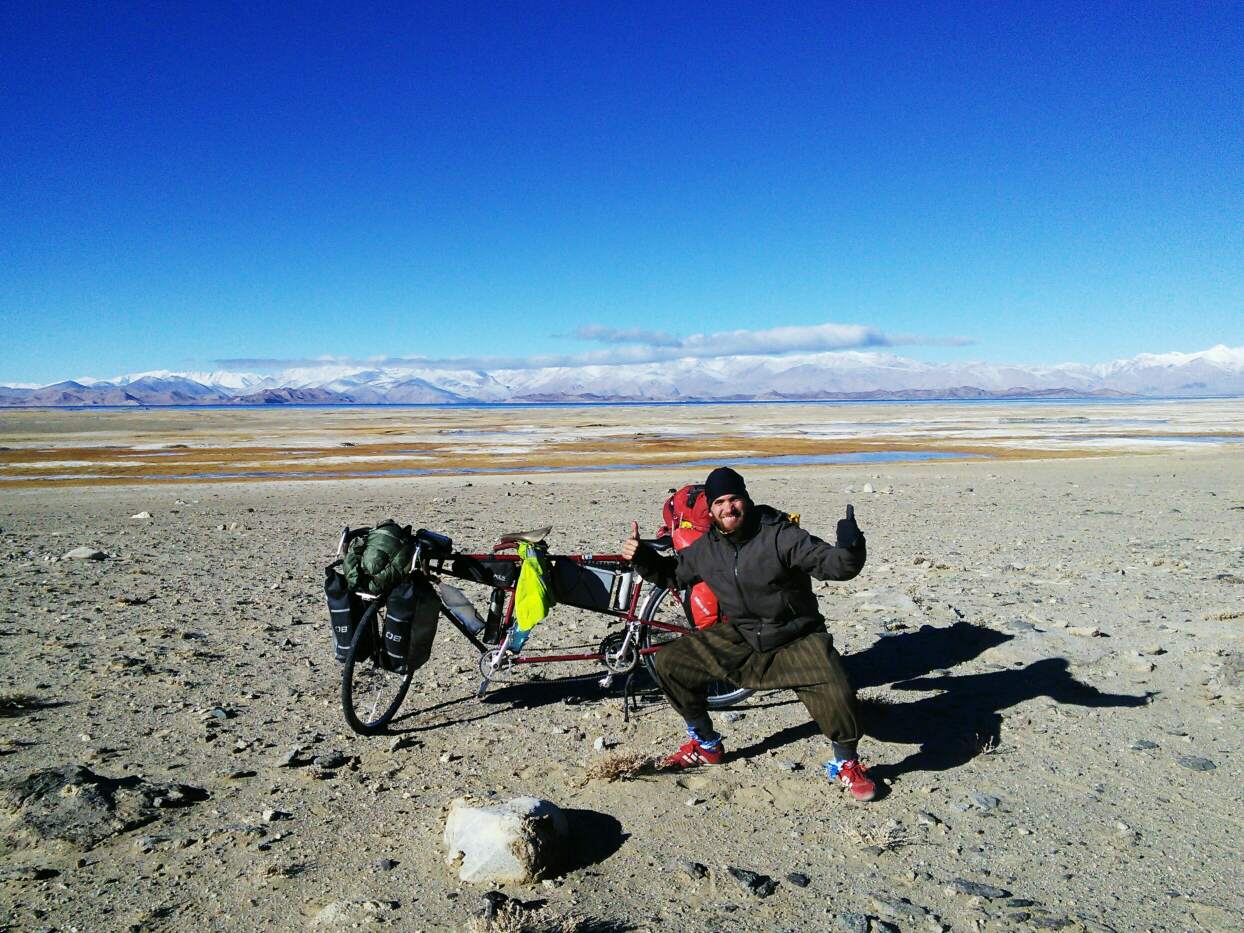 With the Tandem at Lake Karakul