Adventurous Kazakhstan
When I came to Kazakhstan and spent one day in the Kazakh mountains I felt like in Kazakhstan every day can be full of adventures. And it really is so!
My first few days in Kazakhstan I had a great time in Almaty. Almaty was formerly known as Alma-Ata, grandfather of apples because their used to be loads of wild apple trees in this area (Alma means apple in most turkish languages) .
The first day in Almaty I hitchhiked to the near mountains. On the way there I got invited to have picnic with some nice Uyghur people. Then up the mountains I found a new love. The Tian Shan mountain range looks amazing. So I decided to spend more time in the mountains and go to Kyrgyzstan through the Tian Shan mountains – by mountain bike!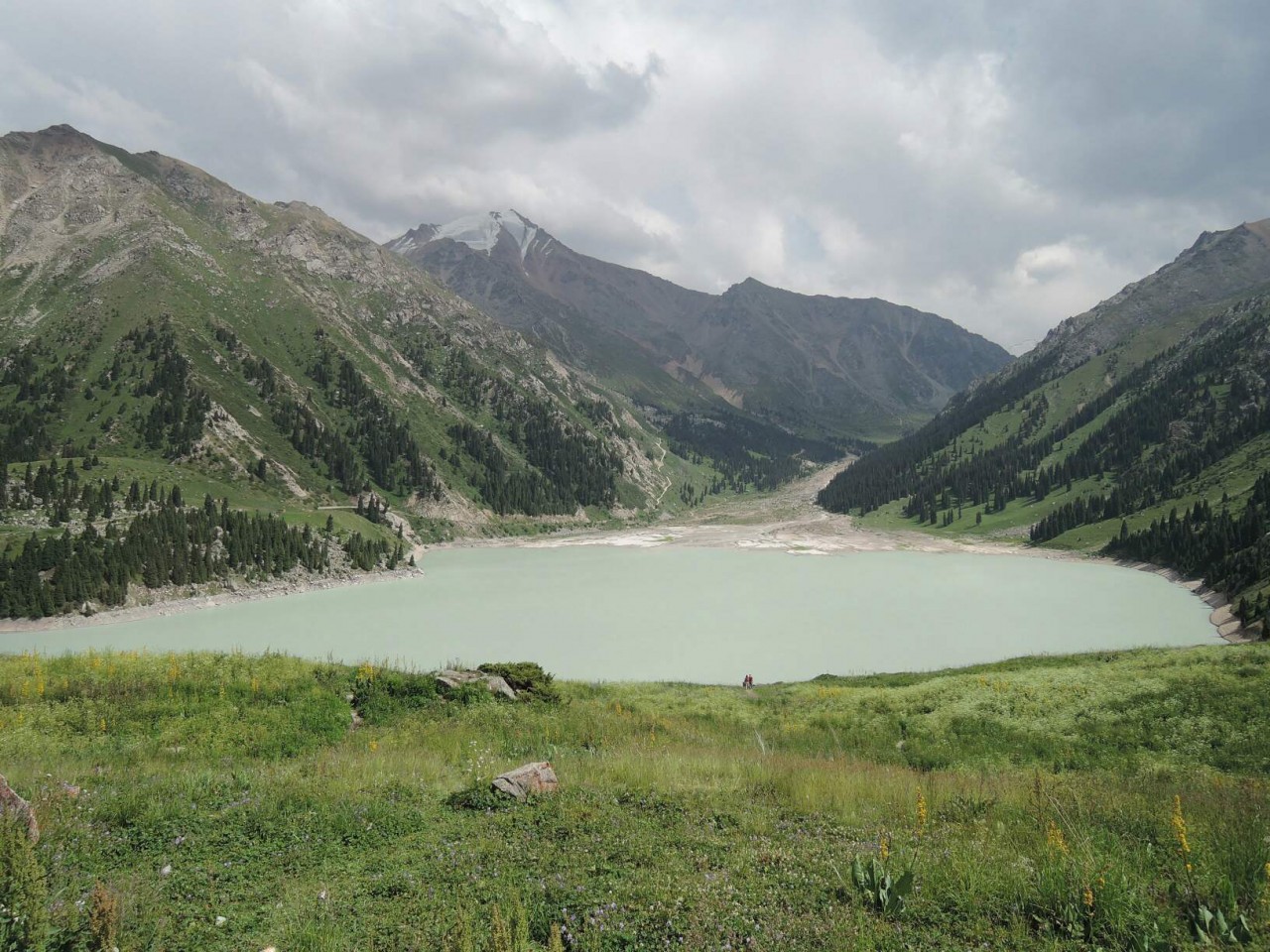 Ozero Bolshoi Almaty
But first I went on a two-week trip to the southwestern part of Kazakhstan. Kazakhstan is a huge country that is sparsely populated. So you have to travel far distances between cities. I hitchhiked 3200km from Almaty over Shymkent and Turkestan to Aral and back over Baikonur to Almaty again (from Almaty to Aral is as far as from Vienna to Istanbul or to Tallinn).
The Kazakh cuisine has a huge variety of different meals. You can either have meat on top of meat, or you can have meat next to meat. So I was eating a lot of piroshki filled with karotshki (a bun filled with potato). You can get them in every magazine (the small groceries that are on every corner).
Kazakhstan, especially Almaty is nearly as expensive as Austria. But the great thing is that the Kazakh people are very hospitable and you get invited to homes many times. When asking for a cheap guest house they will say something like: "I think I can solve this problem. My home is very cheap. It's for free."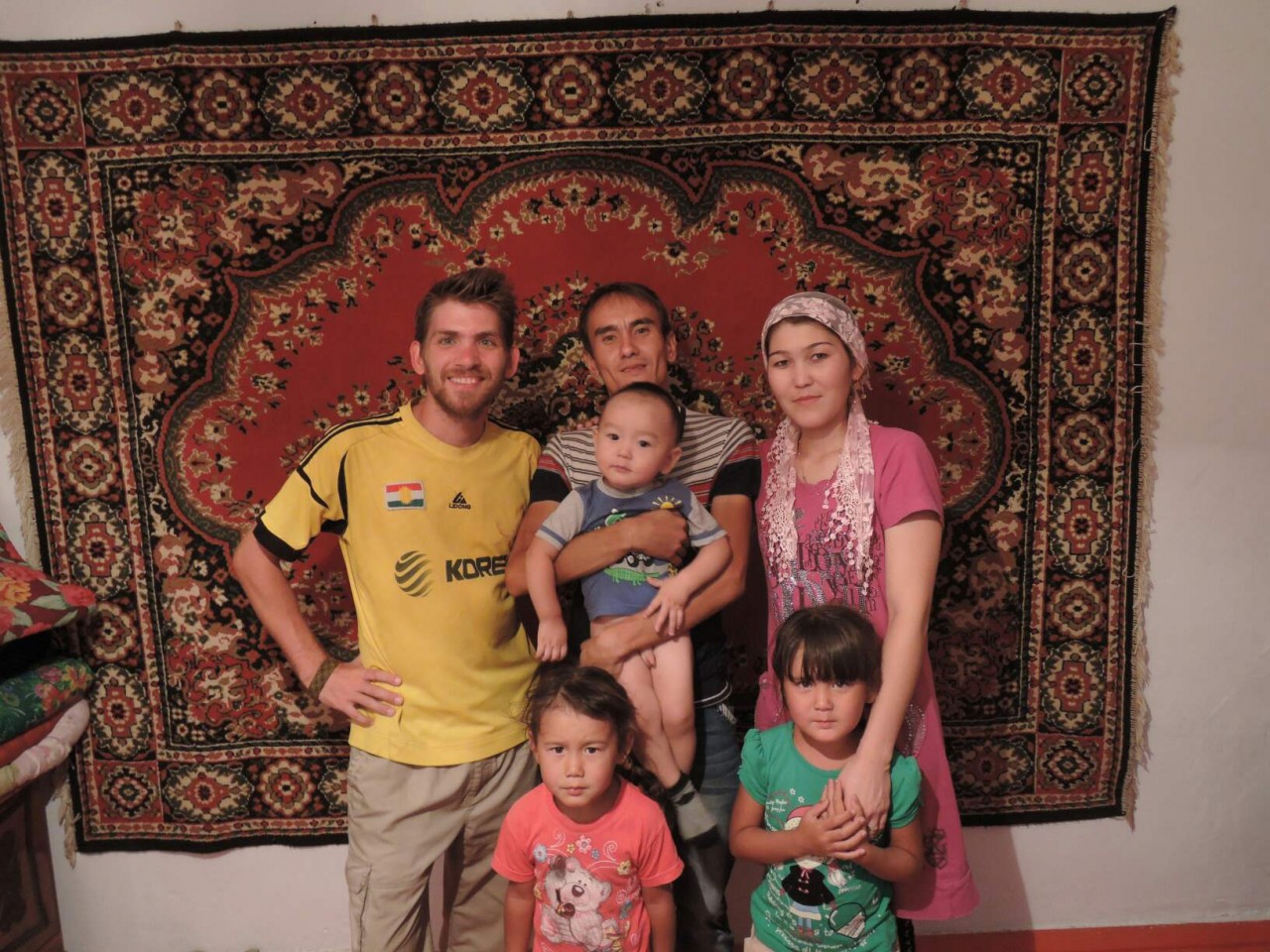 At home in Kazakhstan
On the way to Shymkent I slept one night in Shu in the cheap hotel of the railway station and my hitchhiking driver was so kind and paid the room for me (it was very cheap. 1000 Tenge, about 5 USD).
On the countryside and in smaller cities every family has at least a cow and sometimes more animals. In Turkestan I got invited to a family who had a small farm with several cows, chicken and a greenhouse. At night the whole family went to sleep on the terrace under the stars and I got a comfortable mattress next to them.
Another day in Aral I found a good friend. His name was Nurik and I asked him how much a cheap guest house here would be and he replied maximum 2000 Tenge (about 10 USD) and he said he can find one for me. I offered him to pay him 2000 Tenge and stay the night at his house. So Nurik asked his aunt, where he was staying in Aral and she agreed.
Shymkent is the third largest city in Kazakhstan and after staying there for the night I had breakfast in a traditional cafe and I was happy to meet someone there who spoke english. His name was Torebeg. He was working for the local TV station (ShimTV, a branch of KazakhstanTV) as journalist and after having breakfast together he invited me to his office.
At the TV station I met some of his colleagues and they said it's so interesting to meet me, I have to give them an interview. So ten minutes later I was standing in the garden of the TV station and being hooked up with a microphone. The interview was finished in ten to fifteen minutes. After the interview my new friends Torebeg and Khorlan, the girl who interviewed me drove me to a beautiful cave one hour north of Shymkent.
The place is called Ak Mechet and it's in the middle of the dry steppe with really nothing around it. And then you go through the hole in the ground into the cave and you think you are in paradise. Everything is green, the sunlight shining into the cave illuminates the trees and you hear water dripping down from the cave and birds twittering and flying around the cave.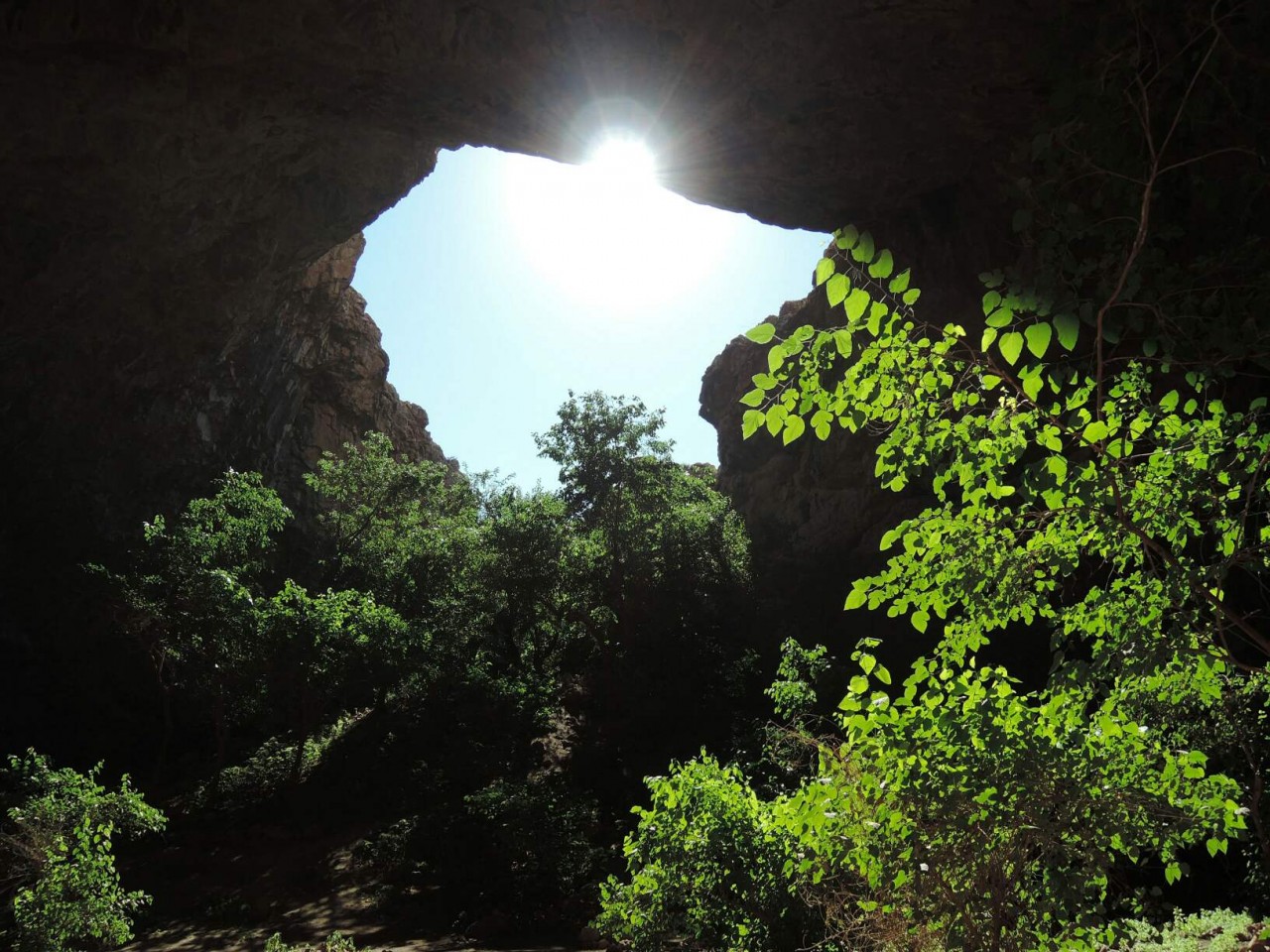 Ak Mechet – A paradise under the earth
After Shymkent I spent a few days in Turkestan. Turkestan is a small city with a nice bazaar and an impressive mausoleum.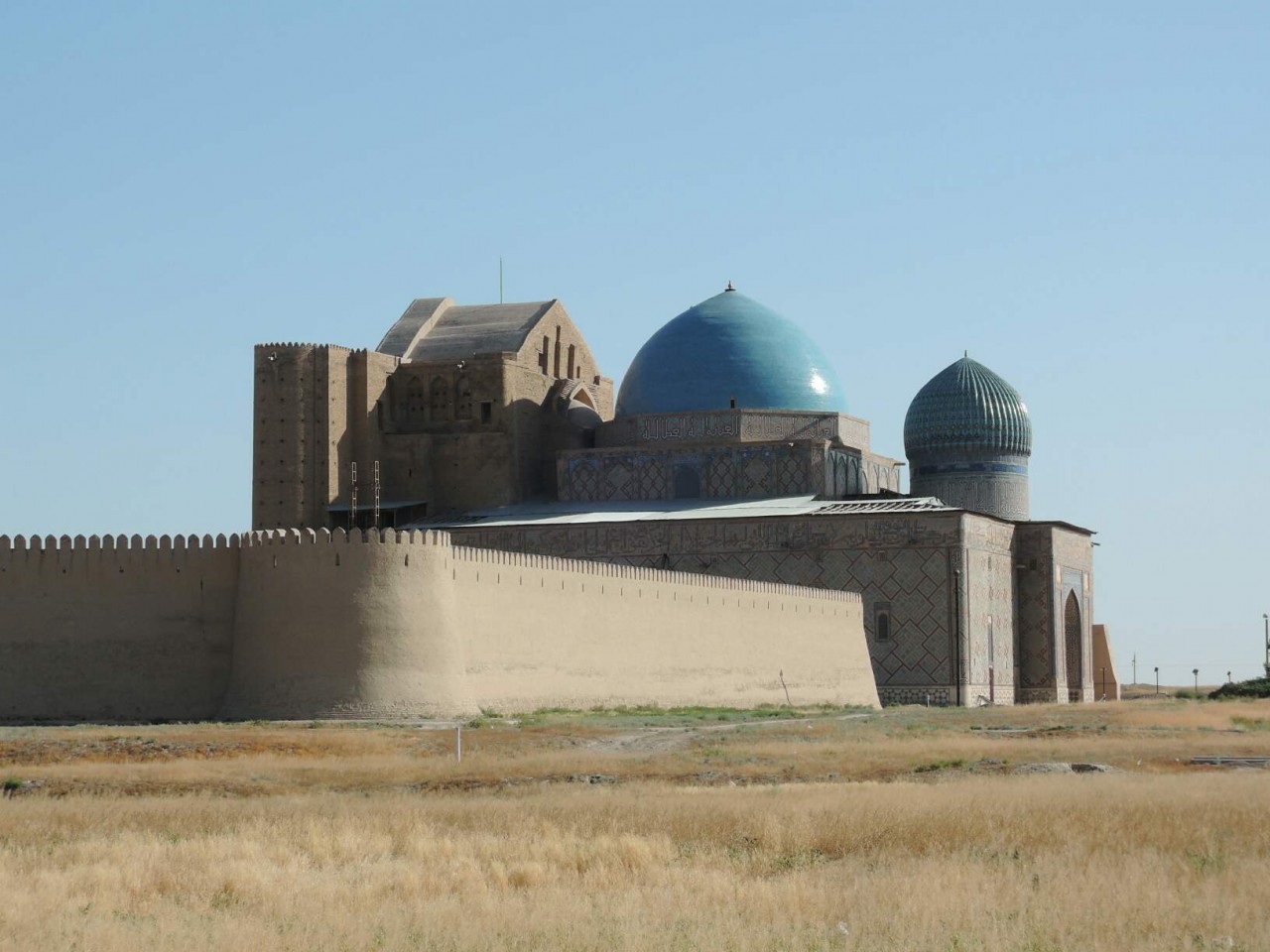 Turkestan
Actually I wanted to go from Turkestan to Baikonur, but while hitchhiking a Russian truck I fell asleep and woke up an hour past Baikonur. So I decided to go to Aral first and then on the way back to Baikonur.
Aral is a really nice small Town in the middle of the Kazakh desert. On the way there you see groups of camels next to the road and women selling Shubat (camel milk). I stayed there two days and made a jeep trip to the disappearing Aral Sea. I hoped to see some ship wrecks on the way or some flamingos at the lake, but all ship wrecks where gone (the people took all the metal from them) and the flamingos were too far away. Anyway I had a great time rowing a fishing boat on the lake that looks like Lake Neusiedl in Austria.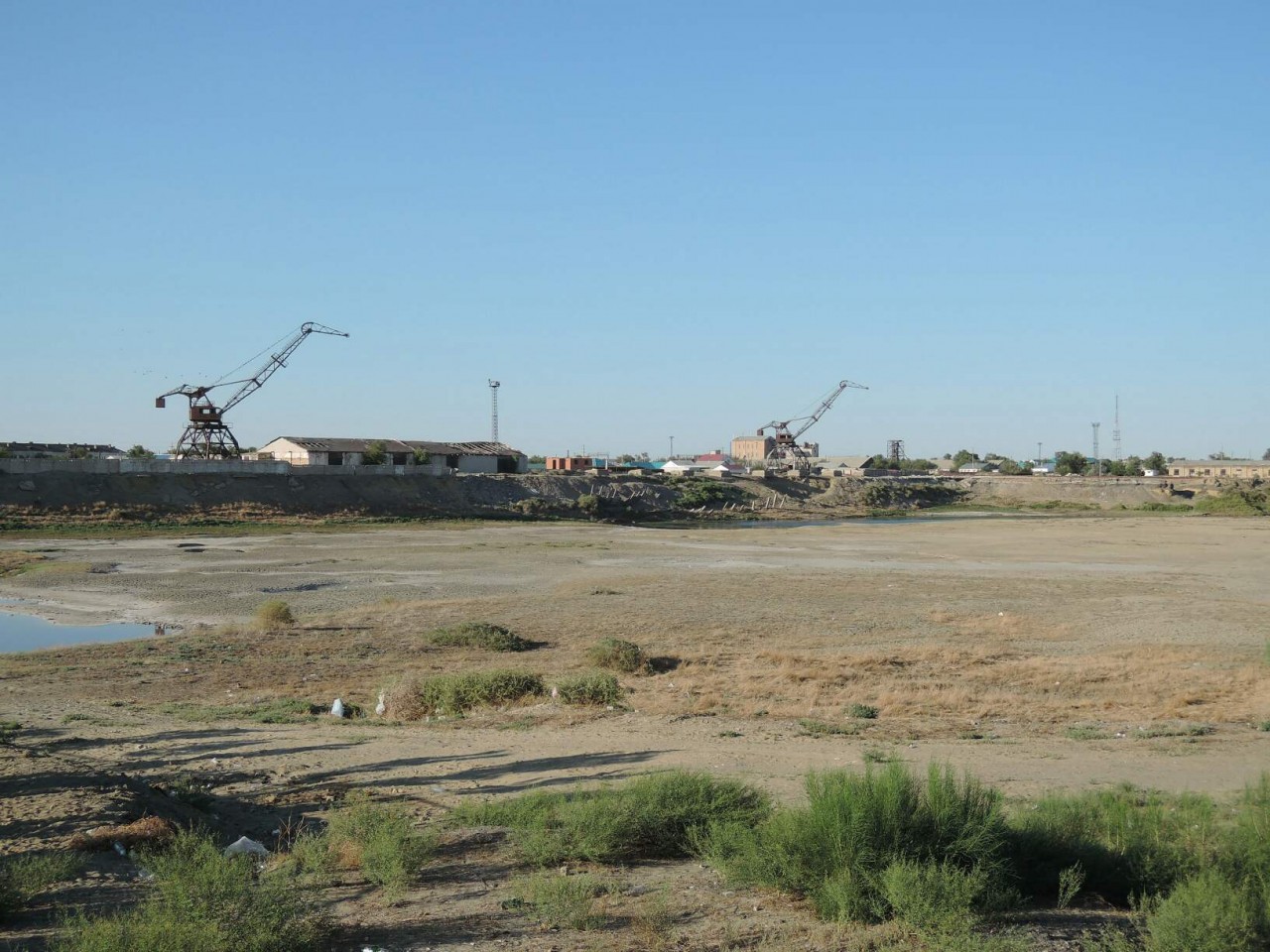 No water for 15km from the port of Aral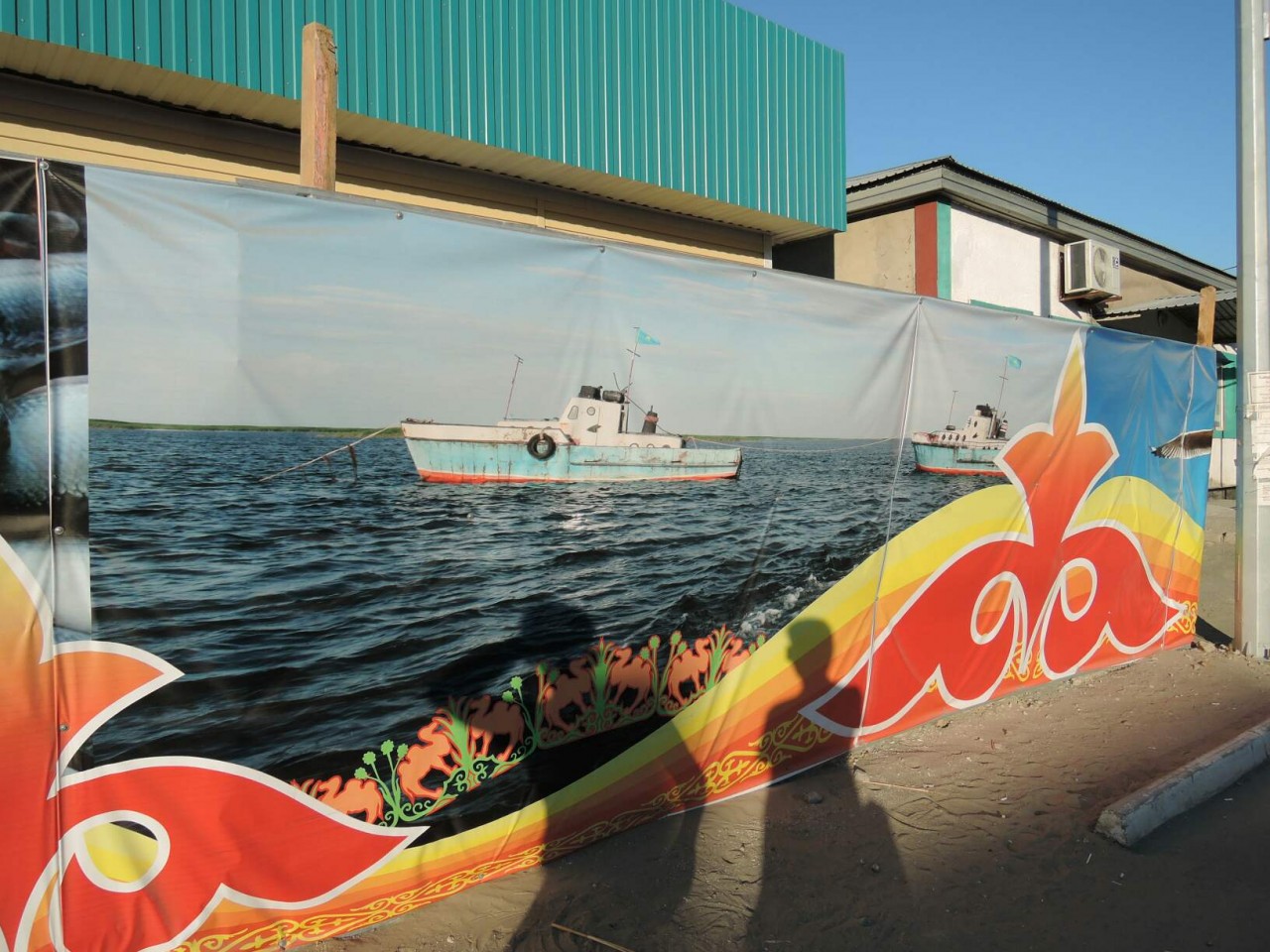 How it used to be…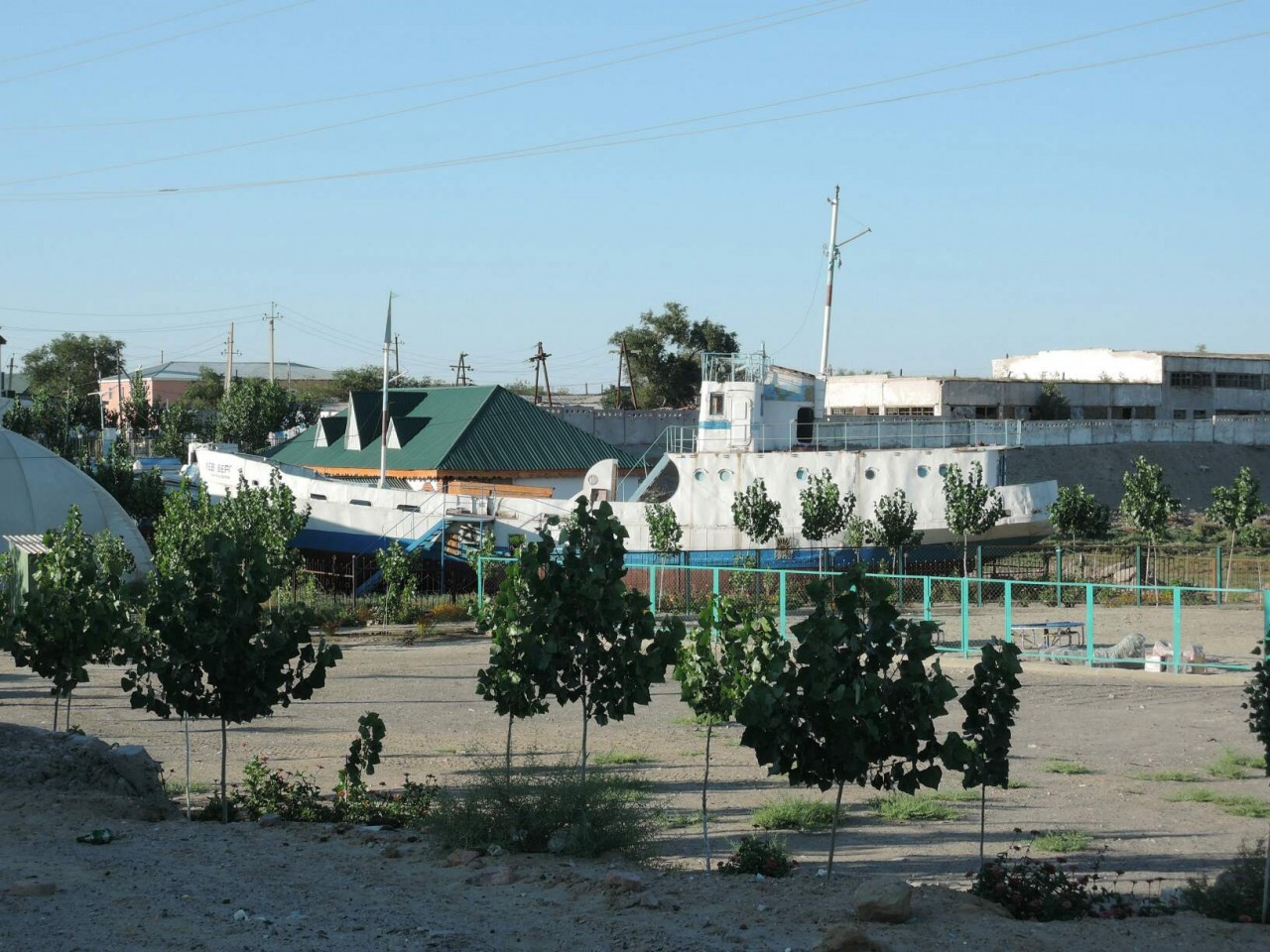 And how it is now
On the way back to Almaty I stopped in Baikonur, the city where Sputnik (the first satellite in space) and Yuri Gagarin (the first man in outer space) got launched into space. Baikonur is now rented by Russia and to enter the space station you need a Russian visa. Besides that you have to pay a lot of money for entry permissions, military guidance and much more. I considered hitchhiking the next Soyuz rocket to the ISS but then I thought it's too far off my route.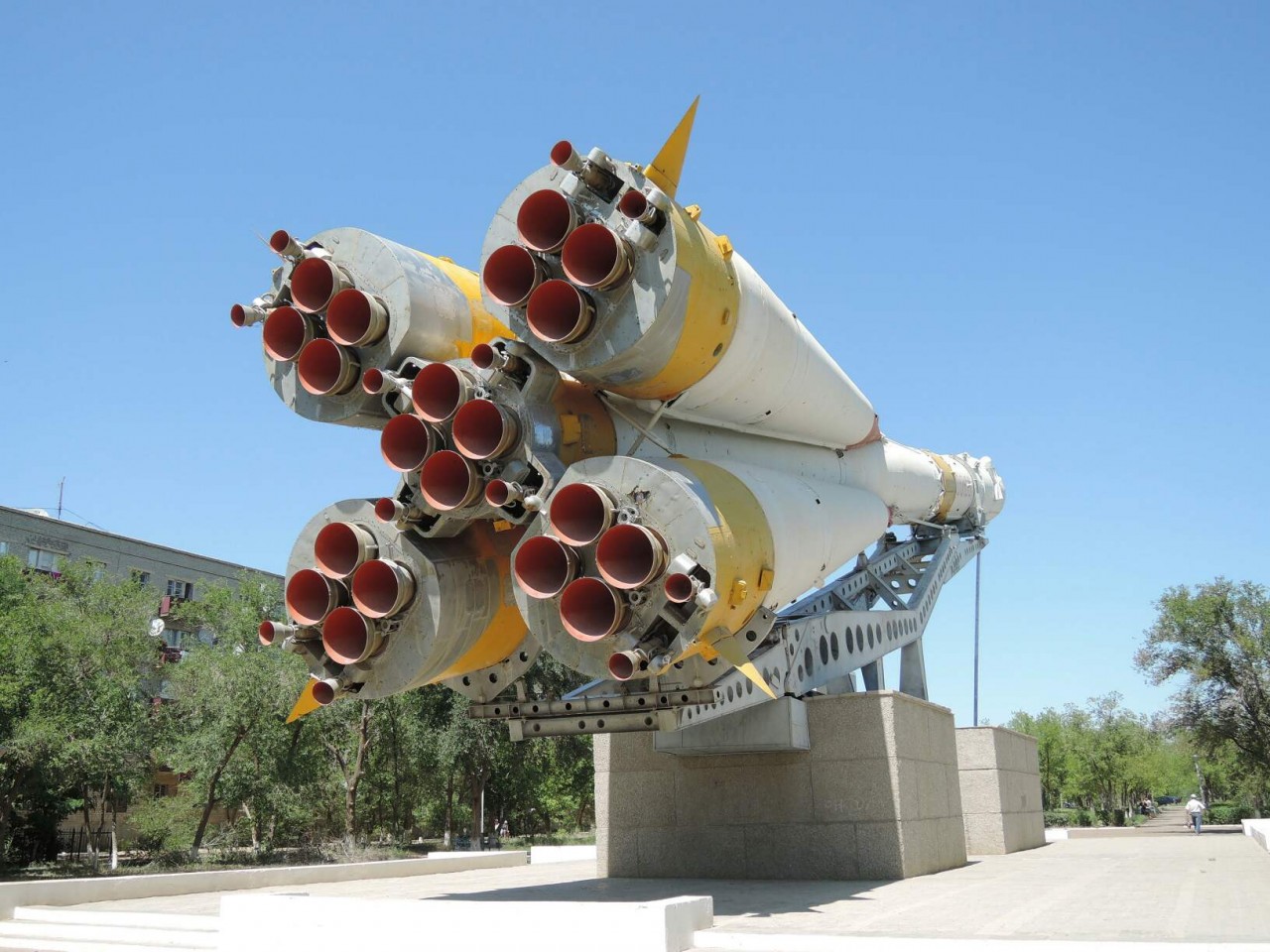 A testing model of a Soyuz rocket
For going into the city you just need to register at the checkpoint at the entrance of the city. Since nobody told me I need to register I just hitchhiked into the city without registering which was no problem. But then getting out of the city without registration was a pain in the ass.
Anyway in Baikonur you get the feeling of a cosmonaut's homes city. There is a great Museum in town called "Town Culture Club". You can see lots of space exhibits there and a nice english speaking guide and she lead you through the museum.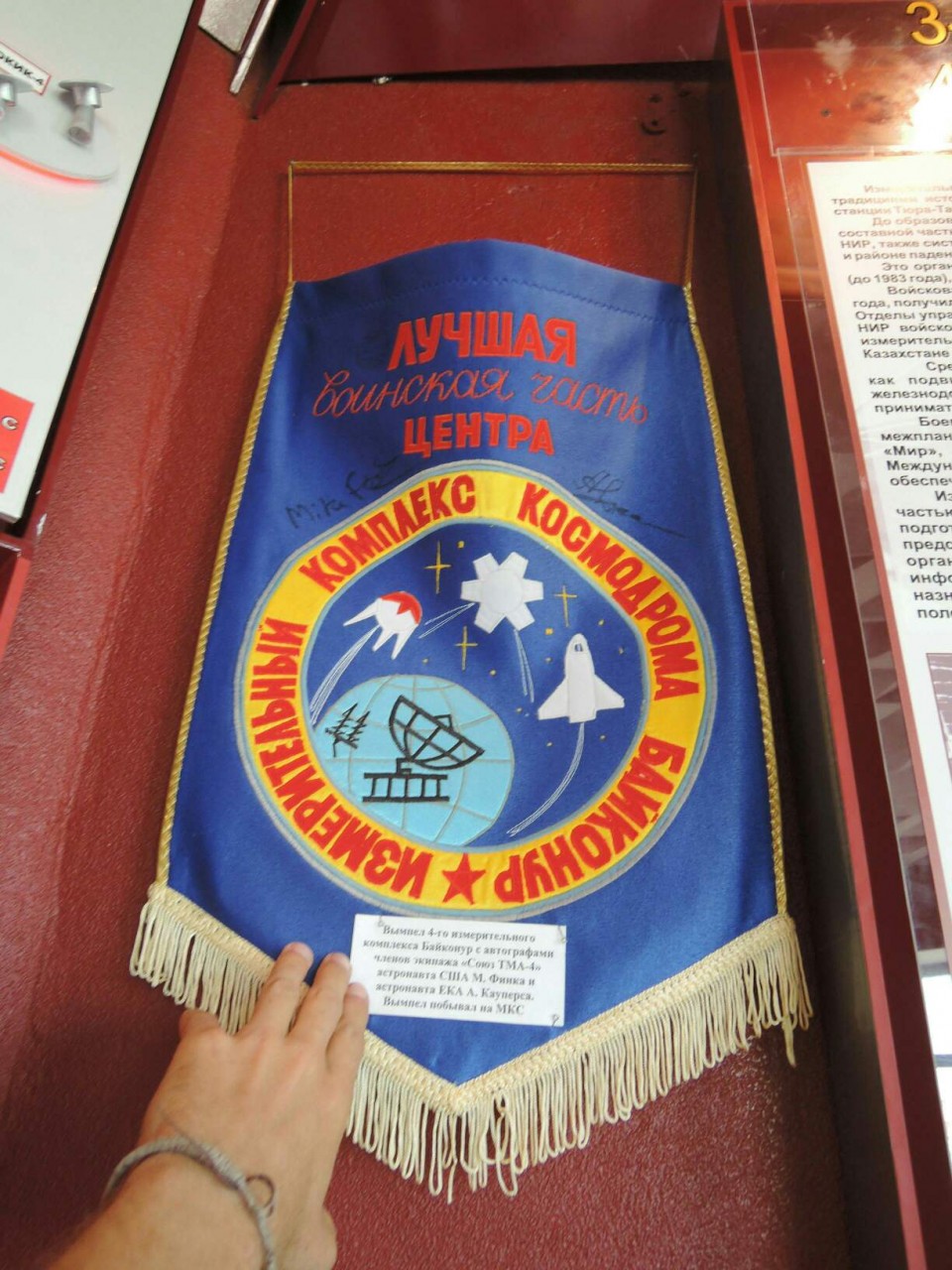 I touched a flag that was on the ISS – I will never again wash my hand
After Baikonur I continued my trip to Kyzylorda where I thought "hey, why not hitchhike a freight train". So I went to the train station, walked across the rails and asked the workers at a freight train if this train is going to Turkestan. They said yes, so I said "great, I want to go on this train". And after discussing a while with them it was clear that it was quite impossible to hitchhike with the freight trains here. Anyway the worker was really friendly and told me the train over there is going to Turkestan and pointed to the Moscow-Almaty passenger train. So I went to that train knocked on the locomotive and asked the driver if he will take me a few stops. After a little chat he just said "davay!" (come on!) and I climbed the locomotive and sat down in the drivers cabin. I drove with the driver and his assistant about 350km until I had to leave the locomotive because the train got a new locomotive and a new driver.
Then I decided to buy a ticket for the train and go the rest of the way on the train to Almaty. The trains in the former Soviet Union are really a unique experience. They have third class ticket with open sleeping wagons. So you sleep together with hundred other people in one open wagon.
But since I could not buy a ticket because the train was sold out the conductor offered me to go in his cabin. It was not bed just a bench but it was good for the night. After Shymkent I had to get off the train though. I paid the conductor 3000 Tenge and it was a good deal. In a cheap guest house I would have paid the same price for the night. The rest of the way I hitchhiked back to Almaty.
Back in Almaty I found a new friend, Nick who's going with me to Kyrgyzstan in a few days. Yesterday we went hiking to Mount Kumbel near Almaty together with a friend of him and Munara from Mongolia.
After hiking up to the peak we met a crazy guy who lives in then mountains under a pile of stones and some metal plates. After a clinical death and a second chance to live he decided to have a beautiful life in the mountains. He reminded me so much of the guy from Into the Wild.
And after cooking some chai in his shack he invited us to have a roof top party on top of his home including chai, dried bread with cheese and honey and some cucumbers.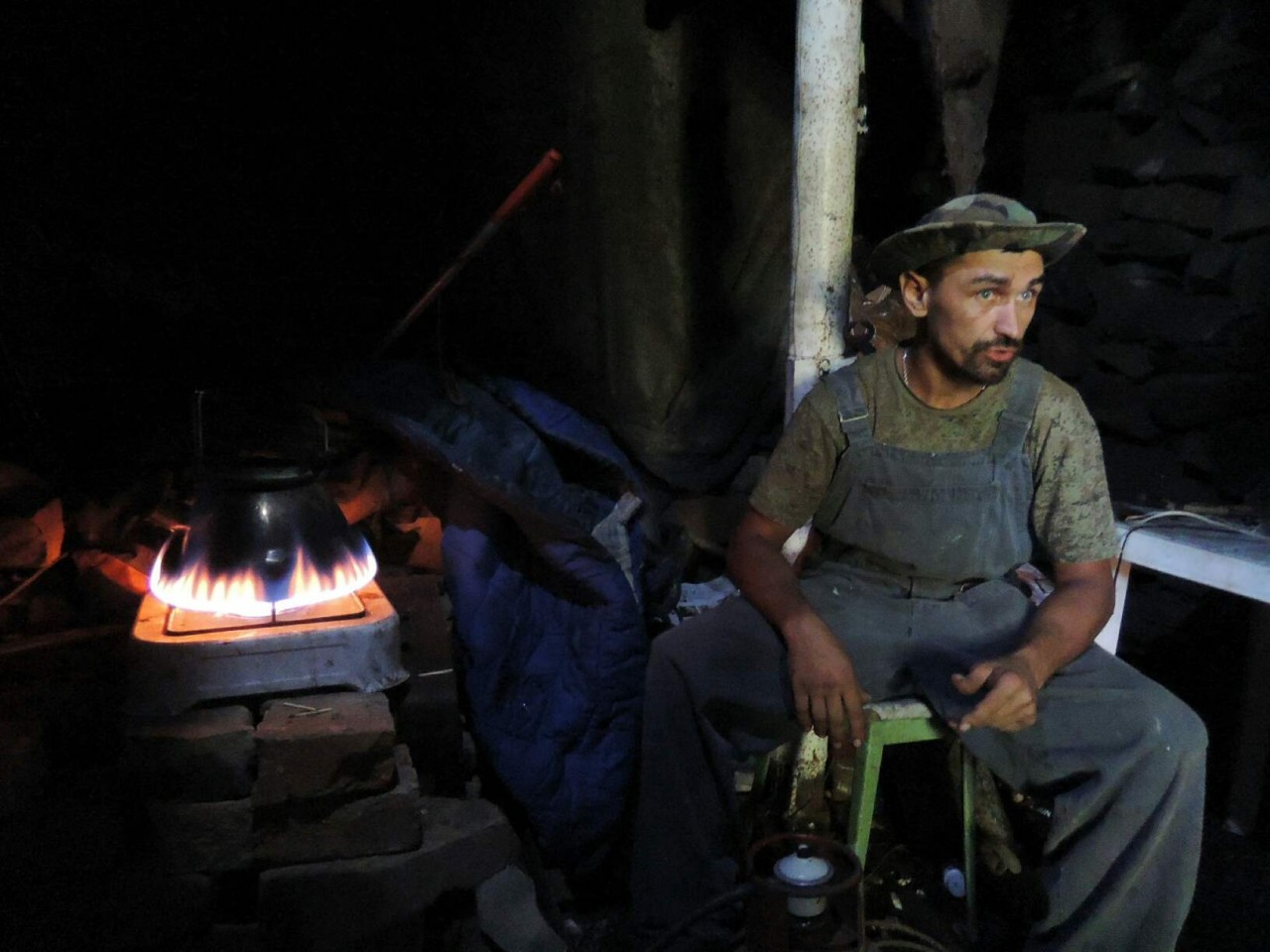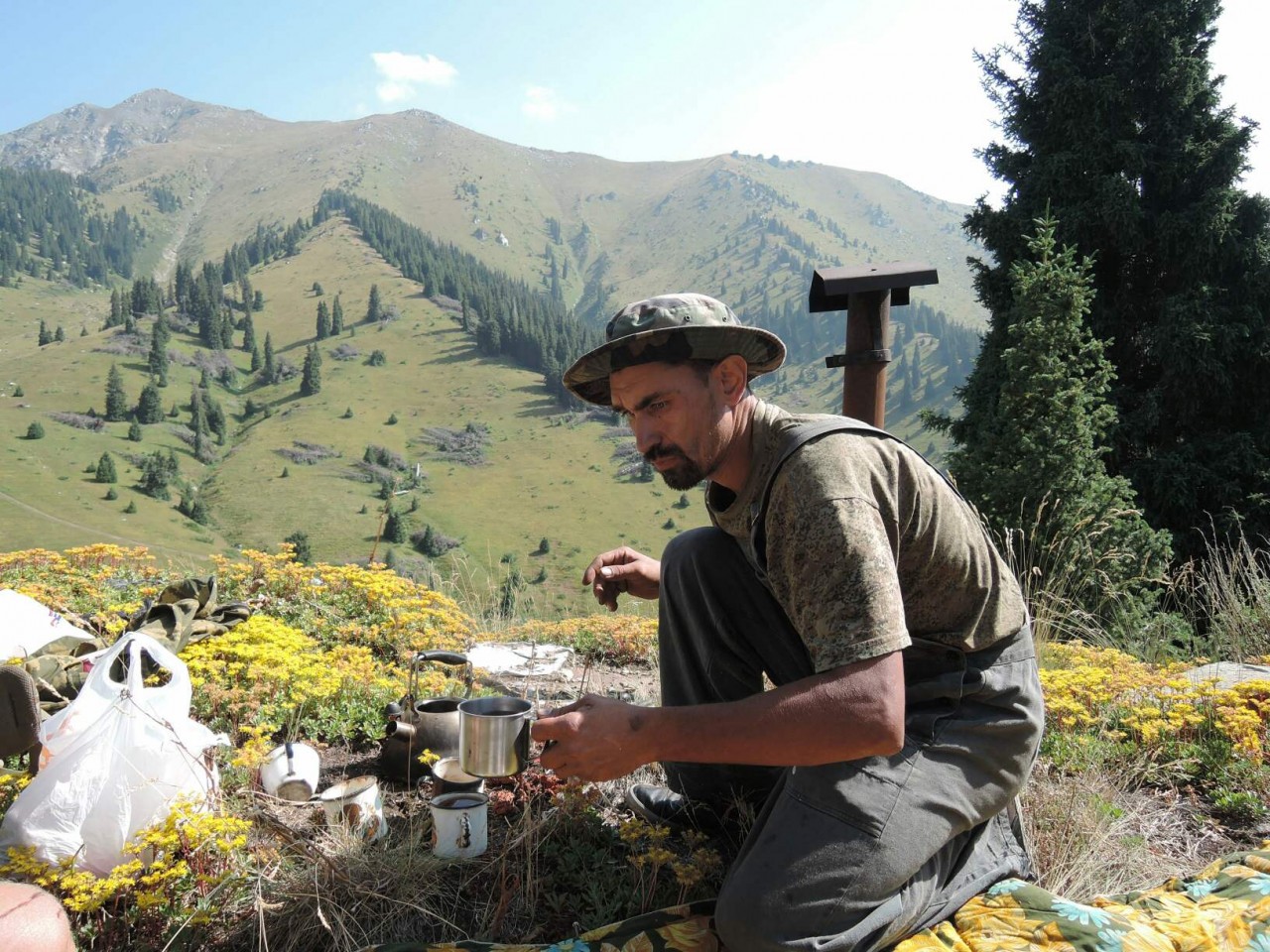 Anyway, tomorrow Nick and I are going to start our mountain bike adventure through the Tian Shan mountains. It will be a six-day mountain bike trip from Almaty across some beautiful passes and lakes to the border of Kyrgyzstan.
It was quite a struggle getting everything organized, but tomorrow I'm finally doing it.