Georgia – definitely a weird country!
Georgia is the most religious christian country and also the country with the most alcohol consumption I ever travelled. Besides that Georgia has cows everywhere that prefer to rather stand on the middle of the road than on fresh green. So when taking a mashrutka the driver will go slalom through the cows and sometimes even into a cow.
For the food, one of the most traditional Georgian dishes is the Khachapuri, a bread filled with lots of cheese and sometimes with egg. And since it's vegetarian I ate loads of it.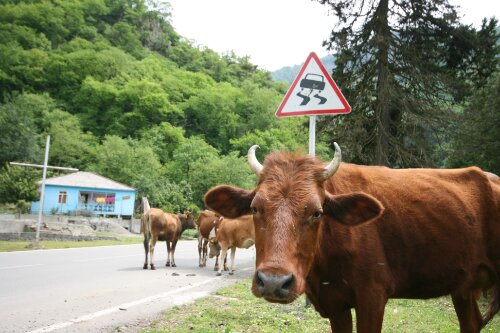 The Georgian road cow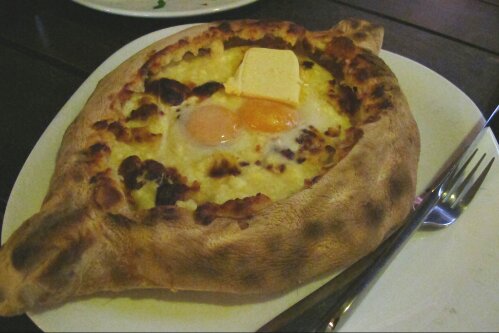 You should never eat your Khachapuri with knives and forks. Not only that it doesn't taste as good. It's a fauxpas.
First when I came to Georgia, I was wondering why the people next to me in the bus cross themselves three times in a few minutes. Then I found out they do it every time they see a church. And there are churches on every hill in Georgia. So it goes like this: "Oh, a church. Oh, another church. Oh, it's the same church. Never mind, better make another cross."
In Georgia you don't go to a pub and order a beer. You go to a pub and order two beer. And the typical Georgian deodorant is the vodka in the breath of the people that makes you already drunk from just smelling it.
The Georgian people are very hospitable. But in Georgia hospitality means emptying all alcoholics that are available or at least drinking until you crawl on all fours into your bed.
On my second day in Georgia I was in Borjomi and stayed in a private guest house which can be found easily all around Georgia. Well actually they will find you. You just need to look like a tourist and they will approach you and show you some pictures of the room or take you directly there. And in whole Georgia it's always the same price – 20 Lari per person (about 11 USD).
So in the evening I got invited by my hosts to have dinner with them and then of course drink with them. We started drinking Russian Vodka and Georgian Cha-Cha a spirit like Brandy and the home-made wine that many Georgians grow on their terrace. I made the mistake and emptied my glas as fast as my host and after downing a few glasses of wine my host got his traditional drinking horn. And after also downing this horn (about three glasses) I was really crawling into bed. The next day I told myself never again alcohol. Of course this promise didn't last long.
Another day I was in Svaneti a beautiful mountain region. There it is very green and the mountains are amazing. I was shocked and thought, did I really travel that far that I made it around the world back to Austria.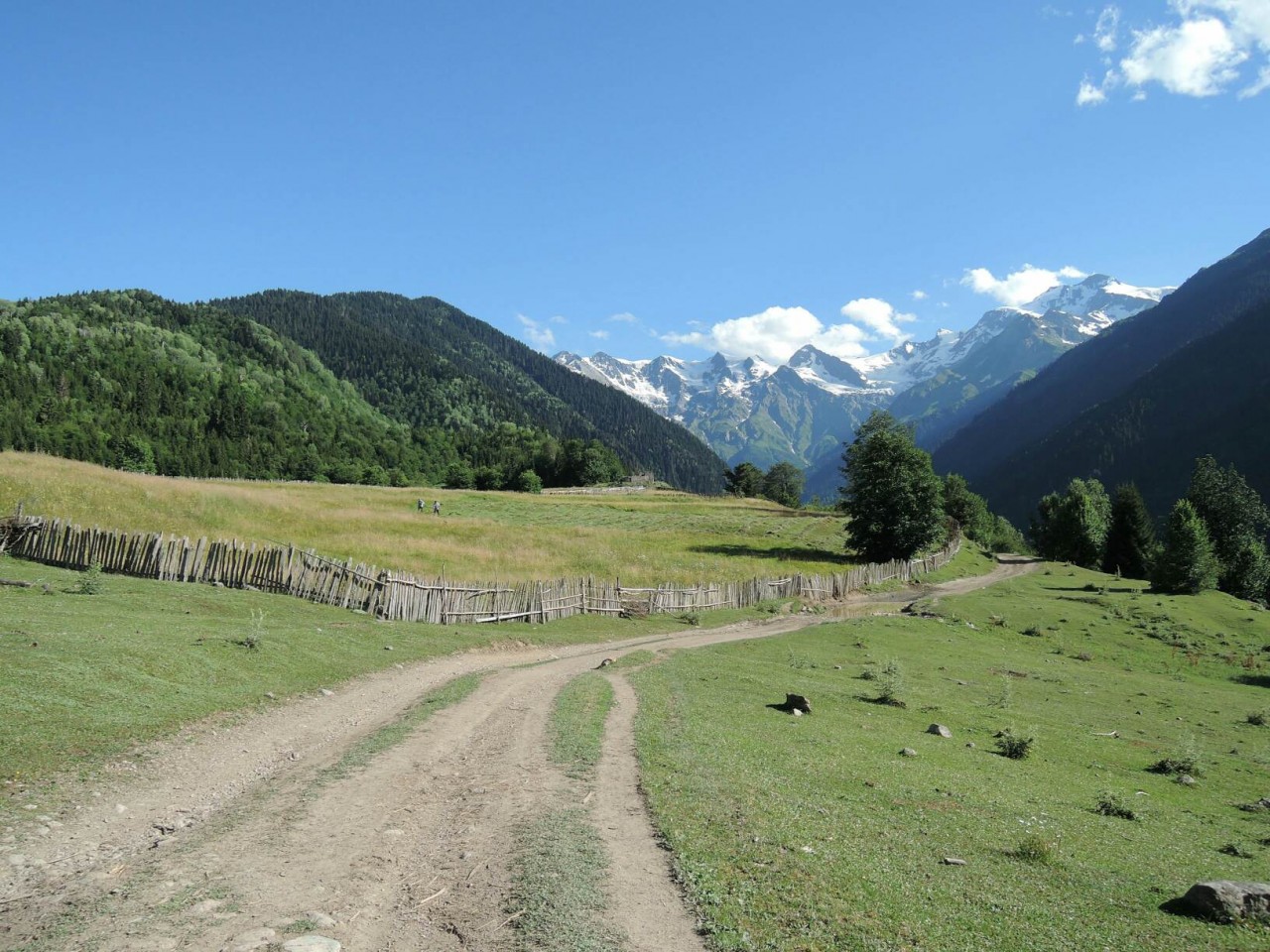 Georgian Mounatins – Back in Austria!?
So feeling like home I went for a day trip to the peak of a mountain. Well that was my plan at least. I made it half the way up until I met some farmers which waved me to their field and after clearing an area with their scythes they invited me to sit with them in the shadow. And then they pulled out their lunch pack and shared their bread, vegetables and some Khachapuri with me. I made the mistake and asked them if they have some water and they replied "Vodka? Sure! Here drink!" and pulled out a bottle of the potato snaps.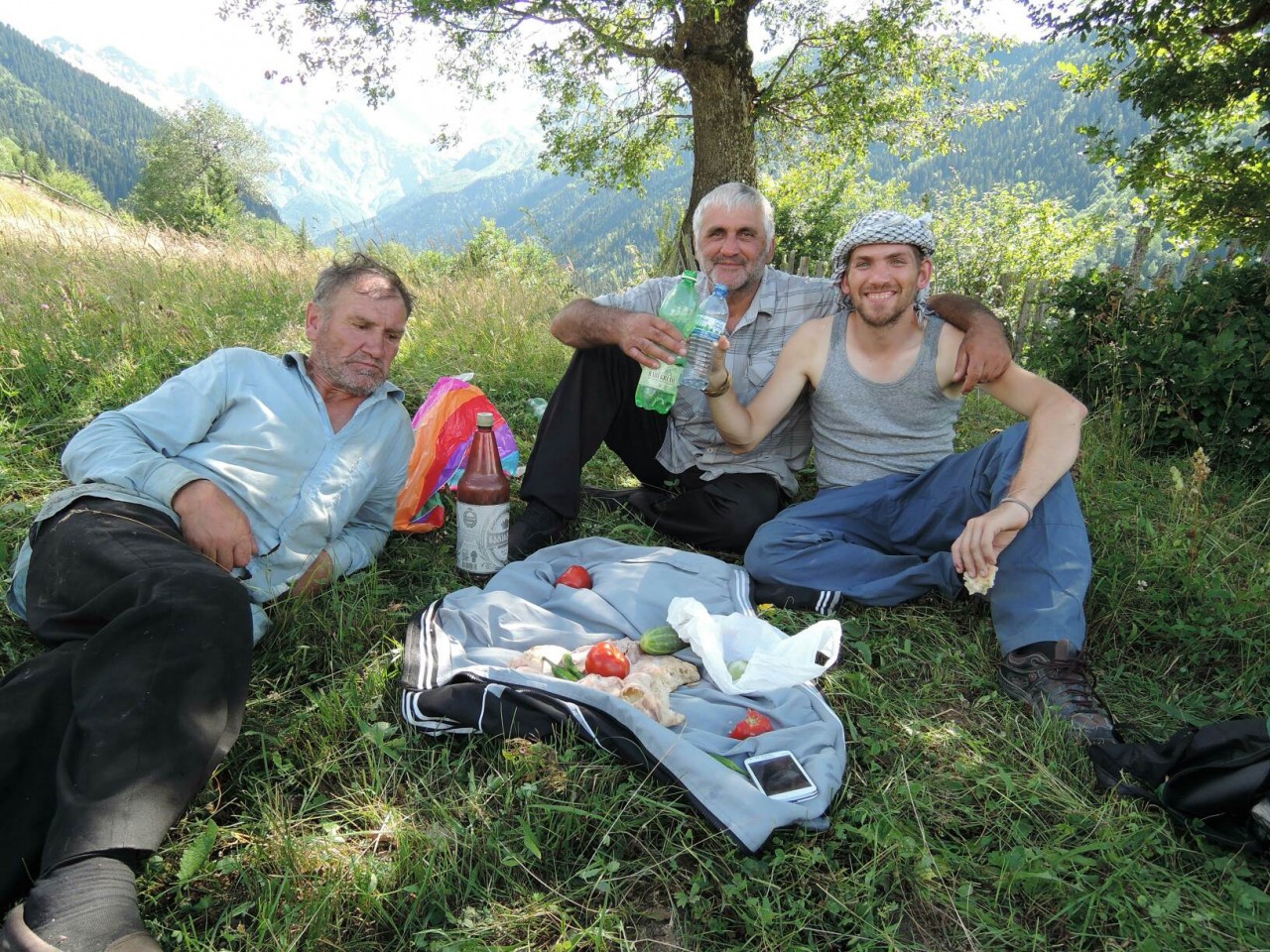 They drink it like water but it isn't
Hitchhiking in Georgia is super easy. You won't have to wait long and a car or a truck will take you. And even the police will take you where ever you want.
One day I hitchhiked from Zugdidi all the way through the picture-book landscape of Svaneti to Mestia on the back of an old Truck. It was a breezy ride through the mountains but the view of the landscape was amazing.
Georgia is really trying very hard to be part of the European Union. And next to nearly every Georgian flag you can see the flag of the European Union. Well actually it's not the EU flag because Georgia is not an EU member and therefore not allow to rise the EU flag. But Georgia is part of the Council of Europe (Europarat) and allowed to rise its flag which looks exactly the same as the EU flag.
I was surprised by the good bus and mashrutka network in Tbilisi. At every bus stop they have digital displays showing the waiting times and you can even send a SMS with the bus stop code and get all waiting times replied.
Georgia is also making very good progress in fighting corruption. A few years ago they replaced the corrupt police and now in every City the most modern building is the police office.
So I think Georgia is the most european former Soviet country and is making good progress to join the EU. In my opinion it's even more advanced than Romania or Bulgaria.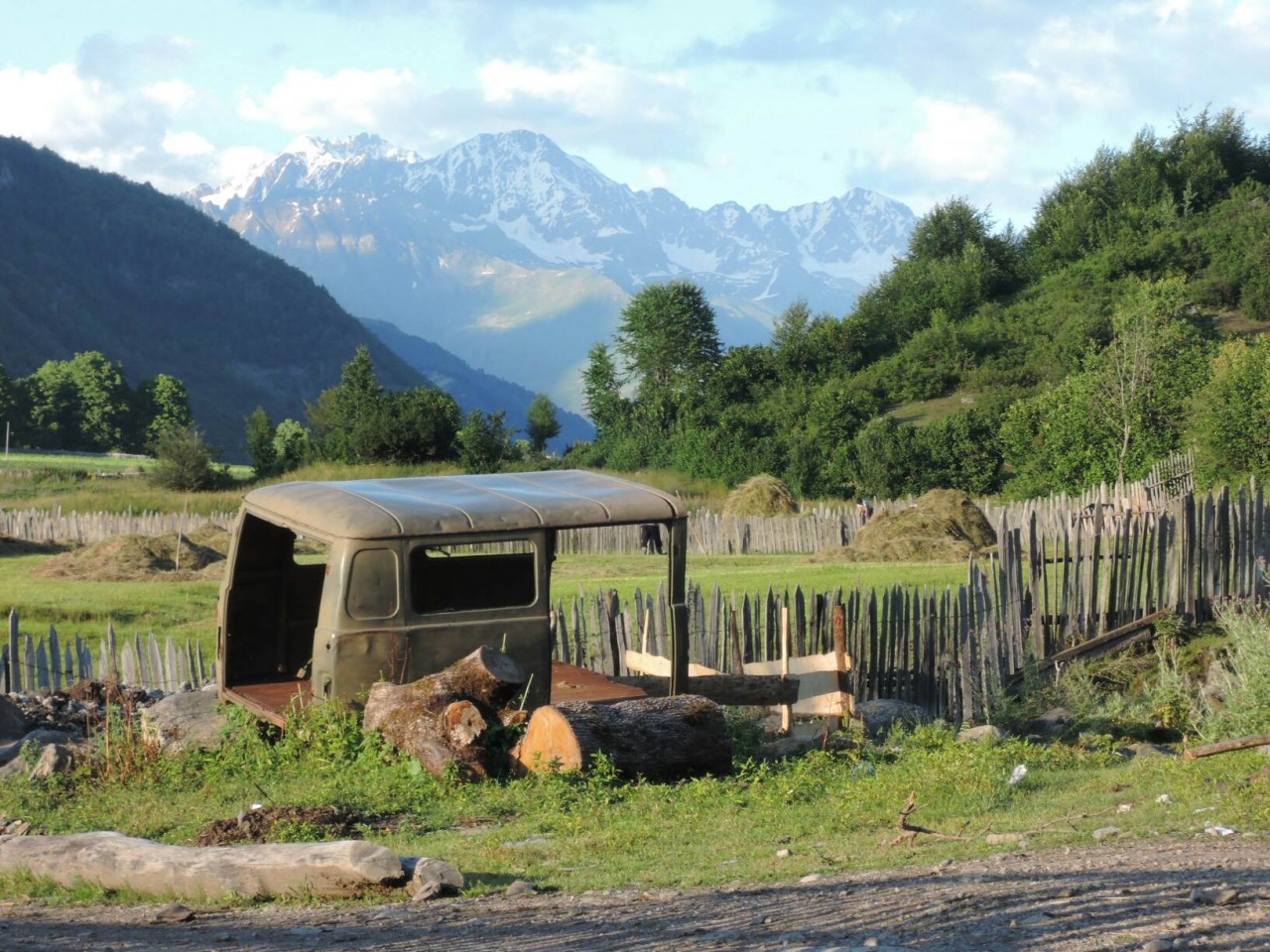 The region of Svaneti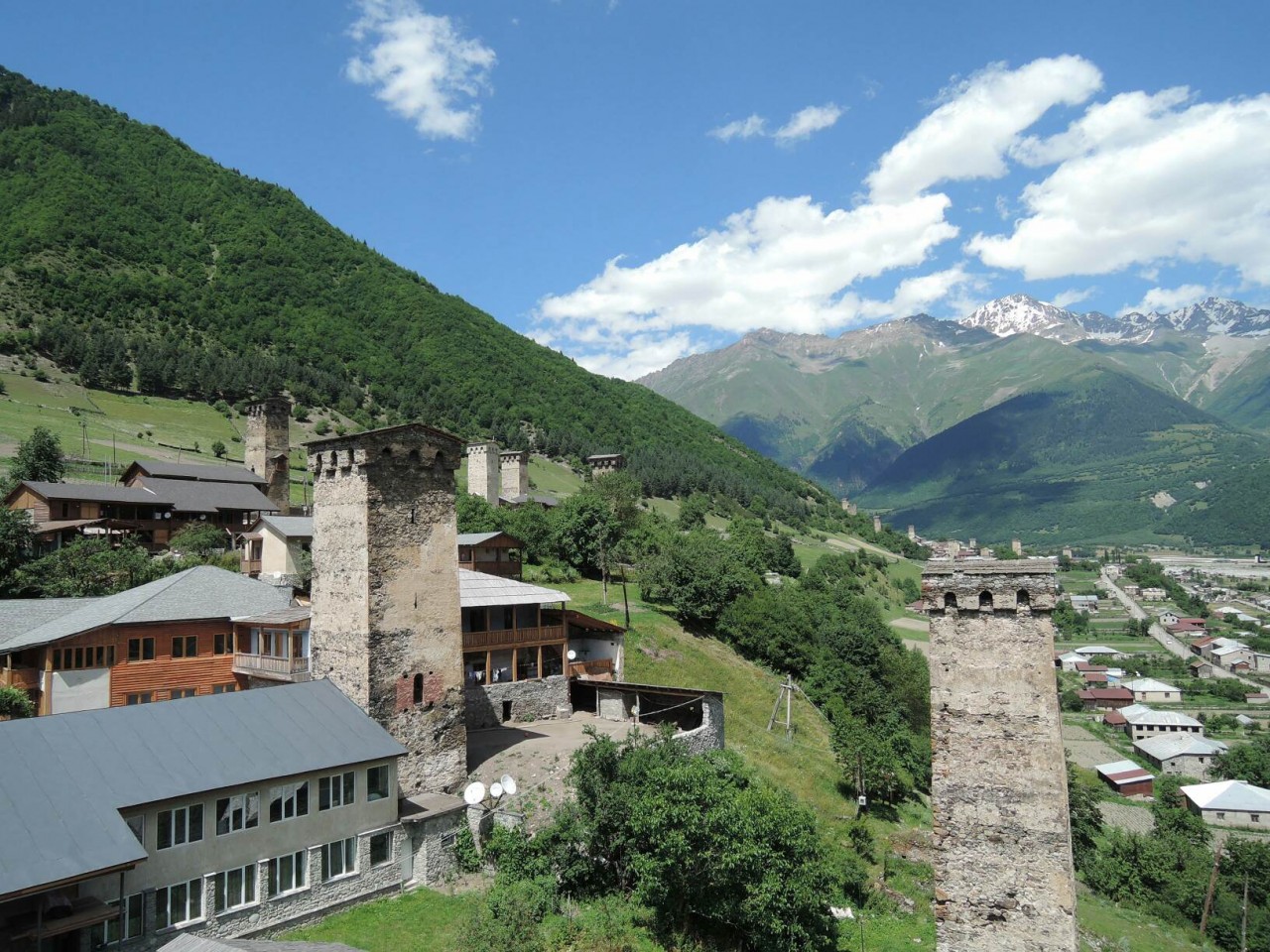 Mestia – nearly every family has a storage tower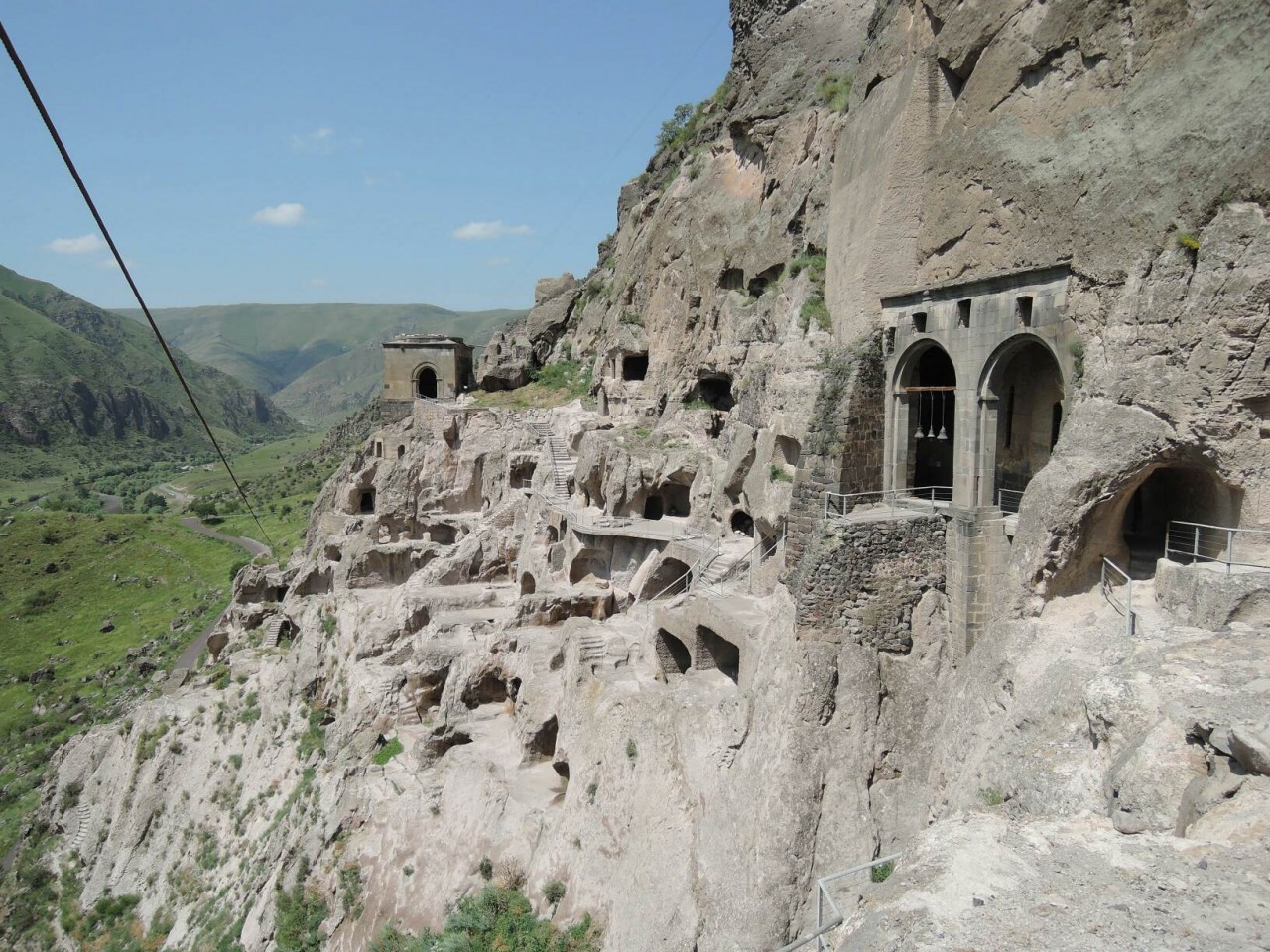 The cave monestary of Vardzia