Coming to Georgia and exploring the beauties of Abkhazia
When I came to Georgia I spent a good week in Tbilisi waiting for the visa for Kazakhstan getting my camera repaired and were having some great CouchSurfing experiences. The first day in Tbilisi I just crushed the CouchSurfing meeting and asked for a couch. Uli, a great guy from Germany was so friendly to accept my face to face CouchRequest in the pub. He hosted me a few days and we did some good hiking to the near fortress of Kojori. Actually it's just a ruin of a fortress and you can hardly see where the rock ends and where bricks of the fortress start. Climbing up to the fortress was also quite an adventure because half of the rusty stairs where missing and we had to do some rock climbing.
After one week in Tbilisi my Kazakh visa was ready and meanwhile I also got my entry permit for Abkhazia. Going to Abkhazia is really easy, you just need to apply for the visa via email and a few days later they reply you with your entry permit. You then just have to pick up your visa from the consulate in Sukhumi, the capital of Abkhazia. So the next morning I took the mashrutka, the mini bus straight to the border of Abkhazia and walked across the Enuri Bridge from Georgia to Abkhazia.
Abhazia has beautiful pebble beaches right next to green mountains and in the cities you will find palm trees right next to needle trees.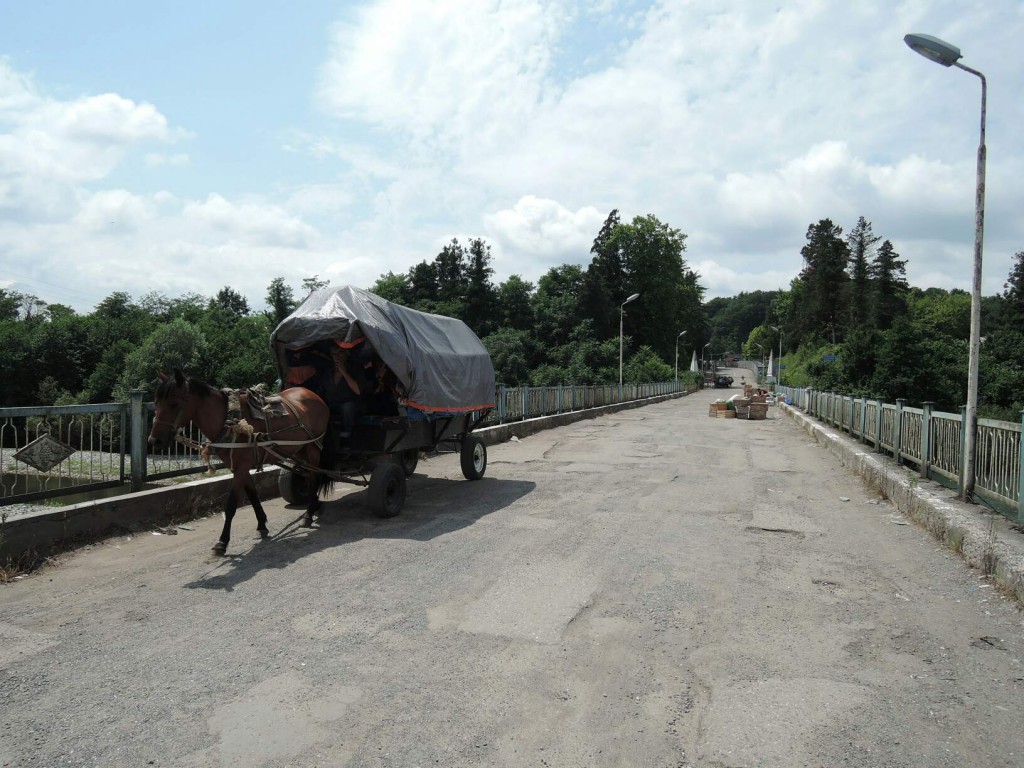 Enuri Bridge, the border of Abkhazia and Georgia
In Abkhazia my first attempt to hitchhike was not really successful and after waiting for one hour I took the mashrutka to Sukhumi. In Sukhumi I stayed in a hostel I found on CouchSurfing. Andrew invited me to stay two nights for free in his hostel. Andrews hostel is the most adventurous hostel I've ever seen. It's an old house in the mountains a little bit outside of Sukhumi. The small sleeping room fits up to five wooden planks for people to sleep on. He offered some mats and linen for 30 Russian Rubels (less than one Euro). Behind the house he has a latrine where the light is not working and in the garden he has a shower made out of wooden poles and plastic curtains.
The dorm in Andrews Hostel
But the great thing about Andrews hostel is that you always meet great travellers there. When I came there I met Felix from Germany and a few Russian Girls. After having fun playing some games in German, English and Russian in the evening the next day we went to explore Sukhumi. We went to the Botanic Garden together where I found a huge bamboo groove.
Take! – Me and my friends from the bamboo groove
After a great morning in Sukuhmi Felix and I drove to Novy Afon and to Gagra. In Gagra we decided to do a little bit of Urban Exploration. In Abkhazia there are lots of abandoned buildings from before the war and it's lots of fun to explore them. Felix read on the internet about an abadoned tunnel and after searching a while for it we found the entrance. I digged my headtorch out of my backpack and we climbed over some mud piles into the tunnel. Inside the tunnel there was no light except from my lamp and the only sound was some water drops dripping down and the echos of our voices. We walked for about 2km into the middle of the mountain and found the end of the tunnel. The machine for digging the tunnel was still there but the drill was removed. So we walked back and out of the tunnel again and were happy to see sunlight again.
Half finished road tunnel
Ready for some exploration
Into the dark
A few hundred meters down the street we found a good guest house and lucky Felix knows Russian very good and could arrange a good price for us. Right opposite of our guest house we found an old abandoned palace. Besides the missing windows it was in quite good condition and we said we have to go into it. The lady from the guest house told us it used to be a sanatorium and there were some guards but we said we will find out. We walked through the park of the villa and up the stairs. From the plants hanging over the path and across the stairs you could see that nobody did any gardening for ages. The building was like a huge villa. We climbed into the building from the side were there were no windows and no barricades. We walked through the dust-covered rooms and came to the entrance hall, a huge hall with a big staircase and marble at the wall. Upstairs we found a big balcony with an amazing view of the beach. In the hallway we found a small staircase which we had to climb into because he door was barricaded. It lead us up to the dark and dusty attic of the building where we found a ladder to the roof. On the roof we mad a great view. There were to towers on both ends of the roof and we climbed them and made some nice pictures.
The entrance hall of the sanatorium
Shortly after a man came up the roof. Probably the guard. He was really angry, swearing at us and bullying. Just that he didn't start a fight with us on the slippery roof bricks. Felix managed to calm him down and make him clear that we are going to leave. So we climbed down from the roof, walked down the staircase and left the building again.
I the evening we took a nice swim in the Black Sea, cooked some pasta and went to bed happily.
The next day we walked around in Gagra. Felix took his train back to Russia and I hitchhiked back to Sukhumi. This time I could hitchhike quite easily and were in Sukhumi very soon. I even found some English-speaking Abkhazians – a rarity. Back in Sukhumi late evening I went to Andrews hostel and asked him if I can stay two more nights. I offered him my help and he agreed to host two more nights for free and to take me to the mountains. I just need to help him with some gardening. So I had another great evening at Andrews hostel met some more great travellers from Russia and had a nice barbecue with all of them. The next morning I got up early and worked two hours in the garden of one of Andrews houses. After that me, the group of Russian travellers and Andrews huge dog mounted the back of Andrews old Soviet truck. We were driving through the forest over sticks and stones up to the mountains. Andrew drove the truck safely through rivers and through branches of apple trees and we were bumping up and down and had apples raining on us. And not long after we left it started to rain not only apples but also buckets of water. But I had some really great conversations with one of the travellers and the time flew past. After two hours we arrived soaking wet. The Russian travellers, Andrew and his dog took their backpacks and left for their seven days hike in the Abkhazian mountains.
With Andrews truck through the mountains
Unfortunately my visa (or my entry permit) was about to expire and I could not join them. So I drove back to the hostel with another driver and Lena from the hostel. Lena was working at the hostel and we did some more gardening like felling some trees.
The next day I got my visa from the consulate and left Abkhazia back to Georgia.
So I spent five awesome days in a country I didn't even know it exists before I started my journey. Abkhazia is accepted as an independent country by not more than five countries (Russia being one of them) but the people themselves see them as independent.