Wild wild Kyrgyzstan
Kyrgyzstan is the Wild Wild West of Central Asia. Infants are put in the saddle of a donkey and kids grow up wrecking horses down the hills. The Kyrgyz people have lots of traditional and very barbaric horse games and if not fighting on horses they will test their strength in wrestling. The food is again meat only and even their milk is alcoholic. Kymyz is the Kyrgyz national drink. It's fermented horse milk with a very interesting taste. It is more fat than cow milk and tastes first sour and then very bitter and a little bit alcoholic.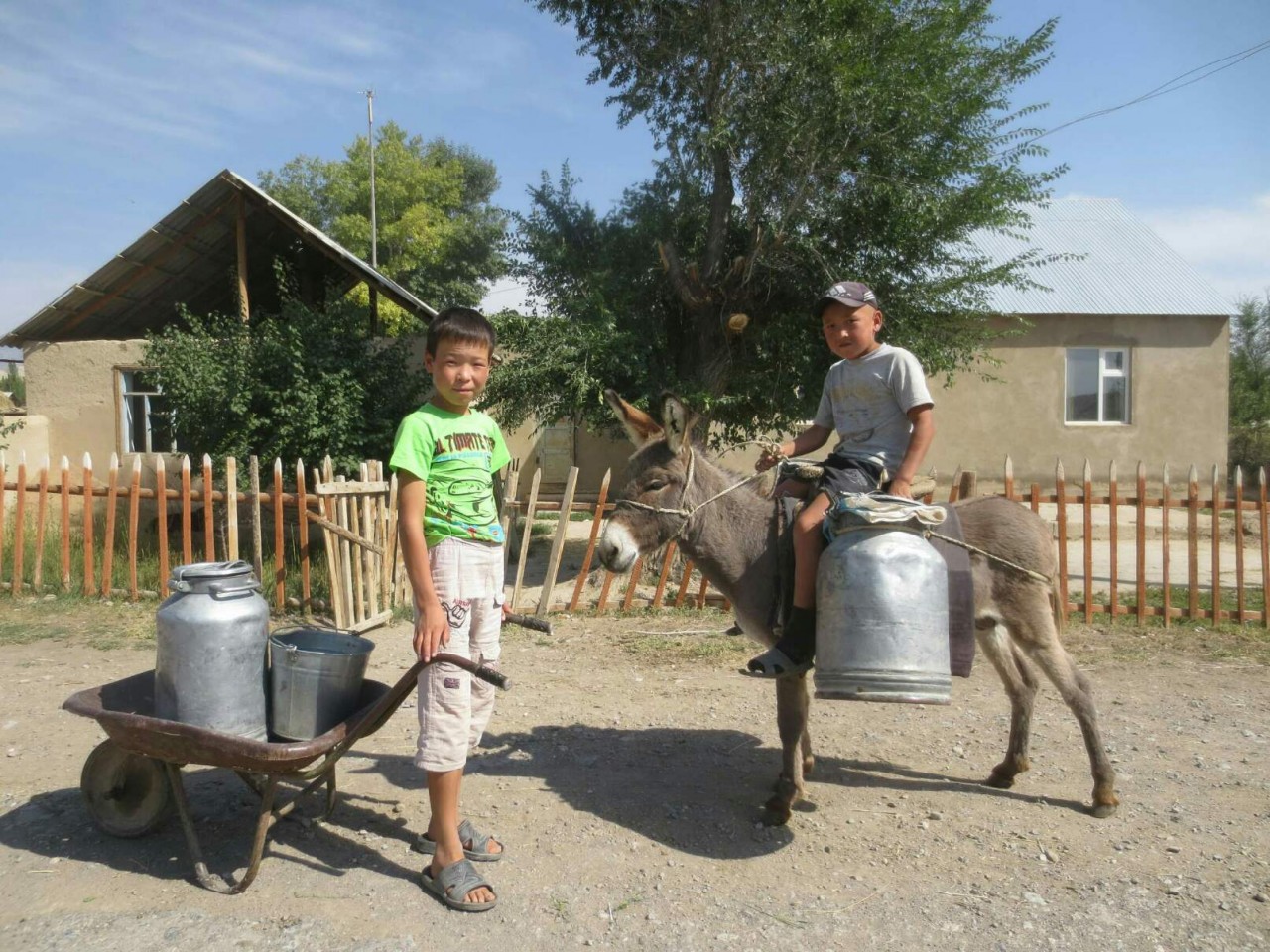 Kyrgyz Kids
I spent my first week in Kyrgyzstan in Karakol at Lake Issyk Kul. Karakol is a small city that is pretty popular among tourists for doing some trekking. You meet travellers all around and in the fist cafe I walked I met some cool Austrians and a German guy who just walked up Khan Tengri, one of the five 7000ers around here in Central Asia (in Soviet times you got awarded with the Snow Leopard Award for summiting all five of them).
After getting inspired by their stories, I decided to also do a little hiking and rented some equipment (tent, sleeping bag and mat). My plan was to go from Karakol Valley up to Lake Ala Kul and then across the 4000m high pass and a long hike over to Altyn Arashan. It should take about three days to do that trek but since the weather was bad in Karakol I waited another day and found some guys to join my adventure. Lucas from Paris wanted to go this trek anyway but the other way round and then I convinced Josh a British guy from my hostel to join us. The next day the rain was getting less and it was just a little drizzling. So good weather, good motivation. We started early in the morning and hiked through Karakol Valley up to a wooden shed where we put up our tent next to it.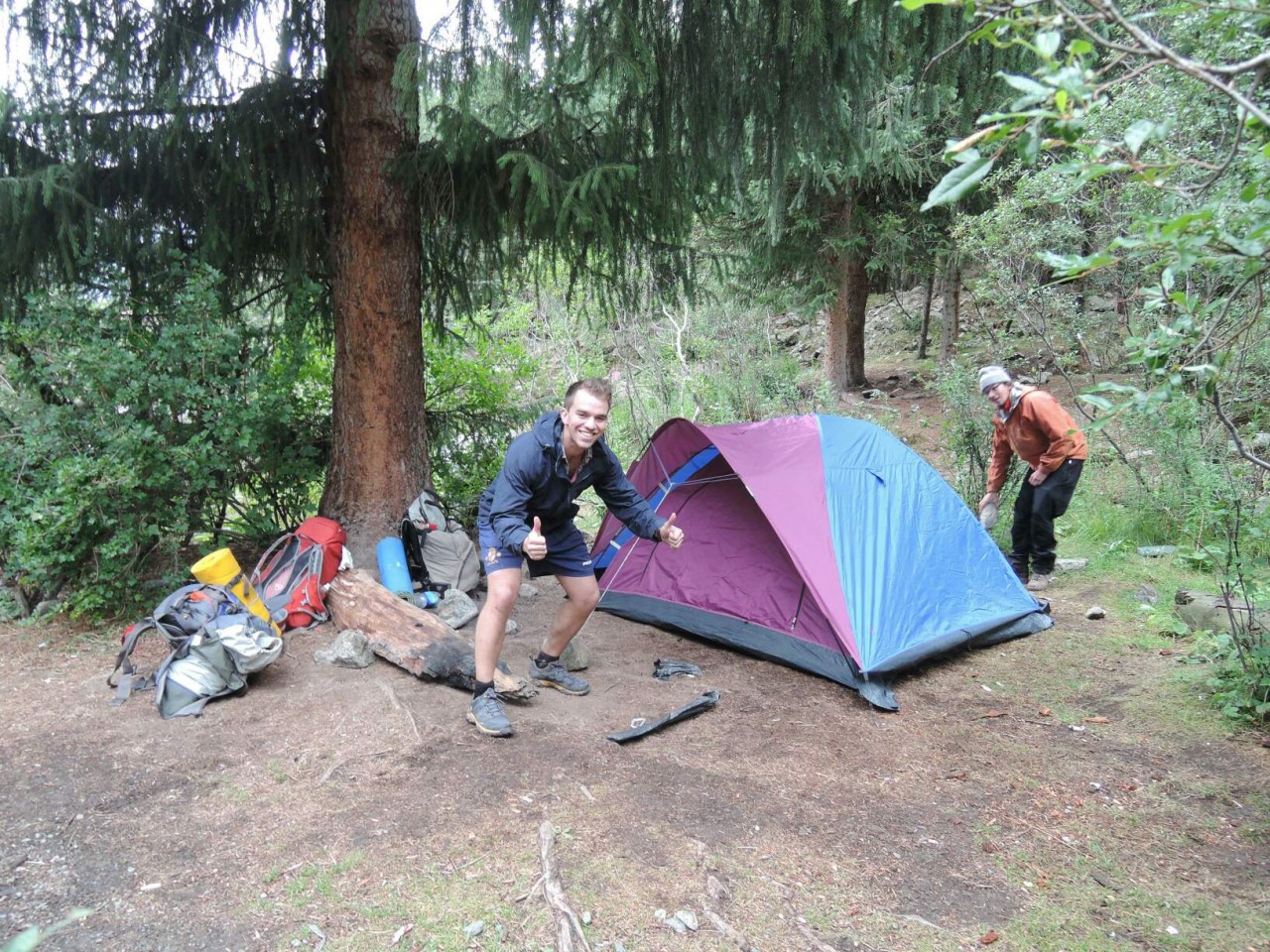 Good weather, good motivation
The shed was like an outpost from the European Council. Mostly European trekkers meeting there and warming themselves at the fire. For dinner we had bread with cheese and prunes. The next day we got up and it was pouring down already in the morning. We decided to not go up any further, do some hiking in the valley and hope for better weather the next day. So we went down again to the valley and arrived already soaking wet. We hoped to get some chai or maybe even a warm meal down at the base camp. But when we came there a Kyrgyz Nazi asked us very unfriendly what we want. And since he wanted to charge us 100 som per cup of chai we said we will leave again.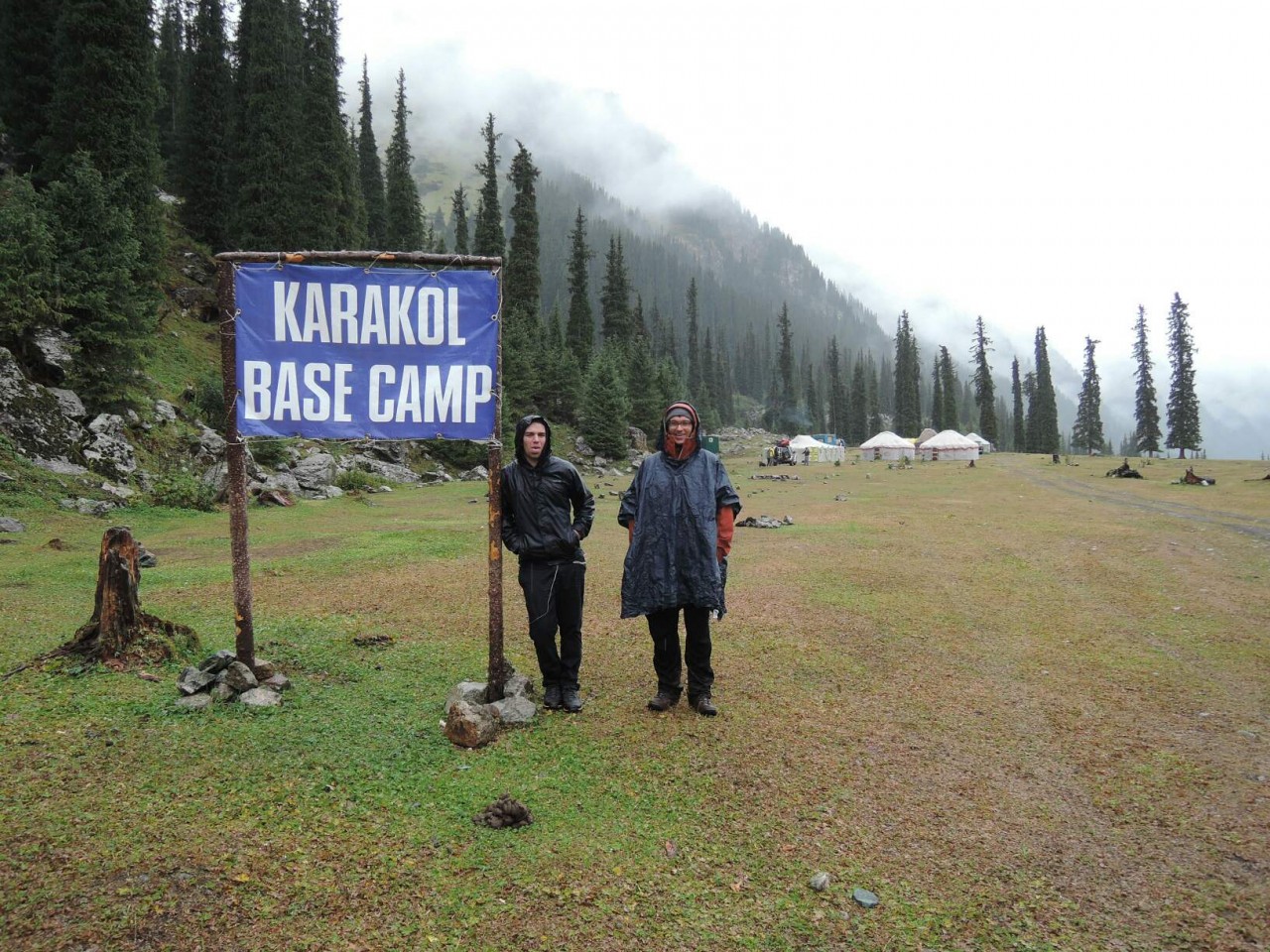 Down at Karakol Basecamp – bad weather, bad motivation
We hiked a little bit more through the valley and had some more bread with cheese and prunes for lunch. Getting cold we decided to go back again. And when we reached our camp we found out it turned winter meanwhile. Everything was covered with loads of snow and we were happy to dry our stuff in the shed over the fire. Maybe I roasted my shoes a bit too much though.
Sharing the shed with some more Europeans we were having dinner – guess what? Yesss, bread with cheese and prunes.
At night it seemed to be getting warmer and loads of snow kept falling from the tree above us on our tent. In the morning when we woke up we still heard it raining on our tent and I said let's stay in our sleeping bags whole day. When we looked out of the tent we realised though that the sky was clear and it can't be raining. It was just the snow melt. So at 5:50 we crawled out of the tent and decided to go up and climb the pass.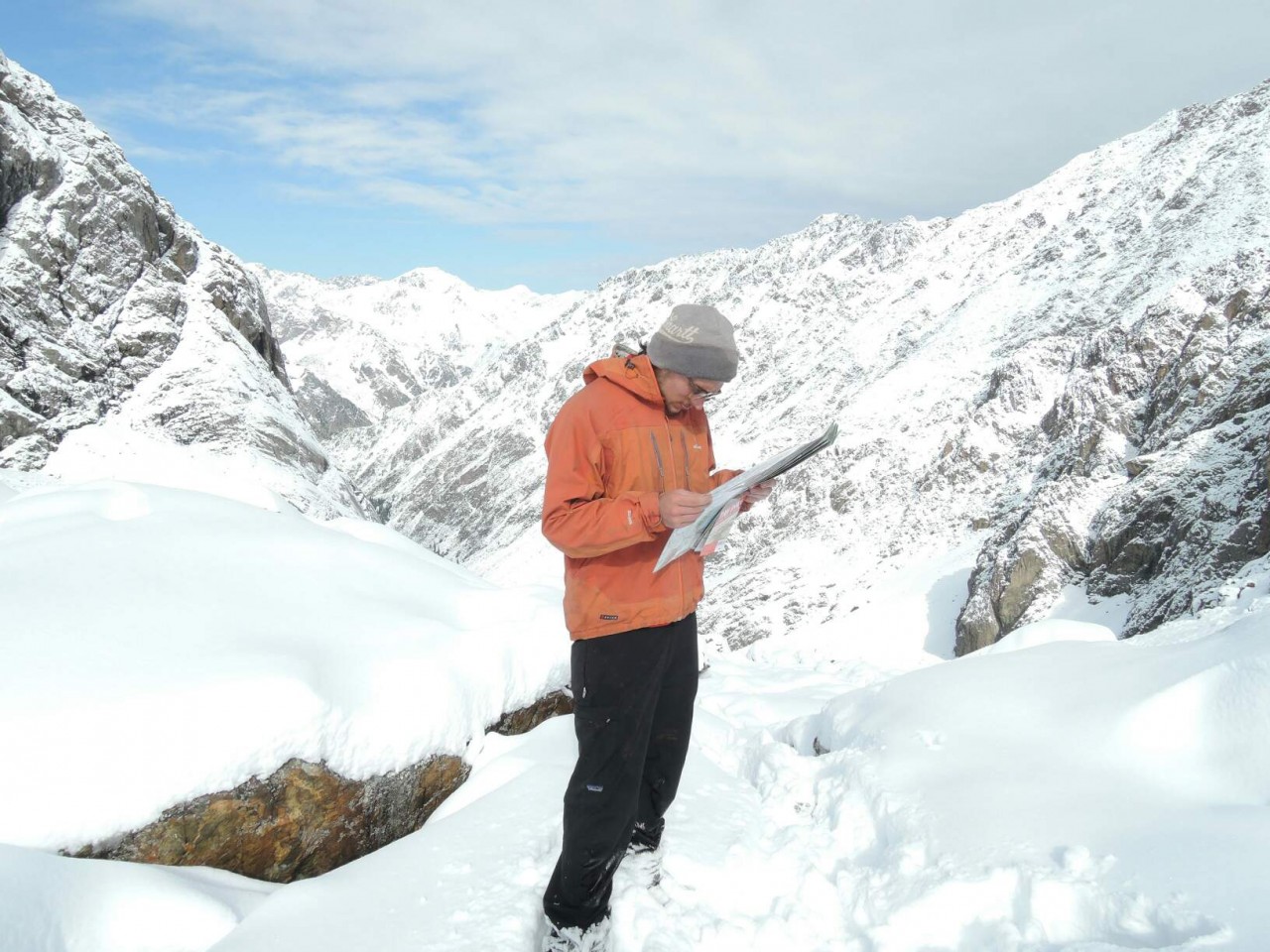 Lucas our navigator
We had a quick breakfast and left to Lake Ala Kul. After three hours of tramping through knee-deep snow we reached Lake Ala Kul and got rewarded with an amazing view on this beautiful mountain lake. With wet shoes but sunshine we made one step after the other towards the pass. Every step closer to the pass became harder and harder and we needed to make many breaks. Finally we made it to the top of the pass on 3920m and had a magnificent panoramic view on the Tian Shan mountain range. The wind was piercing and we just made a quick selfie and began with the steep descent.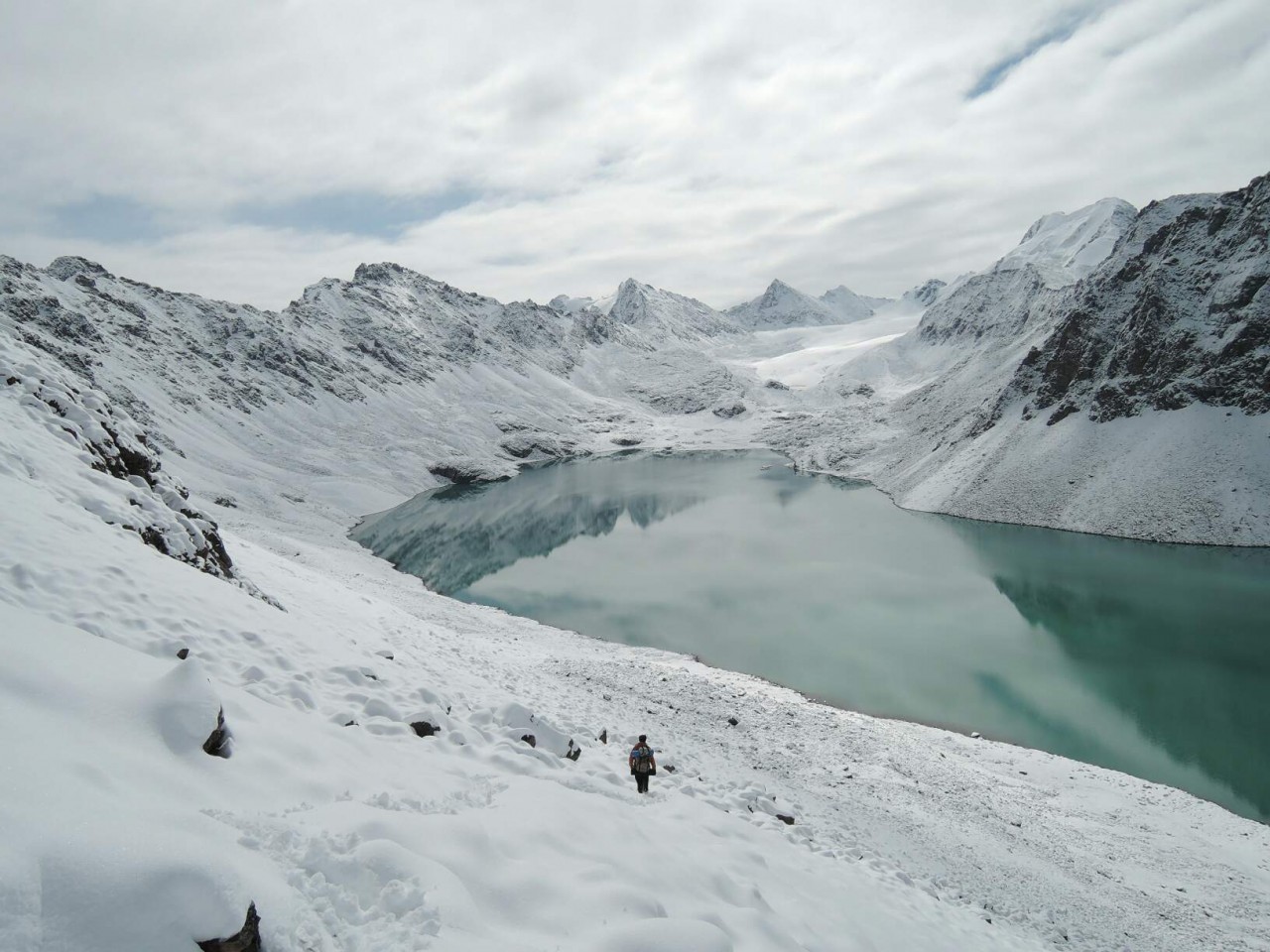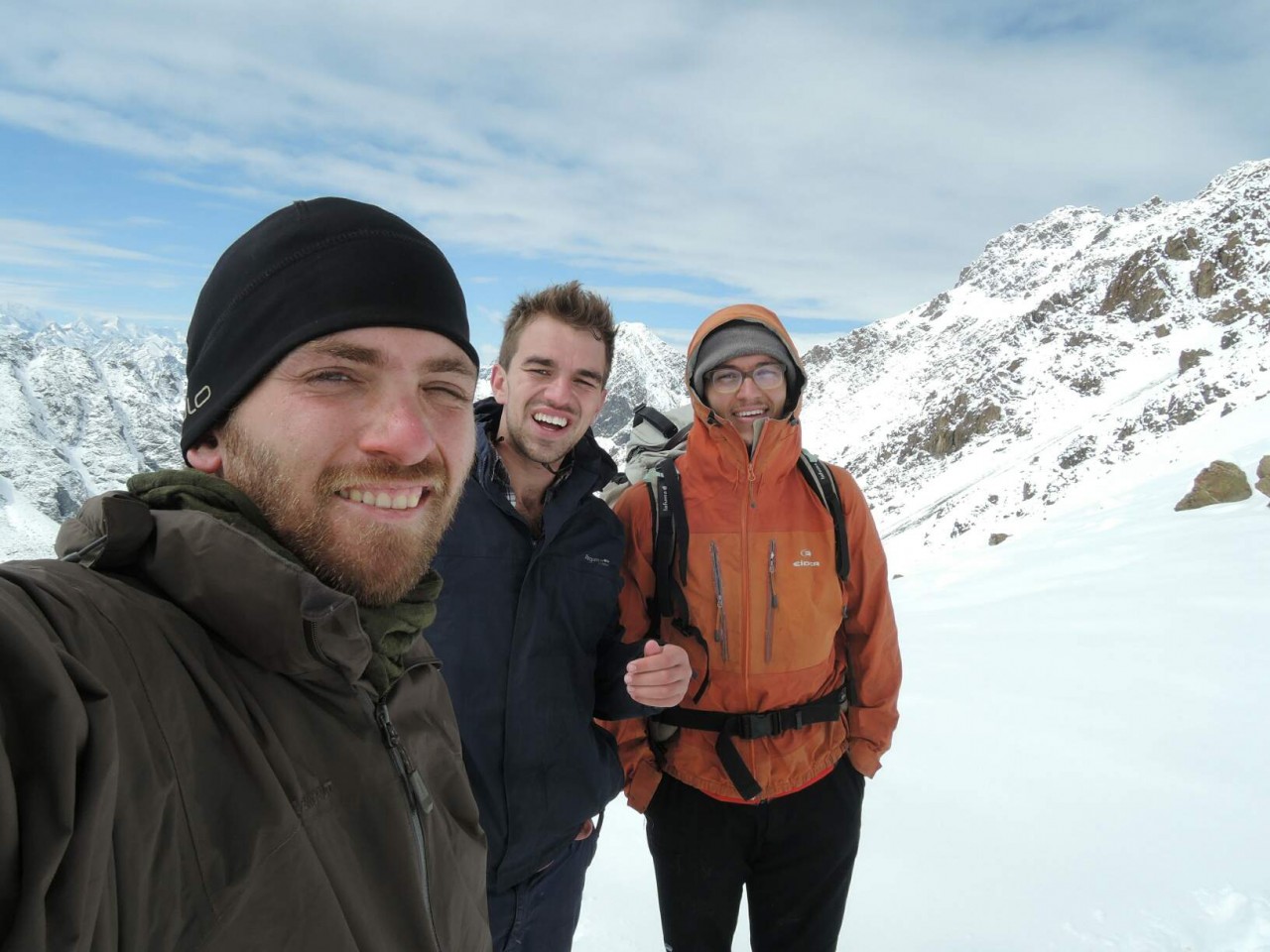 From the pass we had another five hours hiking through snow and dirt until we finally reached our goal – Altyn Arashan, a beautiful valley where we stayed in a nice guest house and relaxed in the hot springs. After another day of eating bread with cheese and prunes we were so happy to get a proper meal served. The next day we hiked several hours through Altyn Arashan valley back to Karakol.
In Karakol I met Jaliko, a great guy from Bishkek who invited me to go to Bishkek with him and his friend from Graz. It took us two days to get there because Jaliko was so nice and showed us all interesting places around Lake Issyk Kul.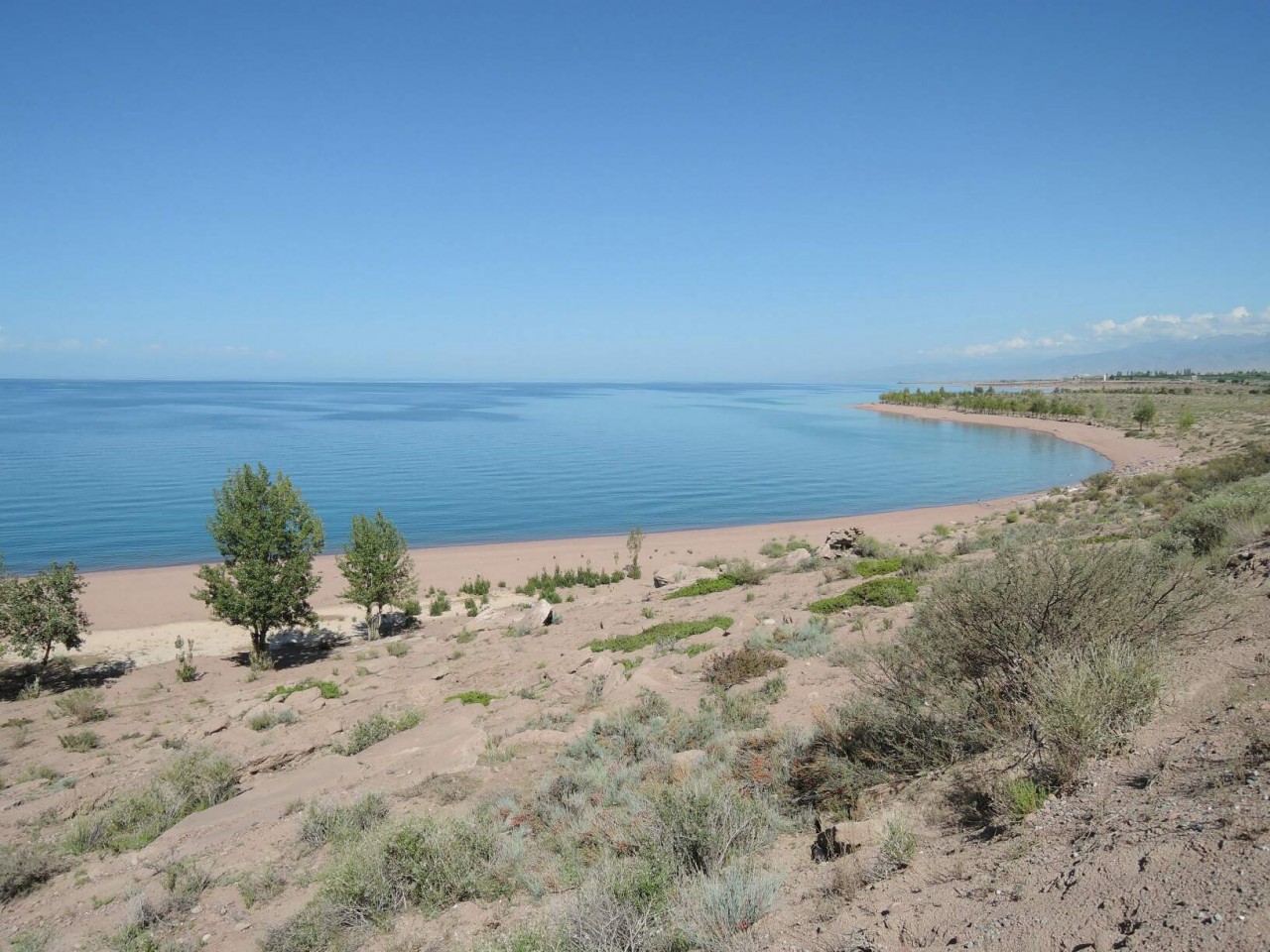 Lake Issyk Kul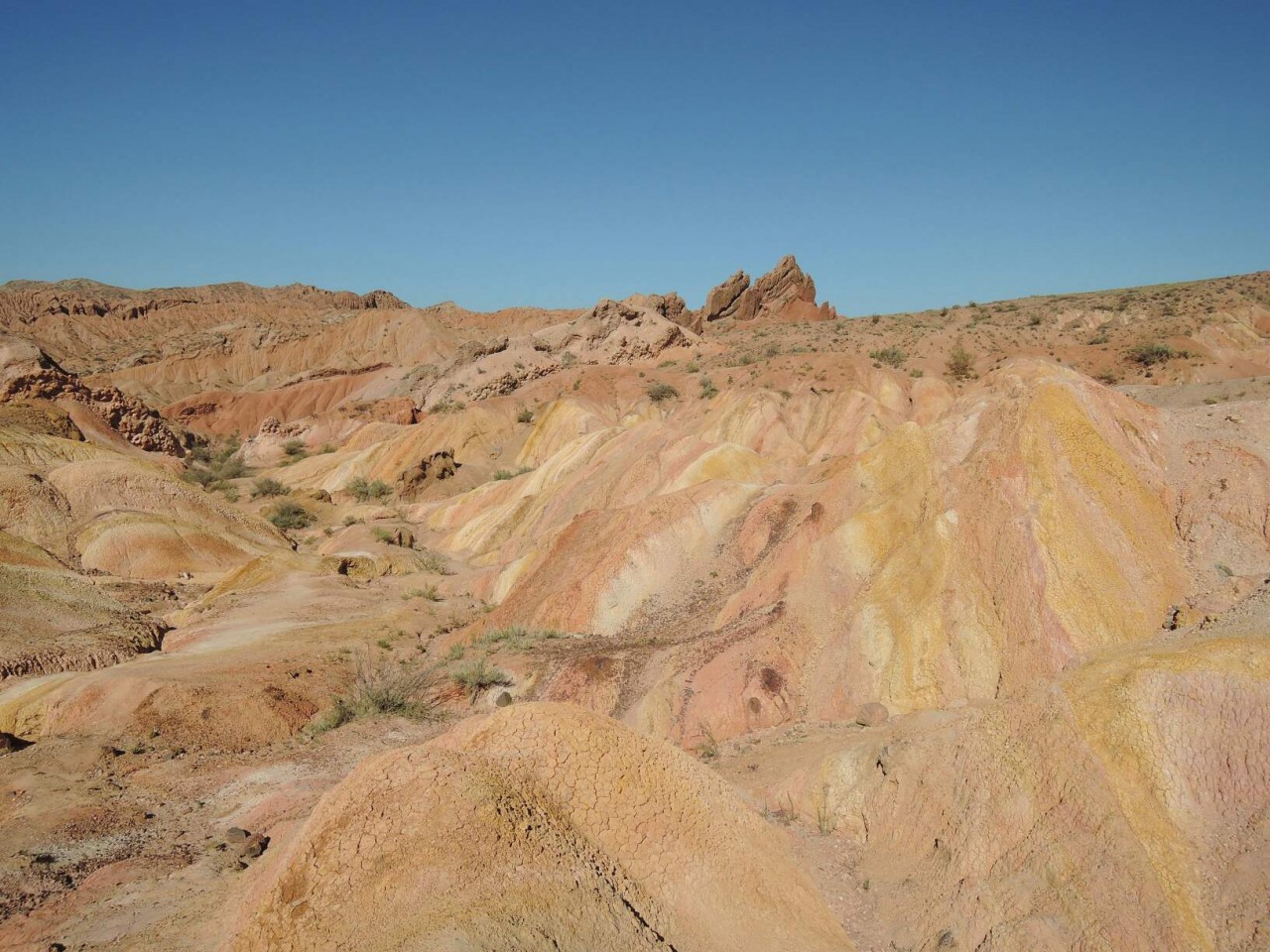 Skazka Fairytale Valley
In Bishkek Jaliko invited me to stay at his house. He said I will just need a sleeping bag and I'll be fine. So we went to the bazaar and bought one for 800 som (12 USD). I stayed with him four days and had a great time with him and his friends. Another day I worked in Bishkek for one guy fixing his website and got a whole apartment for me in exchange. His brother has a farm in the south of Kyrgyzstan and my plan was to work there for some time.
Anyway I met Andrea in Bishkek a girl from Sweden and we decided we are so great and we should travel together around Kyrgyzstan. First we wanted to go to Osh but then we changed our plan. We hitchhiked to Kochkor where we wanted to start a tour to lake Song Kul. It turned out to be too expensive to take a car there and hitchhiking there was not good either. In Kochkor we were looking for a cheap place to sleep. After searching around a while and haggling about prices we decided to do it like the locals and sleep in a sheep. Well actually it was a yurt, but there is not much difference to sleeping in a sheep. A yurt is a round tent made out of felt covered with waterproof sheep fat making it smell like mutton. Inside yurts are richly decorated with colourful carpets hanging down at the walls and covering the floor.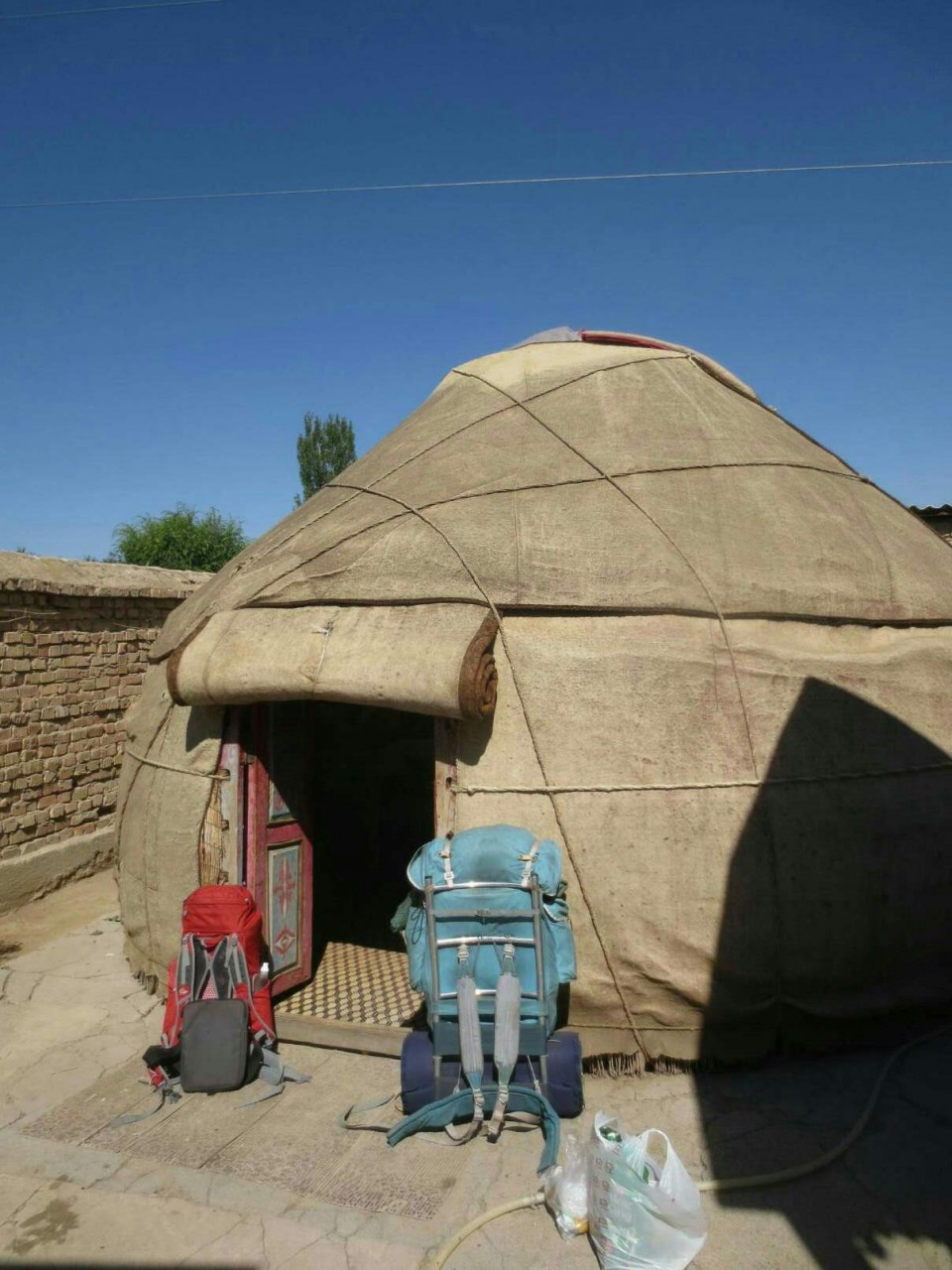 Our yurt in Kochkor
After a cosy night in a sheep we continued hitchhiking to Naryn and then At-Bashy where we stayed one night in a nearby village. We got invited to the local museum learning a lot about the Kyrgyz culture with its many tribes and about the Manas, a legend 20 times longer than the Odyssey and the hero Manas himself (comparable to King Athur).
One day later we arrived at the farm in At-Bashy. It turned out to be a chicken farm and sadly it was one of the not so nice ones. It was horrible to see all the unhealthy chickens squeezed together in cages. Still we accepted to work two days at the farm constructing a house. Hopefully a bigger one for the poor chickens. The work was mainly carrying and stacking bricks to a build a wall.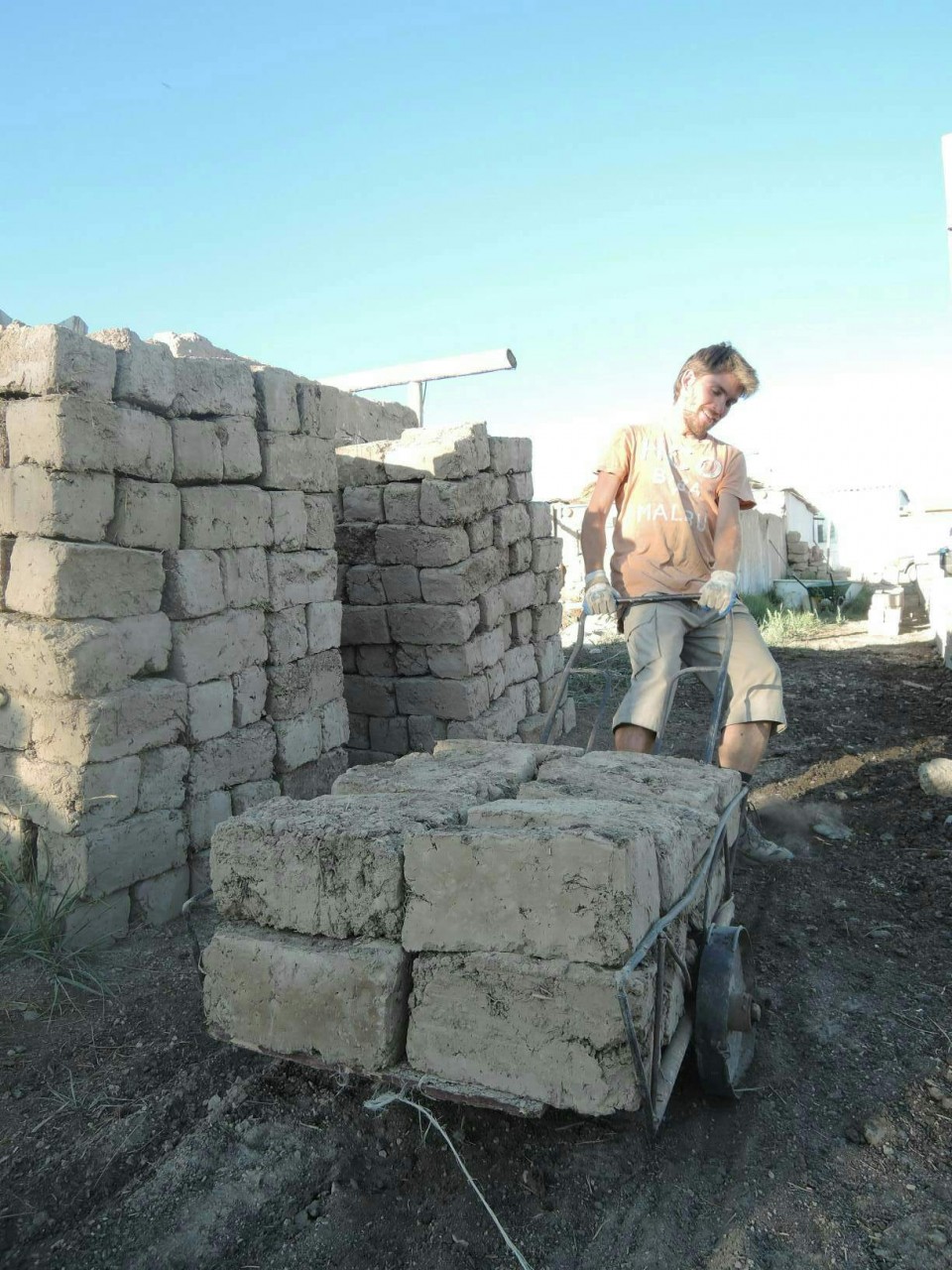 Hard work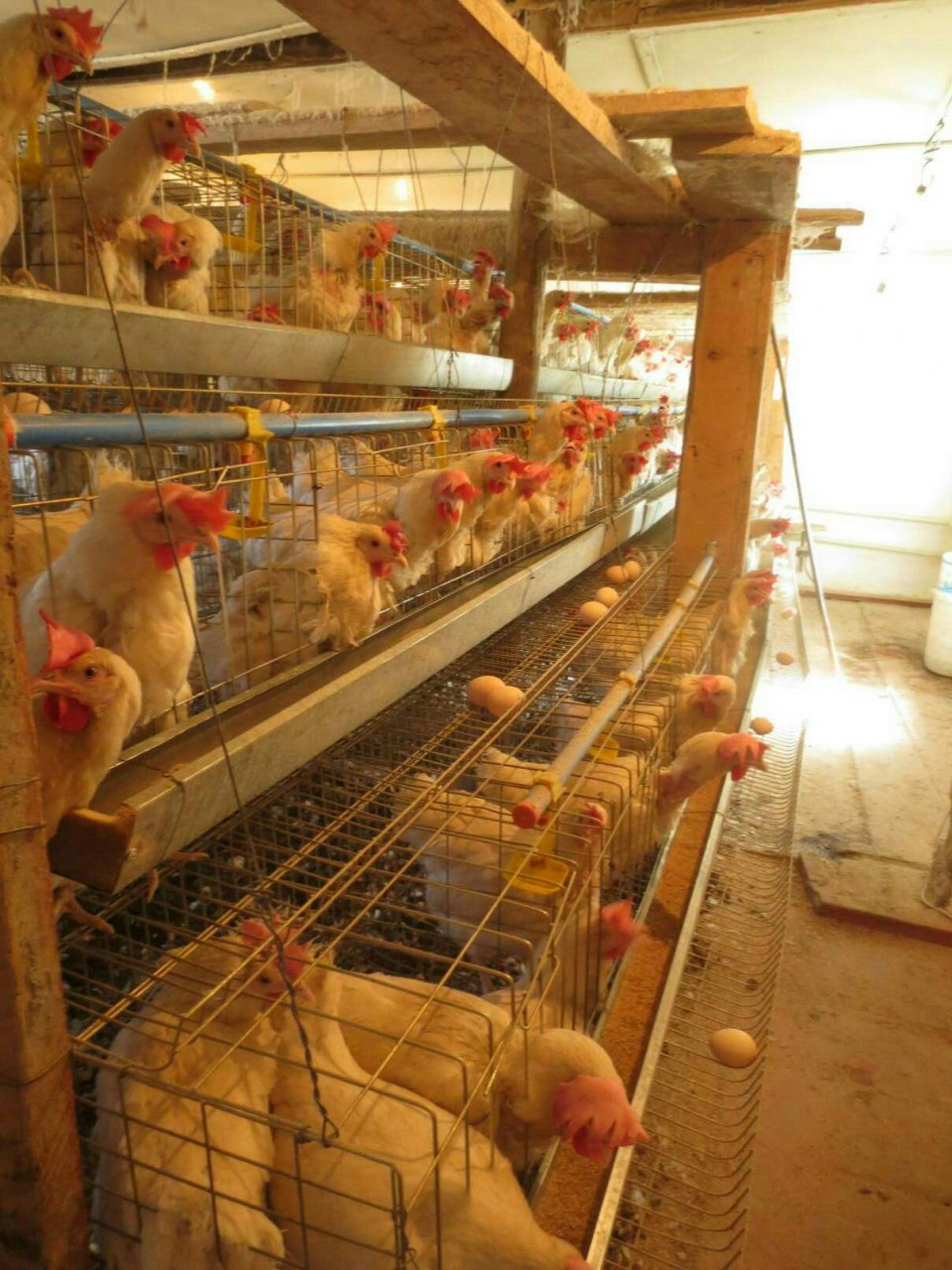 Poor chicken
Two days working there was enough for us and we decided to go to Osh, where we first planned to go. So we hitchhiked back to Naryn and took the road from Naryn over Jallal Abbad to Osh. That was the plan at least. We made it not even half the way from Naryn to Jallal Abbad. There was no paved road. It was a gravel track which led through no-mans land. We hitchhiked with an old Russian car that must have been older than me and we had to stop every 500m to poor water into the cooler to prevent overheating.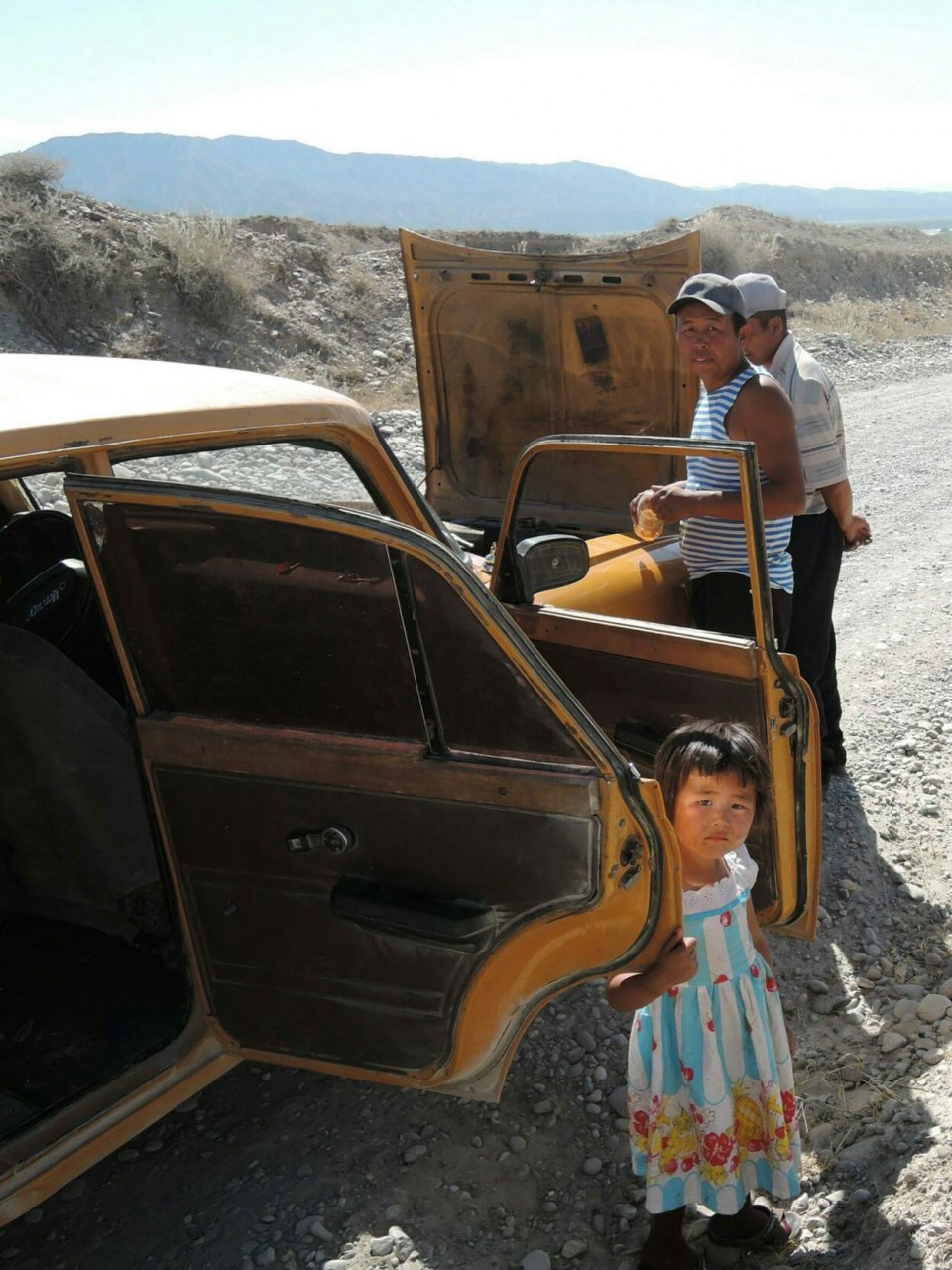 They took us to a village where we tried to hitchhike further although they insisted to have chai with them. After waiting for several hours and finding out this bad dirt road in no-man's land is not hitchable we came back to their offer. They welcomed us with chai and prepared the guest room, decorated with colourful carpets for us to stay for the night.
After that disappointment in hitchhiking we went back to Naryn and hitchhiked further back to Kochkor and Balykchi. In Balykchi we wanted to go swimming in Lake Issyk Kul, but the weather was absolutely not swimming weather and Andrea was happy to got Internet access to skype with her family – it was her birthday. After having a nice birthday dinner with Andrea (we had Chinese Lagman noodles) we found a cheap accommodation where we stayed for the night before going back to Bishkek. Back in Bishkek we were calling all our contacts to find a place. Since we weren't successful, we decided to put up her tent in the park. And then just in last-minute my friend Jaliko called me back, picked us up from downtown and hosted us for another five days. Meanwhile I got my visas and organised a big party to celebrate my six months on the road and Andreas birthday. We had lots of fun celebrating with many CouchSurfers.
My last week in Kyrgyzstan I will spend participating in the World Nomad Games on Lake Issyk Kul. I was so lucky and got invited to the games. They will pay me the stay in one of the best Kyrgyz Hotels with full board for one week. All I have to do is represent Austria as a great Nomad. And that's what I'm doing since six months anyway! 🙂