Hitchhiking the Strait of Gibraltar from Spain to Morocco
This summer some very pleasant circumstances kept me in Europe way longer than expected (and my mind away from writing).
Anyway, after two good months in Spain and Portugal finally I reached the Strait of Gibraltar, 15 km stormy sea that separate me from my dream of hitchhiking through Africa.
There are several ferries going from Spain to Morocco, but from what I heard the only one hitchable is the ferry for the trucks from Algeciras to Tanger-Med. But the British blood in me drew me first to Gibraltar to get some proper fish and chips and a pint of Guinness.
John, a real Gibraltarian was so kind and invited me to stay with him. It was a beautiful day and amazing to see the African continent so close!
After two days of British culture I hitchhiked back again to Algeciras, where I found myself in a mix of Spanish and Moroccan culture.
I arrived in Algeciras late in the afternoon and it got to late to go for the ferry. First I planned to pitch my tent in a park, like I did in several other Spanish cities, but here I felt way too much criminal energy to sleep in a park.
While walking through the streets of Algeciras at night time prostitutes ask you if you want to have some fun with them and constantly people whisper in your ear: "You need some hash?". But maybe it's just because I look like someone who would smoke hash all day! 😀
In the evening I was sitting in a bar drinking some tea while an older Moroccan guy approached me and asked me if I need some hash. When I told him that I don't smoke he said: "You don't need to smoke it! But if you want to make some business, no problem. Just tell me how many kg you want to buy. I make you good price!".
I declined kindly and invited him for a beer. Then he invited me for a beer and he thought we would be best friends. When he started shouting at other guests in the bar something like, I would be his friend, it got too much for me and I took off went to a pension and booked a cheap room for the night.
The next morning I took it easy, got some Churros and a hot chocolate for breakfast and invested my last € on organic fruits. In Europe unfortunately you have to pay extra to get Fruits without pesticides, where in less developed countries like Morocco it is normal!
Around noon time I stood in the port at the last roundabout before the passport control trying to hitch a truck. And when I realized that it doesn't really work there, I tried to get past the passport control to the parking place of the trucks.
But when the police asked me for my passport and my ticket, I told them that I don't have a ticket because I'm going with a truck. Of course the police officer asked me which truck. So I told him that a friend is coming with the truck. So he asked me: "Ah, you're a truck driver?". And I confirmed. It wasn't even a lie, since I really have the license for driving trucks.
Still the police officer told me that I have to wait for my friend before the passport control.
Back at my roundabout the sun was about to set and I had no luck so far with hitchhiking. But at least I met many friendly Moroccan truck drivers who invited me to their homes in Morocco.
At dusk I met Mustafa, a very friendly truck driver who reassured me that I have to ask at the parking place behind the passport control and if I'm not successful today, I should come back to his truck and he invites me for dinner.
So I went towards the parking place once again and found a hole in the fence. Anyway I could see from where I was that there were no trucks there.
So I said it's not going to happen today and went for a walk in town.
After walking around Algeciras for a while I headed back to the port and suddenly at the seaside promenade I ran into Mustafa, the truck driver. He was just coming back from the mosque and going to buy some bread. So we went to the shop together and then headed back to his truck where he opened the containers at the bottom of his truck and started preparing dinner.
He was prepared for everything, got out two stools and a table, dishes, a pot and started cooking on a small two flamed stove inside one of the containers.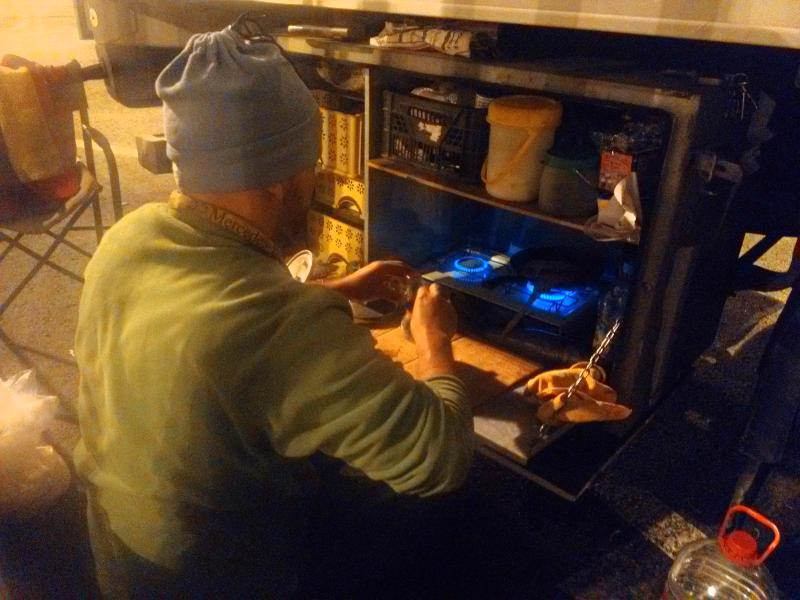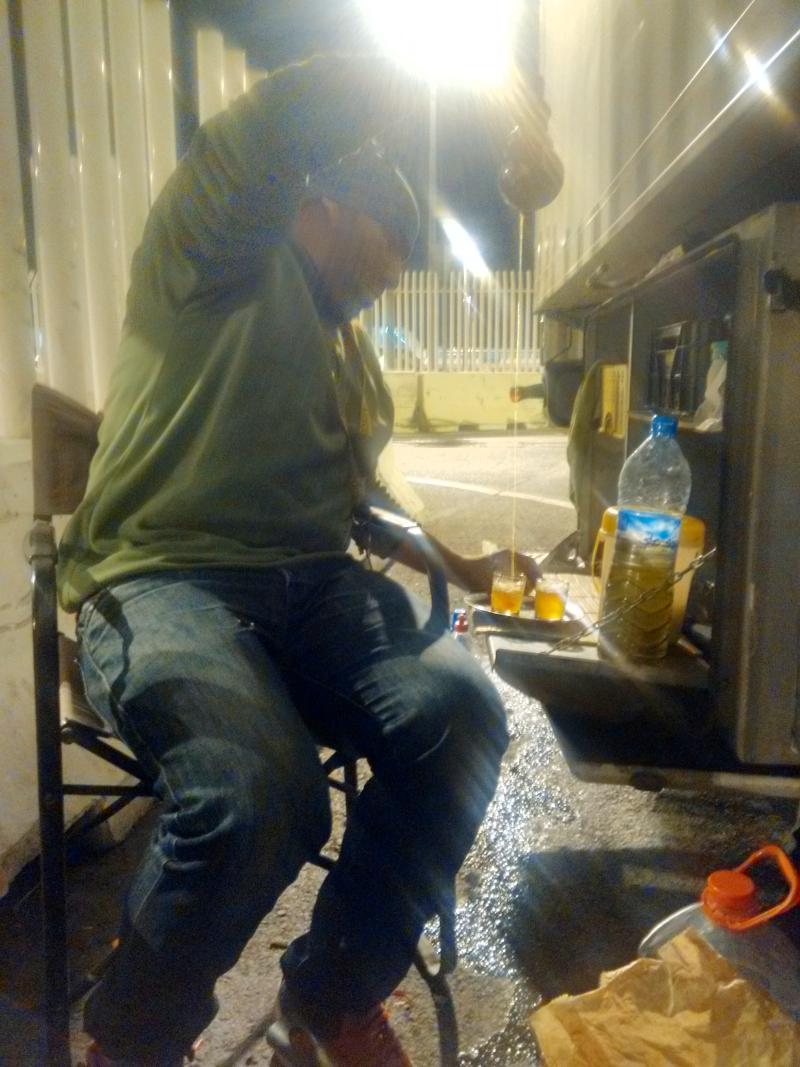 Happily we ate a most delicious omelette, had some tea and enjoyed a little bit of Baklava, I bought earlier that day.
Sipping our tea we had some good talks about god and the world, and I was really surprised by his good German. He even invited me to his home in Agadir.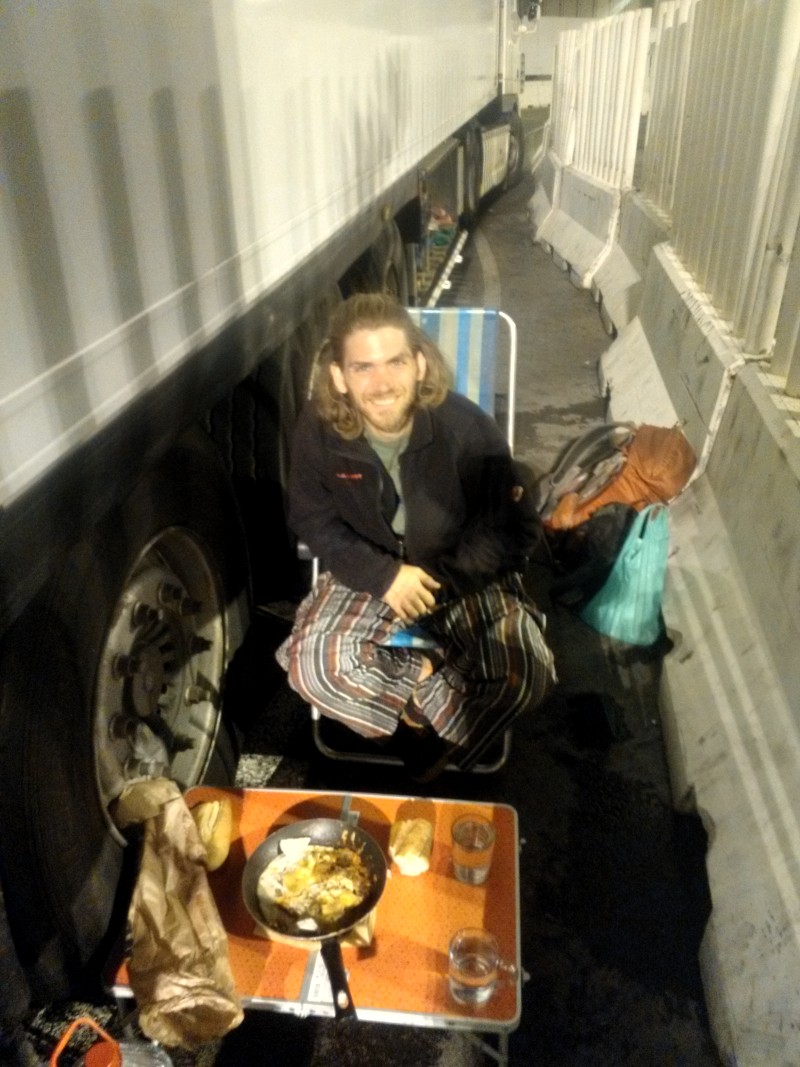 After the dinner Mustafa asked me where I'm staying the night. Happily enjoying the evening I didn't think at all about the falling night and where to sleep. So I told him: "Ah, no worries! I will find a place to put my tent up." And said that it's not safe in the city outside of the harbour.
So he cleared out one of the truck's containers and offered me to sleep there. Thankfully I accepted, put my bags in, laid down in my sleeping bag and quickly fell into a deep and cosy sleep.
The next morning Mustafa cooked once again a pot of the delicious Moroccan Narna mint tea and we had breakfast together before leaving.
He continued his tour to Sevilla and I continued thumbing at the port.
This time I sneaked through the hole in the fence and placed myself at the huge parking place where the truck were waiting for the boarding.
In the morning not many trucks went and the ferry left without me.
Most truck drivers told me "Dos chofer!" in Spanish, stating that they were already two drivers.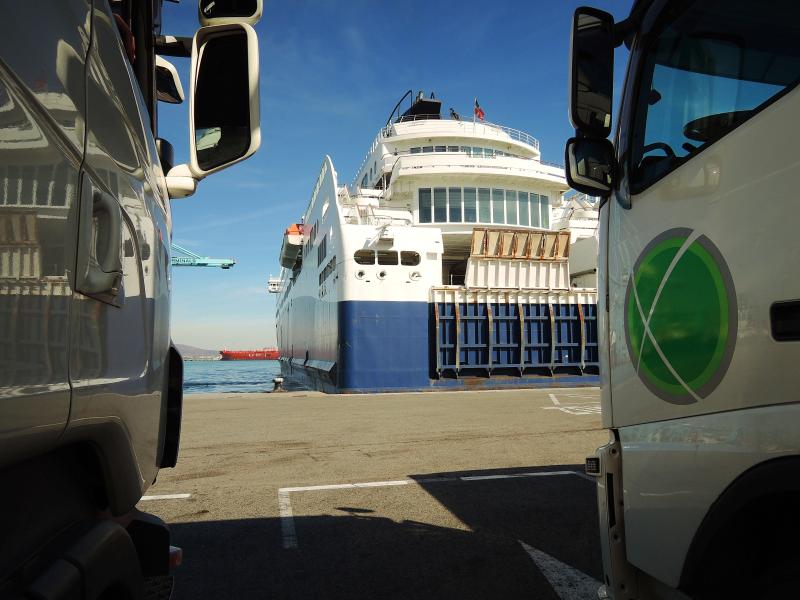 Anyway, it was a warm and sunny day and hanging around at the port was fine. It was already afternoon and when one truck approached another truck driver, who I have asked earlier came running.
They started talking loudly with each other and pointing at me. The one truck driver told the other one that he should take me on the ferry. At first he refused, but the other guy pulled open his door jumped on his truck and yelled at him something like: "What's the problem with you!? Take him on the ferry!" And he agreed.
It took some more ages until all the trucks in front of us were boarded and slowly we were rolling into the ship and finding our spot for parking the truck.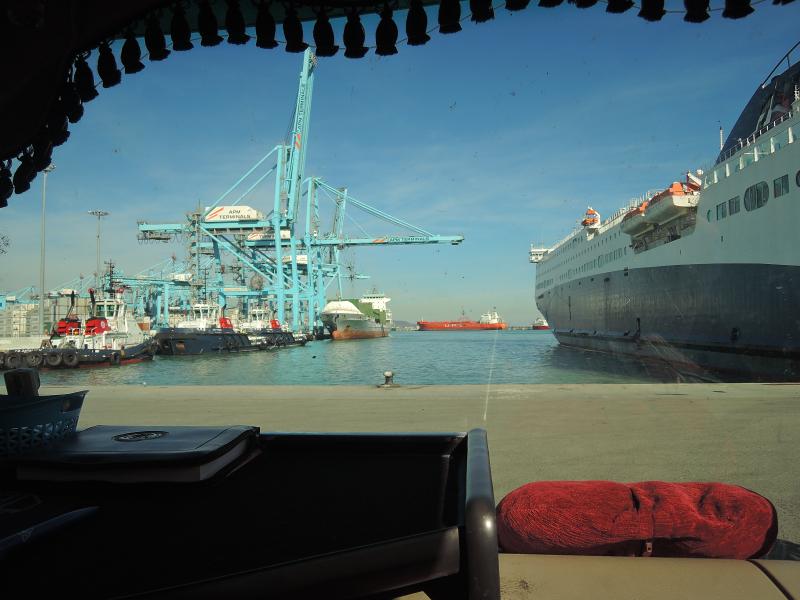 When I finally made it onboard it was already 3:00pm. So it just took me nearly two full days to get onboard of the ferry. But at that point I was just happy that I made it!
Now I just had to convince the civilian Moroccan police officer, who was checking the passports of all truck drivers that I'm not a blind passenger. He was a little sceptical about the fact that I don't have a hotel where I would stay.
I didn't tell him that I usually sleep in trucks or on the road, but just told him that I would find a hotel when I get to Tanger. He seemed to be fine with that answer and just made a note like: "Hotel?".
Who knows what awaits me when leaving Morocco.
Anyway, he let me pass.
When I put foot on Morocco it was already 6:00pm and after the customs checked me bags disappointed that they didn't find any drugs or explosives it was already dark outside.
My goal was to go to Tetouan and then to Chefchaouen, but at the moment I felt more like going to a small non-touristy place.
So I started hitchhiking and was asking for Fnideq, a small City on the way and after waiting not too long a mini bus stopped for me. When I told them that I want to go to Findeq and I don't have any money (which was actually more or less true because neither did I see an ATM on the way, nor did I know the exchange rate) they said "Ah, no problem!".
They took me for a few km's where a taxi was waiting. One of the young guys on the bus got off with me. He walked to the taxi, told the driver to take me to Fnideq and paid for me.
Overwhelmed by this generosity I felt like when I was in Iran.
I thanked the guy, through my backpack in the trunk and cramped myself in the taxi, where I shared the passenger seat with a corpulent young boy who took about 2/3 of the seat and left the other 1/3 for me.
After one hour being squeezed against the window of an old and rusty Mercedes-Benz I managed to unfold myself in Fnideq. I planned to stay a few days in Fnideq, do some writing and get some things sorted out.
I was asking around for a cheap place to stay and people were giving me directions to a cheap hotel and at the same time secretly putting some hash in my hand, saying "for free!".
I asked a few more people for directions and one friendly Moroccan told me in Spanish that I should stay with him and his family. Happily I accepted and he, his name was Mohammed and he said I'm welcome to stay with him as long as I want.
On my first day in Morocco and in Africa I saw that people are much poorer and therefore what might be a little criminal in Europe is totally normal over here.
But I'm happily surprised by the generosity and the hospitality of the people!