Lofoten – Norway's hitchhiking paradise
When in Norway there is one place you have to visit, and that's the Lofoten Islands. A beautiful Island group in Northern Norway with rocky mountains coming out of the sea like massive sea monsters. It's famous for it's picturesque landscape with deep fjords and splendid surf beaches.
My plan was to take the ferry from Bodø to Moskenes, the most Western part of Lofoten and then spend about a week hitchhiking from West to East all the way through the islands.
And that's what I did, well actually not I but we. Because on the ferry I met Remi, a great French guy who had the same plan as me and decided to join me. He was travelling around Norway and volunteering on farms (mostly with WWOOFing).
When I first saw him, I thought he would be either going on an expedition or he's a fully loaded weapon dealer. Neither of them was the case, he was just loaded with lots of unnecessary stuff. 😉
So after we met we spent a great week together hitchhiking around Lofoten, camping in the middle of the villages, getting our food from dumpster diving and hiking from beach to beach.
What I love about Norway is that thanks to the Allemannsretten (the freedom to roam), you are allowed to camp wherever you want, as long as you are out of sight of a building and outside of cities. But actually even if you pitch your tent in the middle of a city in a park no one really cares.
But I was not ready for camping in snow in October and although I was wearing all my clothes and the down jacket I bought in a second-hand store in Sweden for 28€, I was freezing my tits off in my summer sleeping bag.
As for hitchhiking I was really surprised how good it works on the Lofoten compared to the rest of Norway, where you sometimes need a lot of patience until you get a ride and cars tend to change the lane when approaching you. You could be a suicide bomber.
We met two great Polish guys who rented a car and drove it around the island without knowing where to go. They just said, tell us what you want to see and we join you. So the four of us hiked to a nice beach and back again. And then they even took us to a big supermarket were they went to buy some food. And while they were spending their money on food, we went behind the building to check the garbage, and… Jackpot! We found loads of good bread, pastry and other food stuffs. So when our Polish friends came back to the car we were waiting there with bags full of food. They couldn't believe their eyes. The next evening we had a feast camping, dining well on free food and buying ourselves a cold beer to toast on this great life.
So in the tourist season in summer you should easily find a ride with some tourists. And for dumpster diving some time you're lucky and find a good container, but many times the containers are locked or they store the garbage elsewhere.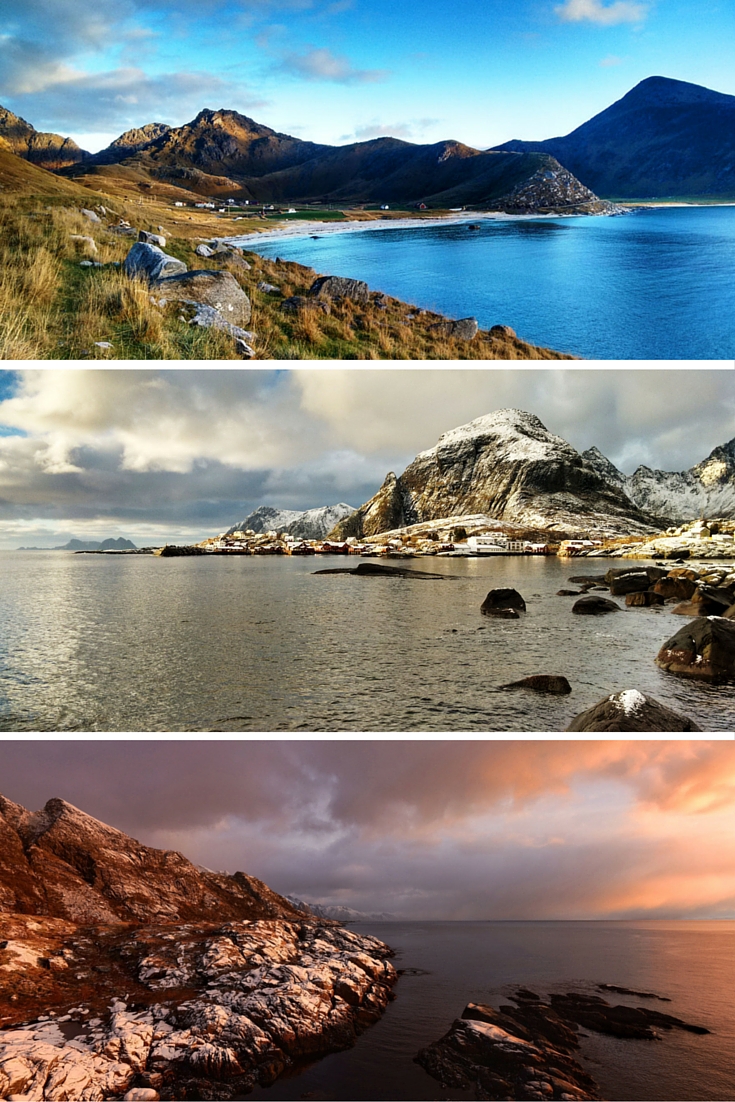 Another cold evening we were on our way to one of the famous beaches looking for a place to camp while we came past a nice house with smoke coming out of the chimney. So we thought why not ask them if they have a barn, a shed or a warm garage where we could stay the night. And they went: "No, it's much to cold in the barn, you sleep here in the house. Oh! And by the way, dinner is ready."
That night also we were so lucky to see the most amazing Northern Lights.
The next morning it felt hard to say goodbye from this lovely family and to go out in the freezing cold again. But then it was so good to be on the road again, to travel to new places and meet new people.
This one week on Lofoten was an amazing adventure which could not have been any better. I love travelling alone, but sometimes you just meet the right people! I'm glad Remi is so open minded that he was willing to join my not so normal way of travelling. 🙂
I was very fortunate to learn a lot about photography since Remi is a professional photographer. Check out his Flickr account…
Remi also left a few words about our fantastic trip…
Going through the Lofoten was discovering two new worlds. The first world was that tragic, rough but eyes-star-filling landscapes of Lofoten. Small islands but so much to see. Every turn is a new mind-blowing picture for your eyes. Tough weather but every light makes these islands look different and eyes and mind catching, like a fist punch in you face.
The second world was mastering free travel, with the enlightenment of Stevie. How to be closer to people, how to share with them, how to use what's around and not just living, but getting to appreciate every single moment, not being stuck when things don't happen like planned. Actually, it was all about learning to stop planning and just enjoying what's going on.
Since then I kept on hitch-hiking from the Lofoten to Tromsø, and from Tromsø crossing Sweden to Finland, and now going back in Sweden, because I want to… 😉