Astara cage fight and how to survive without money
After I have seen a lot of Azerbaijan, the land of fire, and I got my Iranian visa just in time (one working day before my Azerbaijan visa ran out) it was time to leave to Iran.
I decided to change the means of transportation from shared taxis and mashrutkas to hitchhiking.
Getting out of Baku wasn't really a problem and I waited not more than ten minutes for a ride although these two young guys and the girl were a bit crazy. Smiling at me with their shiny gold teeth and listening to Azeri dance music until my ears were bleeding. 😉
At the half of the way they faked an engine damage to get rid of me and I found another ride with two really nice businessmen. But when I arrived in Astara at the border, the border was closed since ten minutes – bad timing. So I had to stay in Astara for the night and cross the border the next morning.
I have spent my last ten Manat for the hotel – actually it was more a bed and breakfast without breakfast.
Coming to the border I found out that I got up too late and there was already a mass of hundreds of people waiting to cross the border. To deal with the masses Azerbaijan has built two caged passages which every emigrant has to pass.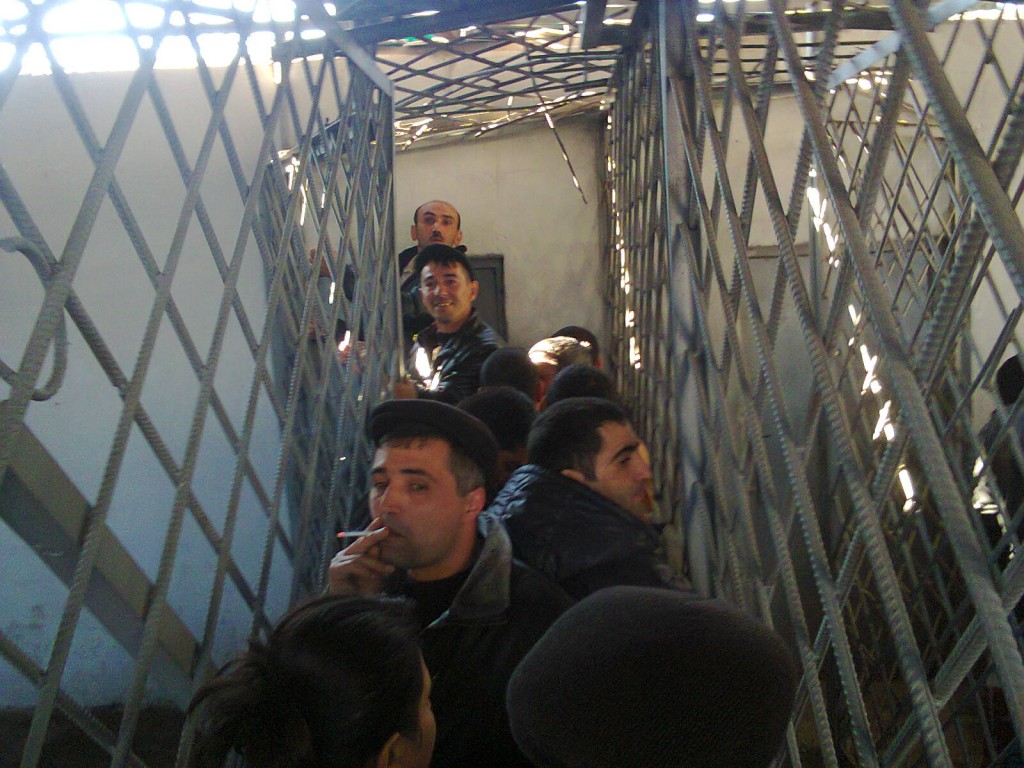 In the cage with the steel door at the back In the cage with the steel door at the back
So all of these hundreds of Azerbaijani people pushed towards these two cages. After waiting for two hours with lots of pushing and squeezing I could fight my way to one of the cage doors and got pushed through. The cages are very narrow with maybe one meter width. When inside the door gets shut behind you and locked with a padlock. So there is no getting out again. Then every half an hour the steel doors at the end of the cages get opened and the people from the cages can continue to the custom and passport control area.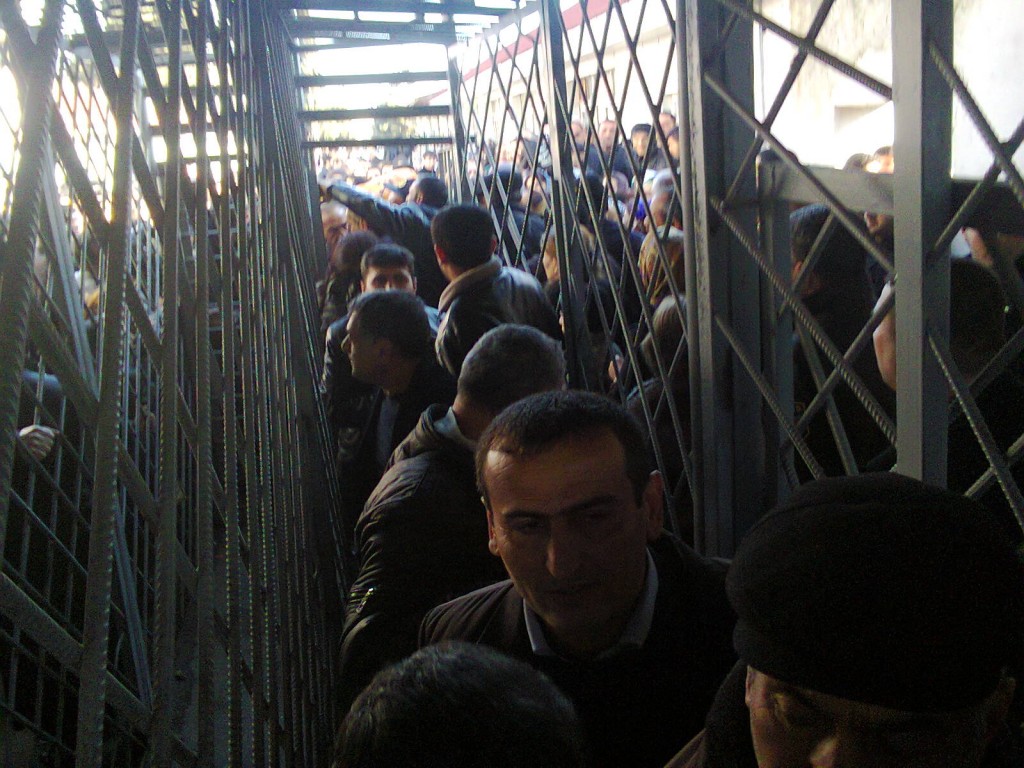 Lots of pushing from behind Lots of pushing from behind
After answering lots of questions to the Azerbaijani and Iranian custom officials I finally made it over the border. It just took me three hours of fighting. 🙂
In Iran I hitchhiked to Choobar and encountered another two unexpected problems.
I knew that Iran has the second worst internet censorship in the world (after China) and blocks facebook, youtube and some google applications. But even with a proxy I could not login to my google mail account. Since I logged in from too many different countries it got blocked and it was a struggle to unlock it. Next I had to wipe my Google Nexus Tablet to unlock and root it so that I was able to install proxy client (transparent Tor proxy). After that I was able to access all my accounts again. 🙂
The second and bigger problem was that I found out that due to the sanctions against Iran all non Iranian credit and debit cards don't work over here. That was quite bad because I came to Iran with absolutely no cash. And since I heard that it is impossible to send money to Iran I thought the easiest would be to go to Tehran and find a job. 🙂
I was really hungry after not eating the evening before, not having breakfast in the hotel and fighting for several hours at the border.
But the great thing about Iran is that the people are incredible friendly and everyone wants to help you. So I managed to stay at a great host in Choobar. I asked for some Chai and got dinner, a warm bed, breakfast the next morning, a lunch pack for the road and lots more. 🙂
Arriving in Rasht I got welcomed by two very nice Couchsurfers. So I stayed with them for some days and got a lot of help once more. One of them, a guy from France was at the end of his trip through Iran and had enough Euros to stay in Iran for three Months. So I arranged that the money got sent to his bank account and he solved my big money problem.
At the end I think it would also have been possible to travel here for three months without money. The good thing is, if you have no money, you spend no money. 🙂 But of course I don't want to beg my hosts for money either.